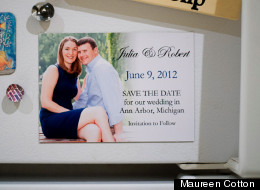 There will undoubtedly be many precious photos from your wedding day, and so it can be easy to dismiss engagement photos as an unnecessary expense. However, don't miss the chance to practice being in front of the camera, visit an important place in your relationship, and try all the fun stuff you may not have time for on your wedding day. Often, we photographers only get 20 to 30 minutes with just the couple on the big day. On top of all that, there are many uses for your engagement photos before and on the wedding day! Check out the materials I've created for my couples:
7 Uses For Engagement Photos
Your save-the-dates are the first piece of your wedding that guests will see, so they effectively set the tone. With that in mind, they should be personal and visual. Try magnets instead of traditional postcards--your guests will have something to look forward to with every trip to the fridge.

Your wedding website is the information hub for the big weekend, which your guests are sure to visit over and over. Let each visit remind them of what the day is truly about -- you and your soon-to-be-spouse in love!

Couples often choose to create a fine art print and guest book in one; I print their favorite engagement photo as an 8x10, and frame it with a nice wide mat for guests to sign. A romantic of image of you and the names of all your loved ones makes a precious keepsake.

For couples who just love all their photos and can't choose one, a collage photo board has an artsy look, shows off a variety of photos, and becomes a unique art piece for your wedded wall.

Guest sign-in-books can feature anywhere from 10 to 20 of your favorite photos, leaving lots of white space for guests to sign and write fun and loving messages. Years from now, it will rekindle the memories of your engagement and wedding just as your wedding album will.

This is one more way to take something standard, and express you and your spouse's personalities. Choose a different engagement photo for each table.

Almost all of my couples fulfill holiday and birthday gifts with framed photos from their engagement session. A picture of your happy and beautiful face is a gift that will always make your relatives smile!
Follow Maureen Cotton on Twitter: www.twitter.com/MaureenCotton