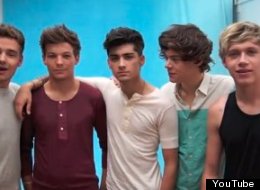 August 23, 2012. A date which every Directioner, myself included, will remember as one of the BEST days ever to be a Directioner.
Zayn Malik came back to Twitter after a short absence from the Twittersphere and the "1D Big Announcement" was made via a lovely video of Liam Payne, Louis Tomlinson (with his awesome new hair), Zayn Malik, Harry Styles, and Niall Horan announcing the release date in November of their much-anticipated second album and its first single, "Live While We're Young," to be released on October 1st.
Also, as Harry tweeted that day, the guys were shooting the music video for LWWY. So yeah, it was a great day to be a Directioner. Why else was "LWWY" trending on Twitter for like the entire rest of the day after the announcement was made?
The big announcement, along with 1D's upcoming performance at the VMAs on September 6th, has basically made August a great month to be Directioner. All of 1D's accomplishments have made 2012 a great year to be a Directioner.
As a reminder of just how proud we are of the guys, here's a slideshow showing why 2012 belongs to them:
2012: The Year of One Direction
One Direction won "Best British Single" at this year's BRIT Awards for their hit "What Makes You Beautiful," beating powerhouses like Adele, their good friend and songwriting partner Ed Sheeran, Jessie J, Up All Night tour opening act Olly Murs, and British boy band rivals JLS and The Wanted.

Back in March, two days before the U.S. release of their debut album Up All Night, Niall, Louis, Harry, Zayn, and Liam took over Rockefeller Plaza and rocked out on the The Today Show in front of a sea of screaming Directioners...police were called in for the show. It was brilliam.

The most popular boy band in the world right now made history this year when Up All Night debuted at #1 on the Billboard charts, making One Direction the first U.K. group in history to achieve this accomplishment with a debut album.

Harry, Louis, Liam, Zayn, and Niall made their SNL debut (with host Sofia Vergara) back in April as part of their stint in New York City. In between performing "What Makes You Beautiful" and "One Thing," the very funny guys made a skit appearance as "Juan Direction," a.k.a. Carlito, Pepito, Martito, Miguelito, and Dick.

One Direction's first-headlining concert tour, which consisted of over 60 shows in Australia, New Zealand, Europe, and North America, was a success with sold-out shows and the release of the Up All Night: The Live Tour DVD, which topped DVD charts around the world. Phenomeniall. Photo Credit: Kaila Garcia

One Direction's latest book, Dare to Dream: Life as One Direction, came out in May right before the start of the North American leg of their tour, and just in case being the most popular boy band in the world wasn't enough, 1D became New York Times Bestselling authors. The book has been on the well-known literary list for 12 weeks now. Photo Credit: Maureen Elinzano

The Closing Ceremonies of the London 2012 Olympics this past month showcased the best of British music, including The Who and the Spice Girls, so it only made sense that One Direction performed after weeks of speculation kept Directioners hoping that the rumors were true. They were and their performance was amazayn.

This year's MTV Video Music Awards wouldn't be the same without the most famous boy band in the world as part of it. The guys are performing and are nominated for "Best Pop Video" and "Best New Artist." In case you haven't already voted for them like a hundred times, you can do that here. 1D are also hosting a special for the VMAs on Thursday, August 30th at 11pm called "One Direction: My First Time." It should be quite fabulouis.

With an already sold-out tour for 2013 (Obvi!), the #1DBigAnnouncement on August 23rd of the release date of their second album (Yes!) and its first single, "Live While We're Young," had Directioners talking about it all over Facebook, Twitter, and Tumblr for the rest of that day. "LWWY" was trending on Twitter for hours...as was Zayn being back on Twitter and Louis' new hair in the announcement video (see above).

As Harry Styles tweeted back in April, the guys will be back in New York City on December 3rd for their sold-out (Of course!) headlining concert at the famous Madison Square Garden. What a way to end an extraordinharry year for One Direction!
And there's still 2013 to look forward to...
Follow Maureen Elinzano on Twitter: www.twitter.com/Princess__Mo