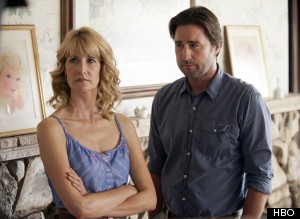 "Now only hope hurts." - Tyler, "Enlightened"
The rebirth of "Enlightenment" (Sundays at 9:30 p.m. EST on HBO) is quietly stupendous.
The show's must-see second season is one of the best stories I've experienced in a long time (HBO sent all eight Season 2 episodes for review). And -- appropriately for a show about a woman who wants to live a more vivid and connected life -- it is an experience.
"Enlightened" is a show that trusts itself to make small gestures and spend time on quiet observation, and it ultimately succeeds at one of the hardest but most important things any story should do: It brings you inside in the emotional state of the people at the heart of the tale. With its spare visual style and its meditative aesthetic, "Enlightened" evokes a feeling of not-quite-resigned aspiration, a lyrical, guarded sense of possibility. The show is suffused with the sense that what you want is just out of reach and that the dream could be yours if you just wanted it a little more intensely.
"Enlightened" is a work of precision craftsmanship that recalls two very different cable classics: It has the large-heartedness and aching love for the misbegotten that you find in David Milch's "Deadwood," and it has the mastery of tone, theme and visual style that typifies the best seasons of "Breaking Bad." It uses a rational, honest yet warmly compassionate eye to examine profound questions: When does it makes sense to give up on big dreams and be thankful for the narrow slice of existence that life has allotted you?
Is it hubris to want more, or human nature?
This season, "Enlightened" wraps that question in a taut story about corporate malfeasance, and the sense of forward momentum is a welcome change from the show's meandering first season. But the well-calibrated plot doesn't upset the show's beautiful, delicate balance between resignation and hope; each episode unfolds like an evocative short story destined to linger in your mind for days.
It takes a great deal of restraint to evoke such bittersweet feelings so consistently, especially when you consider that the show's lead character takes up a lot of space. But Amy Jellicoe (who's played by co-creator Laura Dern) is probably the reason the show is generally minimalist in its approach; for other aspects of "Enlightenment" to compete with her unruly nature would be a mistake. In a delicious irony, the show uses nuance to reveal -- and almost revel in -- her lack of subtlety.
We all know someone like Amy. She's the person who will get up in your face at a social event even if you're not well acquainted. She ignores or downgrades the rules of polite behavior because she burns with a single-minded intensity that often blinds her to how she's coming across. She doesn't ask you to follow her on Twitter, she demands it.
Yet she's not all bombast, and this season in particular, Dern brings a yearning, self-doubting quality to her that is transfixing. Ultimately, you see why various people can't quite evict Amy from their lives: She allows them to see something more than the bland, mundane world around them, and she assumes they are braver and better than they are. She questions why the world is the way it is, and believes she can change it, and yet she wonders, as the people around her do, if she truly wants to do good or if she just be validated as a good person.
The characters on "Enlightened" -- Amy, her friend Tyler (played by co-creator Mike White, who wrote and directed most episodes), their boss Dougie (Timm Sharp) and her ex Levi (Luke Wilson) -- just want to be noticed, they just want to matter to someone. Don't we all?
Storywise, the second season of the show is a big improvement on the first, in part because Amy's obsessions are wedded to that well-paced plot about corporate malfeasance. The contemplative tone remains, but there's less talk of New Age concepts and more unsparing demonstrations of what happens when idealistic theories and principles meet the messy realities of human behavior.
That's also the source of much of the show's dry comedy; Dougie in particular evolves into a douche that you can't help but love. Well, not "love," but the more you get to know this bombastic cubicle overlord, the more likely you are to forgive him for his particularly unfortunate haircut. Dermot Mulroney is also extremely good as a reporter Amy comes across; Mulroney gets the character's mix of battered idealism and self-aggrandizing ambition exactly right.
Voiceovers are crutches on a lot of other shows, but here, they're not used as exposition dumps, and I began to look forward to these spare monologues, because they're so often poetic and moving. That's not to say that "Enlightened" is a gauzy trip to the land of woo-woo self-absorption -- Amy is self-absorbed, of course, but she's also willing to risk everything in the way that holy fools have from the beginning of time. This show is so gentle because it's ultimately about exposing raw pain.
In any case, the show isn't about just her and the flaws that keep tripping her up. The third episode of the season focuses on Levi's trip to rehab; it's is an astonishingly perceptive short film about the pleasures and despair that fuel addiction, and it contains some of the best work Wilson has ever done. Becoming more enlightened usually involves facing a lot of internal and external ugliness, and the show doesn't judge people for running from that, and that's what I love about it -- "Enlightened" has such compassion for its characters, even as it tenderly exposes the least likable and weakest parts of them.
The fifth episode focuses on Tyler's existence, which consists of a featureless apartment in the Valley with cheap furniture and blank walls. The show never pulled any of the usual TV moves to make me like Tyler; it just observed his beige existence and allowed me to see hope flicker in his eyes as Amy drew him further into her schemes. He knows that Amy is probably going to end up in a great deal of trouble, but he can't resist the unpredictable possibilities that she brings to his life. Something -- even something dangerous -- is better than nothing. Unless you're left with nothing, which is a real possibility for all these people.
Tyler's grey sadness is safe, as is Levi's belligerent dissatisfaction and the dignified resignation of Amy's mom (Diane Ladd). Amy doesn't want a safe life, however, and that makes her both obnoxious and admirable. The miracle of "Enlightened" is that by the end of the season, I saw how inseparable these qualities are: "Wanting more" is almost never a pure expression of altruism -- it's a form of imposing one's will on the universe. Wanting to change anything at all is bound to piss someone off.
"Enlightened" made me afraid for Amy, because life's jackals always sniff out people like her -- the ones who are willing to throw away what little they have in pursuit of some cockeyed idea. Amy's dreams are dangerous, but to her, not dreaming at all is worse. "Enlightened's" brilliant second season, which is a controlled, perceptive exploration of the importance of passion and rule-breaking, explores that conundrum with an exceptional amount of discipline, humor, sensitivity and intelligence.
May it experience many more reincarnations.
In this week's Talking TV with Ryan and Ryan podcast, Ryan McGee and I discuss "Enlightened" and the FX comedies "Legit" and "Archer," which arrive Thursday. Other recent podcasts focus on "Arrow," "1600 Penn" and "Banshee." The podcasts are available here, below and on iTunes.


Returns Sunday, January 6 at 9 p.m. EST and moves to regular timeslot on Monday, January 7 at 8 p.m. EST on NBC What's Ahead: Jillian Michaels! She's back to help whip contestants into shape. Plus, for the first time, kids (ages 13-16) will be on the show along with 15 adult contestants.

Returns Sunday, January 6 at 9 p.m. EST on PBS Where We Left Off: Bates was left to rot in jail, Matthew and Mary finally got together and the Dowager Countess was sassy. What's Ahead: Americans! Shirley MacLaine guest stars as Martha, Cora's mother. She's very rich. Season 3 has already aired in the UK and one prominent character is saying goodbye to "Downton Abbey."

Returns Monday, January 7 at 8 p.m. EST on ABC Starring: Sean Lowe What's Ahead: Jilted "Bachelorette" contestant Sean returns to TV as "The Bachelor" and seeks to find love.

Monday, January 7 at 10 p.m. EST on NBC Starring: Meagan Good, Laz Alonso, Tate Donovan and Victor Garber What's It About: A wealthy socialite and party girl is found dead of an overdose, but something's fishy about her death. Enter FBI Agent Will Moreno (Alonso), who recruits his former partner Joanna Padget (Good), the deceased's former best friend. Joanna hides her true occupation and infiltrates the family she grew up around to find the truth about her friend's death.

Returns Tuesday, January 8 at 8 p.m. EST on NBC What's Ahead: Betty White will entertain a ton of guest stars while introducing the elderly pranksters. Kim Kardashian, the ladies of "Real Housewives of Beverly Hills," Ed Asner and NeNe Leakes are among the names who will appear on the prank show.

Returns Tuesday, January 8 at 8 p.m. EST on ABC Family. Where We Left Off: Toby is on the A Team, Garrett's dead, Aria's dad has some strange connection to Ali, Paige saved the day and Ezra's a dad ... and Alex Mack is his baby mama. What's Ahead: Mona is released from Radley and is back at Rosewood High. Clearly, she'll be working with Toby, who the liars are still in the dark about. It's only a matter of time before Spencer learns the truth ... and starts to lose it. Dr. Sullivan will return, hopefully to prevent any breakdowns. Plus, we'll see more about what the hell Byron was doing with Ali the night she died.

Returns Tuesday, January 8 at 10 p.m. EST on TBS. Where We Left Off: Jules and Grayson had a quickie beachfront wedding and rode off into the distance on horseback. What's Ahead: For starters, it's on TBS! Everybody's favorite wine-guzzlin' crew will be joined by guest stars Alexndra Wentworth, Shirley Jones, Gillian Vigman, Tippi Herden and more.

Returns Tuesday, January 8 at 10 p.m. EST on FX. Where We Left Off: In Season 3, Raylan Givens (Timothy Olyphant) prevented carpetbagger/gangster Robert Quarles from establishing a criminal network in Harlan, but a pregnant Winona left the US Marshal and he found out his father shot a good man. What's Ahead: Boyd Crowder (Walton Goggins) will no doubt continue to be a thorn in Raylan's side.

Wednesday January, 9 at 8 p.m. EST on Fox Starring: JWoww, Bethany Hamilton, Alexandra Paul, Kim Richards, Kyle Richards, David Chokachi, Terrell Owens, Antonio Sabato Jr. What's It About: C-list celebrities learn to dive like the pros with the help of Olympian Troy Dumais.

Thursday, January 10 at 9:30 p.m. EST on NBC Starring: Josh Gad, Bill Pullman, Jenna Elfman What's It About: The Gilchrists are your typical American family ... they just so happen to be the first family of the United States. Gad stars as the hapless son of President Dale Gilchrist (Pullman) and stepson of Emily (Elfman).

Returns Sunday, January 13 at 9 p.m. EST on HBO. Where We Left Off: Jessa bizarrely got married, Shoshanna slept with Ray, Hannah and Adam broke up and Marnie still misses Charlie. What's Ahead: After months of criticism, Hannah makes a black friend (or more than a friend) -- and it's Donald Glover. Patrick Wilson will also play a love interest for Hannah later in the season and Shiri Appleby joins Season 2 as Adam's new girlfriend, much to Hannah's dismay. Elijah moves in with Hannah -- and starts to question his sexuality. Shoshanna is dealing with her post-sex relationship with Ray. Plus, Rita Wilson will stop by to play Marnie's mom and to help her shape up.

Returns Sunday, January 13 at 9 p.m. EST on Showtime. Where We Left Off: Karen had her and Lip's baby and fled, prompting Lip to move back home and go back to school. Estefania and Marco were on the verge of breaking up and in happier news, Fiona passed her GED. ("Teen Mom's" Amber: Take note.) What's Ahead: It's 137 days since we've last seen the Gallagher's. Jimmy has moved into the house with them and Fiona uses the family's money in desperation and the others aren't too pleased. Oh and (shocker) Frank's missing.

Returns Sunday, January 13 at 9:30 p.m. EST Where We Left Off: Following her very public breakdown, Amy (Laura Dern) returned to work with a positive outlook ... only to start down the path of revenge after being laughed at by her coworkers. What's Ahead: Will Amy return to the path of enlightenment?

Returns Sunday, January 13 at 10 p.m. EST on Showtime. Where We Left Off: Did they or didn't they? Marty (Don Cheadle) and Jeannie (Kristen Bell) ended the season with a romp in the sheets ... maybe. They've gotten rid of the Rainmaker and stand triumphant. What's Ahead: Galweather Stearn brings in a new CEO who's all about female power. Adam Brody returns to TV with a guest role.

Returns Sunday, January 13 at 10:30 p.m. EST on Showtime. Where We Left Off: After Bates left Karen, Hank sees an opportunity. But when his ex Carrie returns and offers him an anti-depressant-laced drink, Hank loses consciousness just after seeing a vision of Karen, to whom he says, "I love you." What's Ahead: Hank is penning a rock opera "about love conquering all" with Atticus Fetch (Tim Minchin), a coked up rock star. Maggie Grace has a nine-episode arc as infamous rock groupie Faith, who becomes involved with Hank, and in one episode, Grace's former "Lost" co-star Jorge Garcia will appear as an old contact from Faith's past. Season 6 will also see a guest appearance from Marilyn Manson.

Monday, January 14 at 8 p.m. EST on The CW Starring: AnnaSophia Robb, Freema Agyeman, Chloe Bridges, Austin Butler and more. What's It About: A prequel to "Sex and the City," the new CW series follows Carrie Bradshaw as a high schooler in the '80s. She's discovering her style, dating, dealing with the death of her mother and falling in love for the first time ... with Manhattan.

Returns Monday, January 14 at 10 p.m. EST on Syfy Where We Left Off: Victory! But the darkness continues to grow in Bo (Anna Silk). What's Ahead: Bo must make a deadly decision. Plus, tune in for guest star Linda Hamilton and recurring guest star Rachel Skarsten.

Returns Wednesday, January 16 at 8 p.m. EST on Fox What's Ahead: Feuds! Divas! Dawgs! Mariah Carey, Nicki Minaj and Keith Urban join the judging panel alongside veteran Randy Jackson for Season 12.

Returns Thursday, January 17 at 9 p.m. EST on FX. Where We Left Off: After Charlie and Kate slept together, they were in a weird place with their relationship. And when Charlie's daughter Sam kissed a girl at school, a photo wound up on Facebook and Charlie and Jennifer questioned their daughter's sexual orientation. What's Ahead: 70+ more episodes. And in Season 2, Charlie will blow up at his sister's baby shower and will question if his father Martin is developing Alzheimer's. Cee Lo Green will stop by as a version of himself, seeking Charlie's assistance under Hollywood pressure.

Returns Thursday, January 17 at 10 p.m. EST on FX. Where We Left Off: The ISIS crew -- including Archer -- were held captive on the Space Station Horizon What's Ahead: A "Bob's Burgers" crossover! H. Jon Benjamin provides the voice of both Archer and Bob.

Monday, January 21 at 9 p.m. EST on Fox Starring: Kevin Bacon, James Purefoy, Shawn Ashmore, Natalie Zea, Annie Parisse What's It About: Ryan Hardy's (Bacon) been out of the FBI game for a while, that is until his biggest catch, serial killer Joe Carroll (Purefoy) resurfaces ... along with a cult-like following ready to carry out his bidding.

Tuesday, January 22 at 8 p.m. EST on ABC Starring: Anthony Bourdain, Nigella Lawson, Ludo Lefebvre, Brian Malarkey What's It About: Think "The Voice" (there are teams and coaches), plus "Top Chef" (culinary competition) and you've got ABC's "The Taste."

Returns Tuesday, January 22 at 10 p.m. EST on USA Where We Left Off: Peter (Tim DeKay) and Neal (Matt Bomer) stepped into the boxing ring to infiltrate a white collar boxing club. Neal discovered his father was still alive (and played by Treat Williams!) What's Ahead: Peter and Neal search for the truth about Neal's dad and his crimes and Neal goes undercover with the Irish mob ... And hopefully, more boxing.

Returns Wednesday, January 28 at 9 p.m. EST on TNT. Where We Left Off: Slaps, sex and secrets filled the first season of the new "Dallas." The season ended with John Ross (Josh Henderson) teaming up with J.R. (Larry Hagman) to destroy Christopher (Jesse Metcalfe) and Elena (Jordana Brewster). What's Ahead: Familiar faces return and the Ewings say goodbye to J.R. after series star Larry Hagman passed away about half way into filming Season 2. Producers will incorporate his death into the story.

Wednesday, January 30 at 10 p.m. EST on FX. Starring: Keri Russell, Matthew Rhys, Noah Emmerich What's It About: Elizabeth (Russell) and Phillip (Rhys) Jennings are the perfect couple: They've got two kids and are living the life of every American in the '80s ... but they just so happen to be KGB spies posing as regular ol' US citizens.

Thursday, January 31at 10 p.m. EST on NBC Starring: Steven Pasquale, Alana de la Garza, Phylicia Rashād, John Carroll Lynch What's It About: A brilliant neurosurgeon (Pasquale) has a big secret: a very villainous dual personality. It's a modern-day Jekyll and Hyde story mixed with a medical drama.

Returns Monday, February 4 at 8:30 p.m. EST on CBS Where We Left Off: Audrey (Megyn Price) was upstaged at her own baby shower by Brenda (Sara Rue). Meanwhile, Russell (David Spade) started to display creative talents after taking a break from women. What's Ahead: Sitcom hijinks!

Returns Tuesday, February 5 at 9 p.m. EST on NBC and moves to its normal Tuesdays at 10 p.m. EST timeslot on February 12 on NBC Where We Left Off: Karen (Katharine McPhee) wowed the crowd as Marilyn Monroe in previews of "Bombshell" in Boston. What's Ahead: More Broadway drama! There's a new musical in town that could rival "Bombshell" for all the buzz. Plus guest stars Jennifer Hudson, Liza Minnelli, Sean Hayes, Jesse L. Martin and more.

Returns Tuesday, February 5 at 10 p.m. EST on ABC Where We Left Off: Peter (Nicholas Bishop) saved Megan (Dana Delany) from a serial killer, but was stabbed in the process. What's Ahead: New blood! Bishop, John Carroll Lynch and Sonja Sohn are out and Mark Valley is in.

Returns Thursday, February 7 at 8 p.m. EST on NBC Where We Left Off: Evil Abed, "lawsuits" and sandwich shops filled the "Community" Season 3 finale that aired what feels like 30 years ago. What's Ahead: Six seasons and a movie. Just kidding, although that'd be cool (cool cool cool). Malcolm McDowell, Tricia Helfer, Jason Alexander and more will drop by for some Human Beings antics. Plus, Chevy Chase will depart the show.

Returns Friday, February 8 at 8 p.m. EST on Fox Where We Left Off: Martin (Kiefer Sutherland) and Jake (David Mazouz) fled to California and met up with Lucy (Maria Bello). What's Ahead: Martin (Sutherland) and Jake (David Mazouz) soak up the Los Angeles sun ... and find themselves in the middle of a "global conspiracy."

Returns Wednesday, February 13 at 8 p.m. EST on CBS Starring: Jeff Probst, unnamed contestants What's Ahead: Fans vs. Favorites, Round 2

Returns Wednesday, February 13 at 10 p.m. EST on TNT. Where We Left Off: Cooper saved Tang, and then Tang got a big promotion becoming sergeant and watch commander. What's Ahead: "One Tree Hill" star Chad Michael Murray joins the cast as goofball Officer Dave Mendoza.

Thursday, February 14 at 8 p.m. EST on ABC Starring: Anthony Edwards, Carmen Ejogo, Scott Michael Foster, Addison Timlin, Jacinda Barrett and Michael Nyqvist What's It About: Think "National Treasure" and "Da Vinci's Code," but on TV and starring Dr. Greene from "ER." Edwards plays Hank Galliston, the publisher of Modern Skeptic Magazine. When his wife is abducted, Hank and his pals are joined by the FBI as they attempt to crack various conspiracies and get his wife back.

Returns Sunday, February 17 at 8:00 p.m. EST on CBS Starring: Phil Keoghan, unnamed contestants What's Ahead: Globetrotting adventure.

Tuesday, February 19 at 9 p.m. EST on The CW Starring: Matt Davis, Alona Tal, Jessica Lucas, Robert Knepper What's It About: Matt Davis stars as Jeff, a journalist who investigates his brother's disappearance and his involvement with a group of obsessive fans who have formed a pseudo-cult around a TV series ... about a cult.

Premieres Tuesday, February 26 at 10 p.m. EST. Special showing on Tuesday, March 5 at 10 p.m. EST before moving to its regular Fridays at 9 p.m. EST time period on March 8 on CBS Starring: Theo James, Chi McBride, Kevin Alejandro, Bonnie Somerville What's It About: The series charts the rise of Walter William Clark Jr. (James), a beat cop who quickly moves up the ranks of the NYPD before becoming commissioner.

Returns Wednesday, February 27 at 10 p.m. EST Where We Left Off: Henry (Corbin Bernsen) got back into the detective game with the help of Shawn (James Roday) and Gus (Dule Hill). But the case ended with a bang as Henry was shot by a former friend. What's Ahead: Parminder Nagra joins the cast as a love interest of Gus. Plus, the long-awaited musical episode airs! Look for episodes inspired by "Clue" and "The Blair Witch Project" and for guest stars Jeffrey Tambor and Anthony Michael Hall, as well.

Sunday, March 3 at 9 p.m. EST on NBC Starring: Trace Adkins, Stephen Baldwin, Gary Busey, Penn Jillette, Lil Jon, Bret Michaels, Dennis Rodman, Dee Snider, Marilu Henner, La Toya Jackson, Claudia Jordan, Omarosa, Lisa Rinna, Brande Roderick What's It About: It's "Celebrity Apprentice," but with contestants who have already been to the boardroom with Donald Trump.

Sunday, March 3, 9:00 p.m. EST and moves to its regular timeslot on Sunday, March 10, 10:00 p.m. EST on ABC Starring: Radha Mitchell, Goran Visnjic, Clifton Collins, Jr., Sterling Beaumon What's It About: Marta Walraven (Mitchell)'s husband Evan supports the family by exporting weed and is involved in the world of organized crime with Bratva, Russian gangsters. After Evan's murder, Marta seeks to protect her kids, but gets tangled in the seedy underworld.

Returns Friday, March 8 at 8 p.m. EST on NBC What's Ahead: Mentors Jessica Simpson, Nicole Richie and John Varvatos return to the show with new host Louise Roe as 13 new contestants compete for the chance to launch their own clothing line.

Returns Monday, March 18 at 8 p.m. ET on ABC Starring: Tom Bergeron, Brooke Burke Charvet, Carrie Ann Inaba, Bruno Tonioli, Len Goodman and unnamed celebrity contestants. What's Ahead: Celebrities dancing.

Returns Monday, March 25 at 8 p.m. ET on NBC. Starring: Adam Levine, Blake Shelton, Usher and Shakira What's Ahead: Presumably, a lot less ridiculously outfits without Christina Aguilera and Cee Lo Green.

Returns Sunday, March 31 at 9 p.m. ET on HBO Where We Left Off: War came. Read Maureen Ryan's recap for more. What's Ahead: Tons of new cast members played by the likes of Diana Rigg, Iwan Rheon, Mackenzie Crook, Clive Russell and many more. Season 3 will be about half of George R.R. Martin's "A Storm of Swords," one of the series' most beloved books.

Wednesday, April 3 at 9:30 p.m. ET on ABC Starring: Sarah Chalke, Elizabeth Perkins, Brad Garrett What's It About: Polly (Chalke) is a recently divorced single mom. Since the divorce, Polly's been having some struggles and decides to move back in with her eccentric parents, Elaine (Perkins) and Max (Garrett). Hijinks ensue.

Wednesday, May 1 at 8:30 p.m. ET on ABC Starring: Kyle Bornheimer, J.K. Simmons, Leah Remini What's It About: After Tony (Simmons) suffers a heart attack, he's forced to hand over the family handyman business to his bumbling son Jack (Bornheimer).

TBA on Fox Starring: Becki Newton, Scott Foley, T.J. Miller What's It About: Three estranged siblings reunite after the death of their father and unexpectedly find themselves heirs to a $20 million fortune ... if they adhere to their dad's wishes.

TBA on NBC Starring: Anne Heche, Michael Landes and Alexandra Breckenridge. What's It About: Anne Heche stars as Beth, a woman whose life -- and marriage -- is falling apart. However, after a new-death experience, Beth claims God starts speaking to her and sets her on a new life path.
Follow Maureen Ryan on Twitter: www.twitter.com/moryan