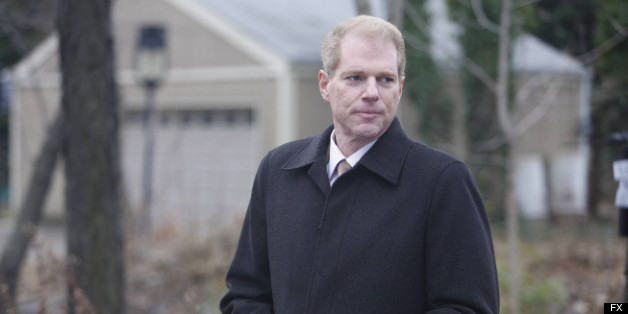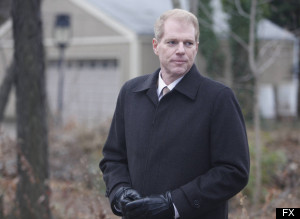 A good portion of the taut first season of "The Americans" revolved around a simple question: What's going on in the mind of Stan Beeman (played by Noah Emmerich)?
The FBI agent has been drawn deeply into the dangerous machinations of the Cold War, which is at its height in 1981, the year the show is set. Over the course of the season, the quietly tenacious Beeman has become ensnared in the plots of several Soviet spies, including a pair of undercover agents who, unbeknownst to him, are his neighbors on an unassuming suburban street. In Wednesday's season finale, American and Russian agents set a series of high-stakes events in motion, and the dogged Beeman is at the heart of every scheme.
On Friday, the cast of "The Americans," as well as executive producer/creator Joe Weisberg and executive producer Joel Fields, gathered at the Academy of Television Arts and Sciences in Los Angeles to discuss the show before a packed house. In the course of an hour-long conversation about the show's first season, a couple of Season 1 deaths came up (I'm leaving them vague in case you're not caught up with the show).
An American character was found dead in a key episode, and later the same hour, Beeman shot a Soviet agent. Emmerich was asked whether the second death was an act of revenge for the demise of a first character, whom Beeman knew.
Emmerich's answer surprised me: He said that in his view, the killing of the Soviet agent was simply strategic. In his view, it was an act that Beeman reluctantly carried out for logical reasons (i.e., the Soviets had killed an American, thus would be emboldened had one of their own not been taken out).
I'd have guessed there was a certain measure revenge in the act, but what's wonderful about Emmerich's understated yet deeply felt performance is that both readings -- vengeance and logic -- are there in his performance. As Beeman has negotiated the challenges of a difficult new job, marital turmoil, an affair with a Russian contact and stakes that only get higher each week, Emmerich has given Beeman a quiet dignity and contained, yearning confusion. There's also nobility in the many sacrifices he makes for his job -- sacrifices the world will never know about, given the clandestine nature of his job.
After the panel, I got a chance to talk to Emmerich about coming to television after a career spent mainly in film. What follows is an edited version of our conversation. (By the way, I hope to post the entire "Americans" panel discussion some time this week. But until then, we've got interviews with Margo Martindale, Matthew Rhys and the show's executive producers, who spoke to me about the show's first season and finale, as well as a new Talking TV podcast on "The Americans.")
Working in TV versus film, is it a big difference?
Oh my God.
You've done both...
Yeah, but this is my first time [as a series regular]. It's very different. I think of it as charcoal versus oil. Television is fast. There's not the same amount of time there is in film, [where] you can come back, you can hone. You have a much more extended, protracted examination of the material, because there's time for it. In television, there's no time for it. You get one or two takes and you're moving on, and that has an upside and a downside, as has film. Film is slow and tedious, and television is so fast that you sort of revert to your instincts and the experience you've gained, and you go with your gut.
I started out resistant to it and begrudging it. I always felt annoyed and sort of resentful we didn't get more time, because that's part of what I love about it. I could do 100 takes and not get bored. But then I actually got quite acclimated to that speed. There's a freedom to that. You're more instinctive, more spontaneous, it's a less precious approach to the work. Sometimes I feel some of the best work I've done has come out of that process.
What were some of your favorite moments this season?
I love the eighth episode, the hunting monologue with Vlad. We just had one or two scenes, but they were special for me. Part of what I love about the role is that there's so many different places Stan goes. There's the relationship with his wife, there's the Nina relationship, there's the Philip relationship, there's the Gaad and Amador relationships [at the FBI]. He has many different colors and textures.
There's something quite special that's evolved this season with Stan and Nina, it's a really intriguing, complex relationship that I've had a great time with. That's been consistently compelling for me as an actor.
Stan seems like a very interior, guarded person who keeps things close to the vest. Does that sound right to you? And in your mind, is that what attracted him to this work?
I think that's accurate about him, as he is when we find him. I think that's evolved. It's hard to say with any certainty [who he was] before he entered the field, but given the work he's been doing -- three years as an undercover [agent] -- that tends to be risky if you don't hold your cards close to the vest. He's been compelled to become more that way, but it started as a job requirement. It's also for the safety of his family and those around him. He can't include his wife and son -- it'd compromise intelligence and their safety.
I read a fair number of spy novels and I've watched things like "Rubicon," "Homeland" and "Zero Dark Thirty," and what comes to mind again and again is that these people aren't just giving their time and their energy and their intellects to these jobs -- their sacrificing their souls as well.
They are. That's the cost of the career, and I feel like Stan is one of the loneliest, most isolated, confused, sad people that I've played. As I said [during the panel], I think he's doing it because he believes it's a calling. He believes it's his duty. He feels compelled to make his life about something more than himself. But it's a huge expense.
It really is giving your life for your country.
Yeah. Your life, really, at incredible personal costs. These guys are quite noble. There's no glory in it.
The season finale of "The Americans" airs 10 p.m. ET Wednesday on FX.