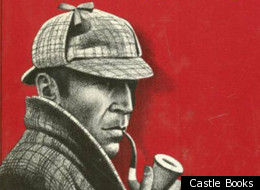 Even though I was a kid obsessed with crime comic books, mystery novels, and private eye TV shows, I never wanted to be a detective when I grew up. Perhaps it was the flourish of Chester Gould's signature on the Dick Tracy strip, or the evocative sound of the names of certain writers: Sir Arthur Conan Doyle, Dashiell Hammett, Mickey Spillane. Even TV's Peter Gunn, with that dynamic Henry Mancini theme playing over the opening credits, turned out to be "created and produced by Blake Edwards," another great-sounding name. No, I wanted to Chester Gould when I grew up. Or maybe Mickey Spillane.
My career, which started back in 1973 when I was still at the University of Iowa's Writers Workshop, has stopped short of making me a household name, but been generous in allowing childhood dreams to come true. My first major writing gig was scripting the Dick Tracy strip when Chester Gould retired (at age 7, I had written Chet, offering to take over if he ever got tired of doing it).
The literary idol of my adolescence was Mickey Spillane, that much pilloried yet enormously popular creator of perhaps the most famous of all private eyes, Mike Hammer. And I came to be Mickey's friend - my son Nate is his godson - and was honored by the great storyteller who, in the final weeks of his life, asked me to shepherd a number of his unfinished novels into publication. Right now I'm on the eve of the publication of Lady, Go, Die! [Titan Books, $25.99] - the oldest of the manuscripts entrusted to me, a sequel to Hammer's now classic debut, I, the Jury (1947). That I would in 2011 find myself finishing the second Mike Hammer novel, begun by my idol in the late 1940s, indicates just how blessed and improbable is my career.
I, the Jury was a game-changer, revitalizing the tired private eye genre, which by the late '40s had been reduced to self-parody by B movies and spoofy radio series. Every now and then, the mystery novel - particularly the private eye variety - seems played out; and then someone like Mickey comes along to kick-start it in some imaginative new way.
Fictional detectives thrived through the twentieth century, but the genre only began sixty years before, when Edgar Allan Poe wrote his handful of stories about amateur sleuth, C. Auguste Dupin. Detectives and police forces were relatively new in Western civilization, an outgrowth of the democracies of Europe and the United States in the late 1700s and early 1800s. Soon detectives and mystery plots began emerging from such popular authors as Charles Dickens and Wilkie Collins, and real-life private eye Allan Pinkerton's celebrated cases sparked a wave of dime-novel detectives, perhaps most memorably Nick Carter.
Detectives were entrenched in the popular culture by the turn of the twentieth century, with the famed pulp magazine Black Mask at the forefront. In those pages, a largely forgotten author, Carroll John Daly, created the literary private eye, his Race Williams a western gunfighter moved bodily to the urban jungle, where his blazing .45 and merciless sense of justice excited a young boy in New Jersey named Mickey Spillane.
Here are the authors and their creations who, in my view, changed the detective game.
The first Holmes novel, A Study in Scarlett (1887), went almost unnoticed, but the short stories Doyle began writing for the Strand Magazine made the "consulting detective" the first great (and still greatest) star of the genre. Doyle perfected what Poe invented with Dupin: the brilliant, eccentric detective whose rather pedestrian associate serves as his Boswell. Holmes is a man of action, fighting poisonous snakes, tracking hellish hounds, and battling master criminals - Holmes sets the standard for both cerebral armchair detectives and two-fisted hardboiled dicks. Basil Rathbone in his series of late '30s and early 1940s films remains the quintessential big-screen Holmes, while the Granada Television series of the '80s and 1990s offers Jeremy Brett in a flamboyant yet faithful small-screen interpretation that is perhaps definitive. But the current BBC Sherlock underscores the timelessness of a creation that Doyle himself considered minor.

Hammett had to resign as a Pinkerton "op" due to poor health. Experience as a jewelry-store copywriter inspired him to write about his detective days. Carroll John Daly was writing exciting but ridiculous private eye yarns in Black Mask, and Hammett stepped in with something harder-edged and more real. Scores of short stories and two novels later, he introduced Sam Spade, who appeared in but one novel and three novellas. Over the course of a mere five novels, Hammett defined and perfected the tough American mystery. The Maltese Falcon (1930) gives us the hardboiled detective with his own code, the faithful secretary who loves him, the tough coppers who resent him, a pretentious mastermind, a mouthy punk, and the femme fatale of all femme fatales. A spoofy radio show made the public think Hammett wrote dozens of Spade tales. But there's really only one that counts. John Huston made a movie out of it.

Arguably the most famous fictional female detective, Nancy Drew was created in 1930 as a companion sleuth to the popular Hardy Boys (first appearing in 1927). "Carolyn Keene," however, was a joint pseudonym for various ghost writers used by creator Edward Stratemeyer, a specialist in devising book series for kids (Rover Boys, Bobbsey Twins, Tom Swift). Early volumes were written by a woman, Mildred Wirt Benson, which perhaps explains the strong, spunky nature of the sixteen year-old sleuth during her first thirty years. Efforts to update the series, dealing with racial stereotypes by removing all black characters, softening Nancy herself into a compliant 1950s female, frustrated many Baby Boomer readers, who continue to have fond memories of running boards, rumble seats, seamed stockings and stylish hats in the earlier editions. Minor film and TV success has been eclipsed by the ongoing book series itself.

Oklahoma-born Chet Gould tried for a decade to sell the Chicago Tribune Syndicate one humorous comic strip after another. Finally a non-funny strip of Gould's got the attention of editor Joseph Patterson: Plainclothes Tracy, which Patterson promptly renamed Dick Tracy, invoking the slang term for detectives. Gould defined the look of the tough detective - snapbrim fedora, trenchcoat - setting his modern-day Sherlock Holmes in the midst of Capone-era Chicago. His strip was as hardboiled as Hammett, introducing death by violence onto the comics pages. When the gangsters and outlaws of the '30s were overshadowed by the war news of the early '40s, Gould began creating such grotesque villains as Pruneface, the Mole and Flattop. Bob Kane and Bill Finger's Batman was a costumed variation on Tracy, complete with boy sidekick and grotesque villains. Until Warren Beatty's 1990 film, radio, movies, and television always came in second to the imaginative strip itself.

In 1915 a British housewife wrote a mystery novel as a lark; published five years later, The Mysterious Affair at Styles introduced fussy, arrogant Belgian sleuth Hercule Poirot. With Captain Hastings as his Watson, Poirot seemed initially just another Holmes wannabe, but Christie - particularly adept at misdirection - soon displayed unparalleled skills at deft characterization and brilliant plotting. Her other stellar sleuth, Miss Marple - that shrewd small-town busybody - first appeared in The Murder at the Vicarage (1930). Calling Christie the queen of cozy mysteries is wrongheaded - serial killers, ax murderers and spouse killers abound, and Marple in particular is as hardboiled in her way as Mike Hammer. Surprisingly late in the game, Poirot became a movie star (particularly well-portrayed by Peter Ustinov) and a TV detective (the wonderful David Suchet gradually committing the entire Poirot canon to film). Dame Agatha remains the bestselling mystery writer worldwide and probably the genre's greatest practitioner.

Cousins/collaborators Manfred B. Lee and Frederick Dannay, using their detective's name as their joint pseudonym, created a rarity: their detective, imitating a prior popular sleuth, outdistanced and outlasted the original. S.S. Van Dine's Philo Vance, an effete society detective, was hugely popular in the 1920s and '30s, but the snotty sleuth quickly became dated. Imitator Ellery Queen, on the other hand (both author and detective), changed and grew with the times. Later Queen novels reveal the impact of Dashiell Hammett and Raymond Chandler, the prose and characters richer. Radio, film and television success didn't hurt, and though Queen as a character has faded (though not to the degree of Philo Vance), the magazine bearing his name - Ellery Queen Mystery Magazine - remains the standard bearer of the genre. An excellent 1975 television series, played in '40s period, starred Jim Hutton as Ellery and David Wayne as his father, Inspector Queen.

By 1934, when failed literary author Rex Stout turned his hand to mysteries, two distinct schools of detective novel had emerged: the drawing-room mystery exemplified by Christie and the hardboiled with Hammett as model. Stout's genius stroke was to combine the two in Fer-De-Lance - the cerebral detective (rotund, pompous Nero Wolfe) paired with a hardboiled dick (cocky, smart-ass Archie Goodwin). Related in a breezy first-person by Archie, Wolfe's cases find the detective staying at home in his famous brownstone, maintaining rigid hours around his precious orchids and gourmet dining, while man of action Archie flits about Manhattan, flirting and fighting. Mysteries, often centering upon business and industry, are not as memorable as the amusing sparks that fly between armchair detective and hardboiled dick. A first-rate series A&E TV series aired 2001-2002 with Tim Hutton (Ellery Queen's son) playing Archie and the late, great Maury Chaykin as Wolfe.

Although Hammett perfected the basic form of the private eye novel, and Stout nailed the wry first-person approach, Chandler remains the most influential writer of the genre. Training by writing pulp stories for Black Mask, studying Hammett but hoping to out-do him, ex-oil company executive Chandler developed a prose style that created mood through audacious metaphor and character through crackling dialogue. Phillip Marlowe, introduced in The Big Sleep (1939), is the definitive private eye, a modern-day knight in the anti-Camelot of Los Angeles in the forties and fifties. Scores of mystery writers, some famous in their own right, are disciples of this hardboiled poet; undoubtedly Chandler's chief acolyte is Ross MacDonald, much admired (if not by Chandler). Perhaps the greatest private eye film, Chinatown (1974), finds screenwriter Robert Towne prowling a Chandler-esque L.A. landscape even while dismantling Marlowe's knightly ways by way of Jack Nicholson's divorce dick, Jake Gittes.

Liberal critics despised Mike Hammer's vigilantism; conservatives found the sexual content of such bestsellers as The Big Kill and Vengeance is Mine! evidence of moral decay. Mickey Spillane never cared. In 1946, the writer was a veteran of both the Air Force and comic books who needed $1000 to build a house in upstate New York. Hammer's shocking debut, I, the Jury (1947), built the house, and opened a Pandora's box on sex and violence in popular culture. Paperback original novels were invented to fill the market his reprints revealed; television private eyes flourished thanks to Hammer, without whom no James Bond, Shaft, Dirty Harry, or Jack Bauer. The bestselling American author of the 20th Century spoofed himself for 18 years in Miller Lite commercials, even playing Mike Hammer on screen (The Girl Hunters, 1963), disliking Hollywood's versions, though Robert Aldrich's Kiss Me Deadly (1955) has fueled Spillane's enduring fame.

In 1973, the private eye was at one of its periodic low ebbs. But in The Godwulf Manuscript, the well-educated, erudite Robert B. Parker wrapped his sleuth Spenser in modern trappings. Spenser is a Yuppie tough guy, a former boxer who likes to cook for his feminist girl friend, Susan Silverman. Add to this an evocative Boston setting - which sparked regional mysteries even beyond the private eye genre - and an id of a black sidekick, Hawk, allowing Parker to enter Spillane territory without bruising his Marlowe-esque knight's sensibilities. Parker combined the spare prose style of Hammett with the wise-guy narration of Chandler into something his own. No mystery writer of the late twentieth century was more influential - such major names as Walter Mosley and Robert Crais followed Parker's model. TV veteran Robert Urich made a first-rate Spenser in a late '80s series and four mid-'90s telefilms.

The success of Robert B. Parker's Spenser opened a floodgate of new, modern private eyes. In Inedemnity Only (1982), Sara Paretsky presented female private eye, V.I. "Vic" Warshawski, who rivals Spenser in influence. In some ways a typical tough P.I., Chicago's Warshawski is hard-drinking, brawling, and willing to break-and-enter; she is also feminist, feminine, loves opera, and has a healthy sex life. Something must have been in the air, because Sue Grafton's similarly successful series with likeable Kinsey Millhone also debuted in 1982 with "A" is for Alibi. V.I. and Kinsey were preceded by Marcia Muller's Sharon McCone mysteries (1977) and the Ms. Tree comic book series (1981), although Paretsky and Grafton were the game changers. Previous female private eyes, like Rex Stout's Dol Bonner, found little traction in popular culture, although G.G. Fickling's Honey West paperbacks led to a short-lived but well-remembered 1960s TV series starring Anne Francis.