On December 8th, Twitter announced a new version of the network that was designed to make it easier for users to "discover what's happening now". You've probably already read about the introduction of special pages for brands. The new features are exciting, and promise heightened engagement between brands and their followers. The new design is about growth and keeping users on the site longer, encouraging more interaction, and making Twitter more accessible to the masses who may start as consumers of tweets rather than big tweeters themselves.Twitter's new enhanced profile pages for brands won't be widely available right away.
At this time, there are a handful of major advertising brand partners who are piloting the pages during the launch period. Here's what you can do in the meantime to continue developing your follower audience on Twitter:
1. Drive branded conversations with the new Twitter buttons.

Sprinkle the new Tweet buttons throughout appropriate places on your corporate website, such as on product pages or in the customer support forums, which allow people to press "Tweet @ourbrand" and leave a comment mentioning your brand name, creating network conversations tied to branded content.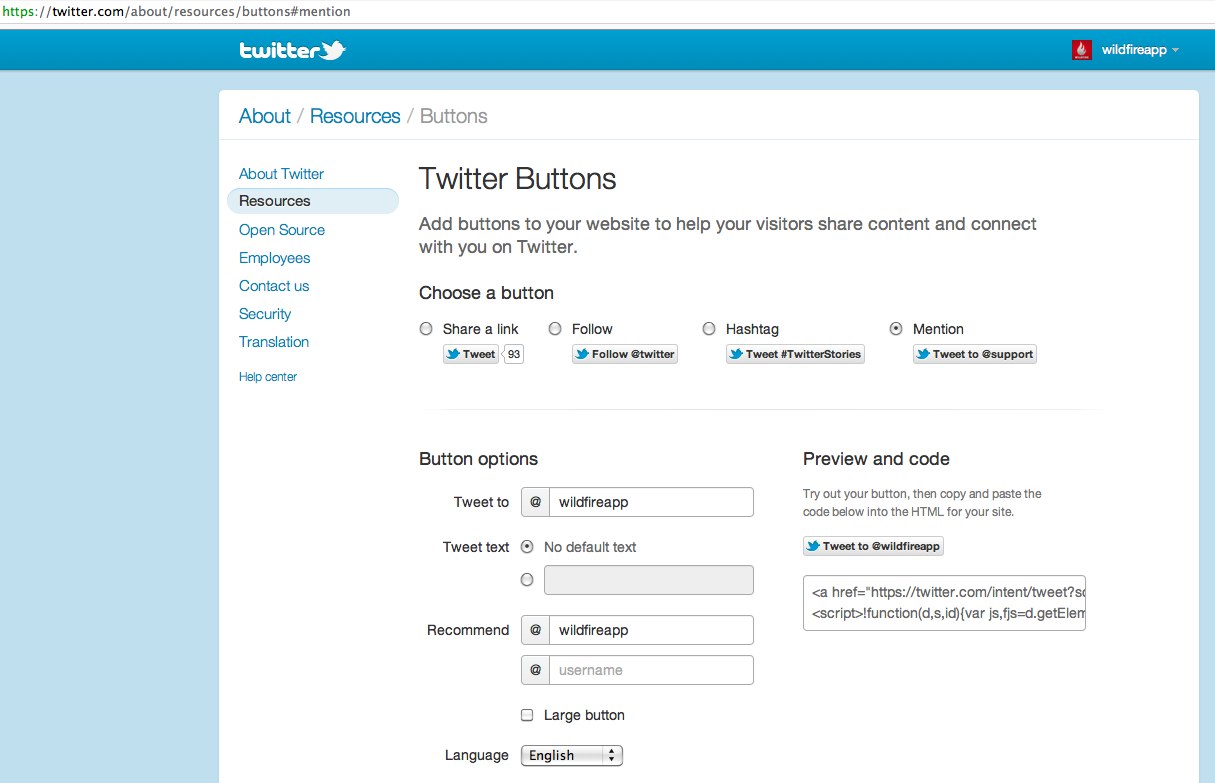 2. Use embeddable tweets within the content planned for your editorial calendar.

When planning items for your editorial calendar, like product updates or blog posts, consider including embedded tweets in the articles you publish, allowing readers to interact not just with the blog while they're reading it, but with your brand on Twitter, all from one place.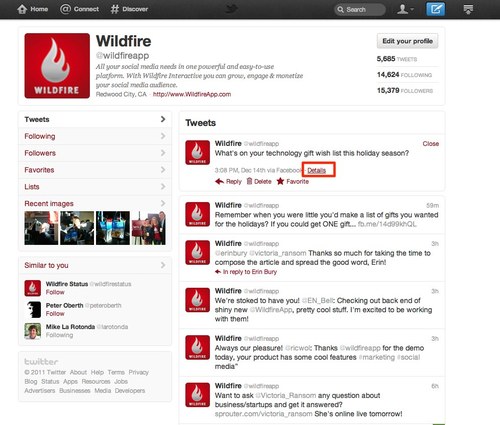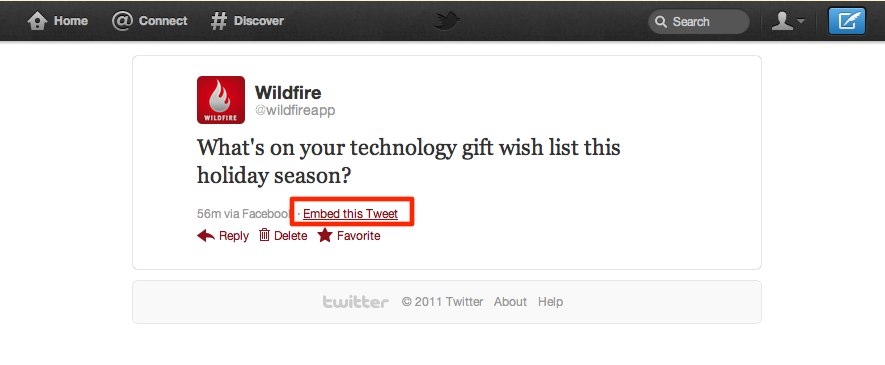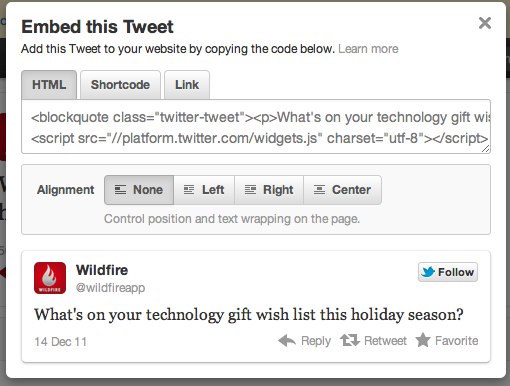 3. Run a promotion, like a sweepstakes, on Twitter to drive activity around your brand.

Running a promotion where users interact with your brand on Twitter to win a cool prize is one way to spur conversations, mentions, tweets, and re-tweets. Maximizing the reach of your Twitter content is key in growing a strong follower base, one that will be especially engaged in time for the roll-out of the new Twitter pages format for all brands.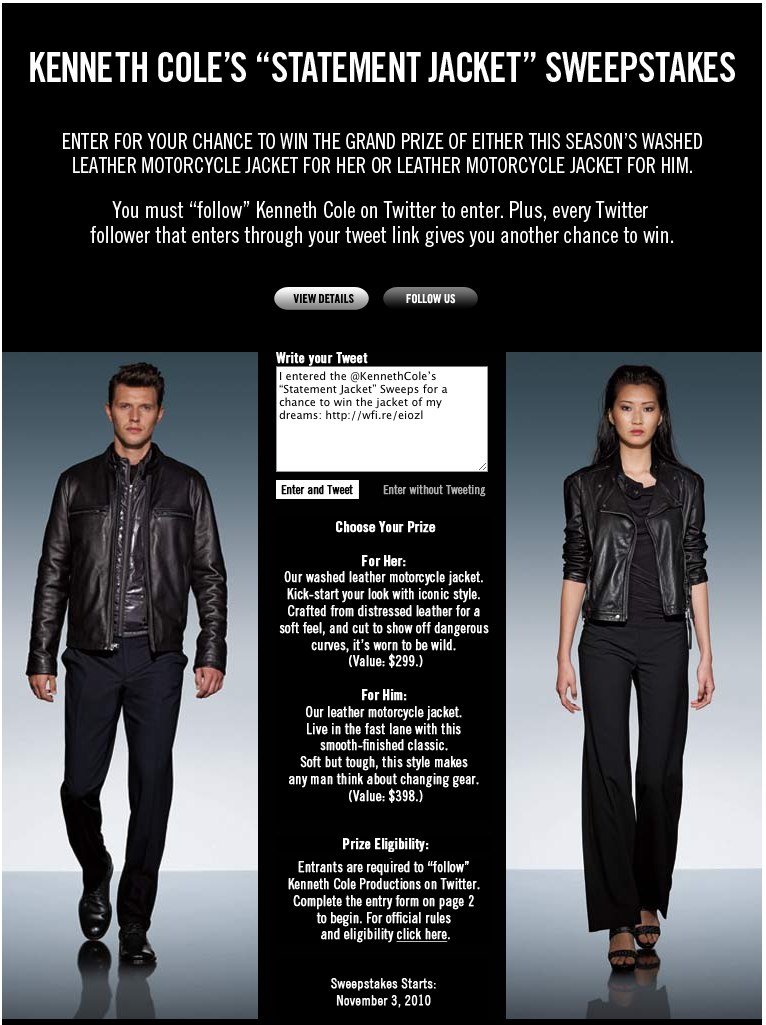 Here at Wildfire we're incredibly excited about the changes Twitter is making across their site (and many of these changes will affect Twitter mobile users as well). Twitter users may prove to be especially valuable to brands because of the unique dynamics of the Twitter community. The accounts a typical Twitter user follows don't always represent their real-world social connections, but rather their brand affinities, aspirational interests, and also their favorite celebrities! This means that your opportunity to build a community around your brand, both with the new tools available now as well as the forthcoming brand pages, may be one of the most valuable social marketing investments that you can make in 2012!
Which of the new Twitter features are you planning on implementing for your brand? Share with us in the comments; we're curious to hear what you think!

SUBSCRIBE TO & FOLLOW THE MORNING EMAIL
The Morning Email helps you start your workday with everything you need to know: breaking news, entertainment and a dash of fun. Learn more