LAKE FOREST, Calif. -- The telling moment Saturday night at the Saddleback Civil Forum on the Presidency comes just before the end when the mega-church's pastor Rick Warren asks Senator John McCain "What about -- you -- we're seeing Russia reasserting itself in Georgia, and maybe now Poland. What's happening?" Those two words what's happening are the crux of the evening. Although the forum's format has been to ask the same questions in the same order back-to-back of Senators Obama and McCain -- Obama going first by coin toss and McCain during that hour placed "in a cone of silence" -- here on the crisis in Georgia Pastor Rick, as his congregation calls him, branches out. The consequence of Obama's inclination to nuance and McCain's to brevity for the pastoral conversation is that Pastor Rick has time to ask McCain an additional question. And the question the preacher poses is very different from all the others. He doesn't ask for opinion or personal philosophy, he wants to know what's going on in Georgia. He wants knowledge. He wants expertise. The assumption is that the presumptive Republican nominee for president has that knowledge and expertise. The asking of the question itself is an imprimatur, dramatically so, of John McCain for President according to the very terms Rick Warren has set forth for the evening's dialogues -- "to discuss issues of leadership" more than just the specific positions on abortion, marriage and stem-cell research with which Evangelicals like Pastor Rick and his congregation have long been associated.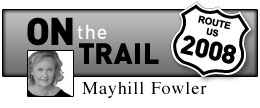 John McCain lets Pastor Rick and the audience in on what's happening. In overview, he ties the current Russian incursion to "the centuries-old ambition of the Russian Empire to dominate that part of the world." He makes Georgia real to the congregants at Saddleback by talking about its conversion to Christianity in the third century. "You go to Georgia and you see these old churches that go back to the fourth and fifth century," McCain says, before quickly locating the present crisis in the issue of energy and the Georgian oil pipeline, for Russians are using energy "as a tremendous lever against the Europeans." Although this is an oversimplification of the role of the Baku pipeline in any Russian strategy of aggrandizement, McCain's reply is the kind of direct, succinct, forthright and coherent response this Evangelical audience has been looking for.
For two hours before the forum and an hour following, I chat with the Saddleback audience about politics and the upcoming election. Although all the people with whom I speak are social conservatives, most have come to the civil forum with open minds about the presidential candidates. Pastor Rick has told the members of his church, who comprise maybe 90 percent of the audience, to look for evidence of leadership tonight. Indeed the four different topics that in Warren's mind structure his questions -- stewardship, leadership, worldview and America's role in the world -- all point back to the L word. Again and again, that's what the congregants tell me they are looking for. The upcoming election is too important, the country's situation is too messed up, not to focus on the larger picture. The media, on the other hand, will see the evening primarily through the lens of the old narrative about abortion, marriage and stem cells. Indeed Pastor Rick will ask about those hot-button issues. Neither Obama nor McCain gives all the answers that in an ideal world these social conservatives would like to hear. But this is a different election, in a different year. On Saturday night at Saddleback Church thousands of Evangelicals, in the main auditorium and in outlying "tents" watching the video feed, and presumably on CNN, find a leader in John McCain.
This dynamic is not what I had been expecting when I trudged with my heavy paraphernalia up the steep climb from distant parking lot to sanctuary under the high noon desert heat of southern Orange County, California. What I am expecting is "the handshake," the first onstage meeting between McCain and Obama since respectively winning their parties' nominations. As a journalist, I'm looking for that element of closure to the summer campaign. If only Obama had agreed to those summer town hall meetings, I'm thinking as I pull my laptop case up another set of stairs. (And the Senator's going to be thinking the same thing if he loses in November.) The moment of rapprochement, the shake and the hug, would long since have passed. What I am not expecting is anything of note from either candidate on the subject of faith and politics.
Such a forum is hardly new for Election 2008, especially for Senator Obama, who endured two such "conversations" during the Democratic race: the Sojourners Presidential Forum June 4, 2007, at George Washington University and the Compassion Forum April 13, 2008, at Messiah College in Grantham, Pennsylvania -- both airing like the forum tonight on CNN. Obama has spoken about his faith on numerous occasions, in the primary campaigns (the Forty Days of Faith outreach in South Carolina), in formal speeches (Address to the A.M.E. Church in St. Louis July 8, 2008), and behind closed doors (the Chicago meeting with Franklin Graham and other religious leaders June 10, 2008). Given the persistent rumors about Obama's Islamism, his campaign seems to have decided that the candidate can not speak about his Christian faith too often. Therefore, frequently having heard Obama on faith, I already know the outlines of what he's going to say, no matter Pastor Rick's questions, even as I can predict much less about McCain's remarks. But I doubt that even Rick Warren will be able to drag much out of the Arizona Senator, who has wielded humor and war stories as a shield to scrutiny for too long to be foiled now.
Furthermore, I reject Rick Warren's premise: that Americans (or indeed the citizens of any nation) either want or expect their leader to make decisions of state based on the promptings of conscience with which we ordinary folk direct our lives. Protecting the body politic can require moments of personal betrayal, like jettisoning an agenda on which a trusting colleague has given his or her all, and hard decisions that contain elements of both wrong and right. It can mean sending men and women into harm's way and to their deaths. From a teleological point of view, the old idea of the divine right of kings has always seemed to me to contain one truth -- that even as leaders bear burdens of conscience for the sake of the people they govern so they over time find a different compact with God.
But the audience at Saddleback is not thinking in these terms. "I seek to be open-minded," John, a church member and volunteer who has brought his daughter Courtney to hear the candidates, says. "But leadership is critical, and I'm interested in hearing what a new international platform for the U.S. might be." Emma, who volunteers in the church nursery, is looking for "leadership on national security." She thinks she knows for whom she is going to vote but is not sure. Betsy and her husband, who works for Disney as Betsy herself once did, are looking for "character, through what they [McCain and Obama] say on the issues." Betsy, who has been a college teacher but now home-schools her two middle schoolers, also hasn't made up her mind about the Election. Nor has Matt, here with his teenage nephew Bryce, who like all the audience members with whom I speak is a church volunteer. Bryce plays ball with the church four-year-olds on Saturdays. "I'm a Republican," Matt says, "but I'm ready for change, particularly on foreign affairs." Husband and wife Steve and Laurie care about abortion but also want to hear how the candidates would lead on Iraq. Kent and Sherry rank the issues as national security, fiscal responsibility and abortion. They are looking for "principles versus experience." They want to hear how the candidates will "lead in reconciling competing positions."
Right off the bat, Barack Obama misjudges this audience by not approaching them as seriously as they are approaching him. To Warren's first question, "Who are the three wisest people you know in your life and who are you going to rely on heavily in your administration," Obama answers his wife, his grandmother and four Senators, for whose choosing Obama doesn't give the audience much reason. Of course, this is a bad question because, not surprisingly, the audience hears it as "who are three wise people on whom you will rely in your administration" -- which is not exactly what Warren asks. But this answer is one of two that will bring many of the people in the audience to reject Barack Obama as their presidential choice. They are appalled that he names his grandmother. These serious-minded folk have come here tonight to make an important decision. Even though Warren, McCain and Obama are tieless in open-necked shirts, most of the audience has dressed for the occasion. The people I talk to have acquired tickets through the church volunteers' lottery. Most everybody else has paid for their tickets, at $2000, $1000 and $500 levels, according to some reports (which I am unable to confirm). A Filipino-American ex-military man tells me that he has paid $300 for his ticket to watch the video feed from tent no. 2. By and large, these are not wealthy people, and they have worked hard to get here to make a decision, as their pastor has led them, on choosing a leader. They haven't come to hear about Grandma.
John McCain, on the other hand, judges the evening perfectly, answering each question from a presidential perspective -- quickly and to the point. His three wise people are General Petraeus, Congressman John Lewis of Georgia and Meg Whitman, for each of whom he gives succinct reasons related to who we are as Americans. McCain's reply to Warren's second-to-last question, "Why do you want to be President," is also simple and direct. "I want to inspire a generation of Americans to serve a cause greater than their self interest," McCain says. Then he goes on to relate this assertion to "enormous challenges" at home and abroad, like in Georgia; to his own service in the Navy; to his record of reaching across the aisle in the Senate; to his meeting with the African-American women of Gee's Bend, Alabama, who "probably won't vote for me," but whom he'll never forget. "I know that my job is to tell them that I'll be the President of every American and I'll always put my country first." To press ears, this is boilerplate McCain; to Saddleback, this is a clear mission statement.
Barack Obama, on the other hand, is uncharacteristically rambling. "You know, I remember what my mother used to tell me," Obama begins. "I was talking to somebody a while back and I said the one time that she'd get really angry with me is if she ever thought that I was being mean to somebody or unfair to somebody." Then he segues into his familiar themes of "the American dream slipping away" and our "broken politics" without giving a vision of how he would address those problems. "I think I have the ability to build bridges across partisan lines," he says, "to get people to work on some common sense solutions to critical issues, and I hope that I have the opportunity." Not only is this not a mission statement. Obama's words are vague and tentative. They give the impression that, having the presidency almost within his grasp, and having arrived at this near point driven by fierce ambition and a sense of personal destiny, Barack Obama is not quite sure exactly where he should lead us.
The evening is not perfect for either man. Saddleback doesn't like everything McCain says, particularly his support for stem-cell research and his belief, as a federalist, that decisions about the definition of marriage should be left to the states. But he never says anything as off-putting to this audience as Barack Obama's reply to Warren's query about conception and human rights that "answering that question with specificity, you know, is above my pay grade." After the forum is over, the event handlers send a dozen or so church members to talk with the press. Every person who speaks with me mentions Obama's reply, saying, in essence, that nothing is above the pay grade of a Commander-in-Chief. A couple of the comments strike me as particularly revealing.
Genevieve: "I came here today not being a fan of McCain, but hearing what I heard today, he made a convert out of me. . . . I think he gave very precise, very decisive answers."
Grant: "I think we're blessed to have two good candidates. They both seem to be men of integrity, principle and so forth, but I tend to favor John McCain. I'm more impressed with Obama as time goes on. He's a smart man, but he lacks experience. I'd like to see a real leader in there [the presidency]. Sometimes older people who have answers and opinions who are strong are really important to Americans at a time when the country is really in a stressed condition."
Sandra: "This was an eye opener to the leadership abilities. On-the-line answers -- direct -- without a lot of thought. I saw such a big difference in the candidates. One has a lot of charisma, and at one point in time I was certainly committed to vote for him, and I think today really opened my eyes. Because there was not any dancing around [with McCain], and I'd rather have as our president someone who is direct, who knows how to make a decision, or knows where to go for the answers. . . . I was quite taken with Obama, in the beginning. His words, his charisma and his change. Perhaps his time will come, but I don't think he's seasoned enough to be a leader in the times we're living in right now." Sandra has known Pastor Rick longer than he has had his church.
In the spin room post-forum, Sam Brownback, Gary Bauer and Obama's faith outreach director Josh Dubois speak to the press, as well. With the caveat that spin is the cheap champagne of the political party circuit, I decide that Gary Bauer, in answer to a question about whether Obama didn't sound more comfortable than McCain talking about faith, has a point. "That's Christian identity politics, and I'm sure it has some influence," Bauer says, "but I don't think at the end of the day it's the deciding factor. Jimmy Carter could have come in here and sounded much more comfortable with his faith, but people, having seen a Jimmy Carter presidency, would not vote for him just because they are likely to see him in Heaven."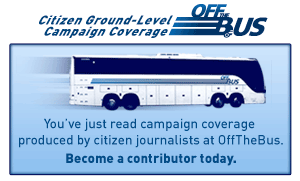 SUBSCRIBE TO & FOLLOW THE MORNING EMAIL
The Morning Email helps you start your workday with everything you need to know: breaking news, entertainment and a dash of fun. Learn more