BERLIN -- On what used to be the East German side of the Brandenburg Gate, Linnea and Julia, two American college students, have been spending this sunny Wednesday afternoon handing out blue postcards advertising Barack Obama's appearance tomorrow at the Siegessaule, the Uberphallic Victory statue in the Tiergarten, less than a mile down the boulevard Unter den Linden on the other side of the Tor.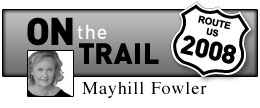 Yesterday and today volunteers from Americans Abroad for Obama, as well as college students like Linnea and Julia, have been plying Berliners and tourists with these rather bizarre cards -- the artwork reminiscent of both German Expressionism and Soviet Constructivism in its depiction of a frowning Barack. Is the Obama brow wrinkled in thought? Is the Senator squinting at the future? Or is he hectoring an audience? Take your pick. Certainly, one customer, a Communist who used to live in East Berlin, likes the card. He asks for a stack to replace the usual Communist literature he puts in the mailboxes of his new neighbors in West Berlin.
People are arriving from all over Europe to hear Obama speak. Earlier today, Linnea and Julia met a group of Americans, just flown in from Paris, who pulled their suitcases along behind them as they worked their Obama shift. Dirk Mirow, the organizer of the Obama event for Americans Abroad supporters, has received emails from young people coming in from Macedonia and Poland. One of the (many) complaints that have been made about the venue for Obama's speech is that the traffic ring around the Siegessaule is so large that it will take 100,000 people to fill it. At this point, however, Berlin is girding itself for up to a million spectators. Tomorrow the five major roads leading to the monument will be closed.
Although several of the Berlin TV stations are carrying Obama's speech live, one as part of a two-hour special on the Senator, the city is beginning to have second thoughts about Obama's decision to make Berlin the site of the only public speech on his whirlwind European tour. The security cost to the city is closing on $500,000. Some Germans, moreover, are preparing to not like what Obama has to say. Niels Annen, a foreign policy expert for the Social Democrats (the Liberals, as opposed to Angela Merkel's Christian Democrats), has told Der Spiegel (suddenly the "go-to" media on what's happening with Obama's Excellent Adventure, as Howard Kurtz quips) that Obama should not urge Germany to send more troops to Afghanistan. Yet from everything we hear about the speech, Obama will be urging greater participation from the Europeans in our historic trans-Atlantic alliance. This is the nice way of saying, "you have a responsibility to help us in our excellent adventures abroad."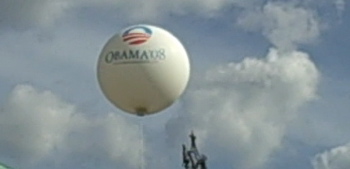 The political cartoon in today's Berliner Morgenpost shows an Obama poster labeled WELT-TOURNEE curling tattered and torn in a rock-strewn moonscape below an assortment of spy satellite gewgaws. Young Europeans, if not newspaper editors, want to like what they see and hear tomorrow. From a distance, Obama is filling a void in moral leadership here. (Remember that many of these same students went to Rome for the funeral of Pope John Paul II.) Therefore, the hoopla in Berlin shows that it's disingenuous to say that presidential candidate Obama is not campaigning abroad -- but campaigning for what exactly among the Obamavolk and the rest of the Europeans remains to be seen.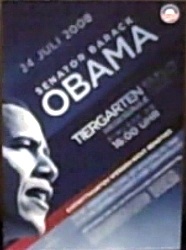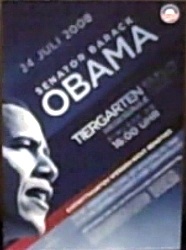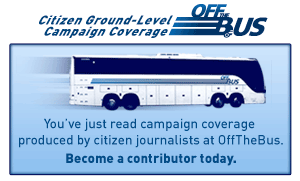 SUBSCRIBE TO & FOLLOW THE MORNING EMAIL
Start your workday the right way with the news that matters most. Learn more