From start to finish, this is the easiest plant-based meal -- 15 minutes, max, including prep and cooking time. With very few ingredients, it's easy for anyone to prepare and is made in only one pot. And it's deliciously satisfying.
I put this meal together in my little hotel room kitchenette in Tampa last week. With just salt and pepper in the cabinet, I realized this recipe also would be a good way to prove you don't have to make a major investment in supplies to make many dishes.
My husband Tom used to make this dish a lot when our kids were little, using sliced pre-made polenta in the tube, sliced onions and mushrooms. Sometimes we'd garnish it with pine nuts or slivered almonds.
I decided to add beans instead of nuts this time, as I could hear the critics saying, "where's the protein?" The truth is that we don't need protein at every meal (and nuts do contain protein), but I wanted to give the dish a little more substance.
Because of the lack of oil and spices in my "Mother Hubbard" kitchen, I decided to get a jar of my favorite salsa, Drew's Organic Lime Chipotle, to add some flavor. (This can be an optional ingredient if you follow a macrobiotic diet.)
I also bought some fresh collard greens and figured they easily could be cut and added in. The only fresh mushrooms I could find where I was shopping were shitake, which I think worked just as well as the Portobello mushrooms I typically use.
I decided this would be a no-oil recipe simply because I was traveling and couldn't carry the extra oil home easily. Besides, I think it's good to have some water-sautéed dishes for variety (and some schools of thought believe in all oil-free meals). For the record, I, personally, do use good-quality oils in cooking, but only in small amounts, and I also eat oil-free meals, which are equally delicious.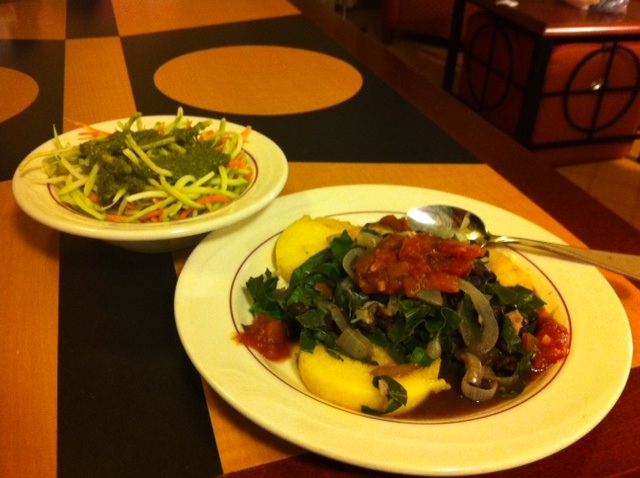 Good & Plenty Polenta
1 onion, cut in half, each half sliced into 'half-moon' pieces (could be diced in food processor)
6-8 fresh shitake (or other) mushrooms, sliced
5 collard leaves, sliced thinly (Even quicker: substitute 2 cups prewashed baby spinach)
1 tube precooked polenta (I used Organic! Brand)
One 15-ounce can low- or no-sodium black beans (I used organic), with liquid
Optional: salsa (I used Drew's Organic Lime Chipotle)
1. In a good-sized skillet, sauté onion in 1/8 cup water on high heat for 1-2 minutes.
2. Add sliced mushrooms and collards (or spinach). Sauté 3 more minutes.
3. Add black beans and liquid. Heat another 3-4 minutes. Stir.
4. Layer sliced polenta on top of the other ingredients. Cover and steam for 5 more minutes on medium-high heat.
To serve, top 2-3 pieces of polenta with the black beans and vegetables. Spoon 1-2 tablespoons of the salsa on top, if desired. Serves 4-6.
Tip: The hardest part (not really that hard!) of this quick recipe is slicing the onion. I recently bought a 3-cup food processor that makes dicing an onion a breeze! Because of the size, it's easy to hand-wash and fits easily in the dishwasher, too.
So, what do you think? Is this a meal you'd try if just starting out with healthy plant-based meals? If you're a seasoned cook and want a quick, go-to recipe, would you consider adding this one to your repertoire? What are your own favorite quick meals? I'd love hearing from you in my comments section below.
SUBSCRIBE TO & FOLLOW THE MORNING EMAIL
The Morning Email helps you start your workday with everything you need to know: breaking news, entertainment and a dash of fun. Learn more