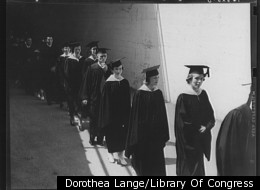 After a long wait of 72 years, the 1940 census was released this week and made available in digital format on a free National Archives website developed in partnership with Archives.com.
The legal requirement that no one have advance access means that there's no index for these remarkable records (yet -- those interested in volunteering to help create one can learn more at the1940census.com), but with with a bit of effort, it's still possible to find your relatives -- and even a few celebrities. Here, then, are some of the first famous folks to surface among the 132 million Americans included.
Celebrities in the 1940 Census
18-year-old Betty White is seen here living with her parents, Horace and Tess, and hasn't aged a minute since! Though you wouldn't know it from this, Ms. White's ancestry is a mix of Greek, Danish, Canadian, English, and Welsh heritage.

One has to wonder if nine-year-old Neil Armstrong, who once spent his days walking around St. Mary's, Ohio, ever imagined that he would eventually be the first to walk on the moon.

Don't you wonder what magazines a then 13-year-old Hugh Hefner used to - um, acquaint himself with human anatomy?

Six years before she made her first recordings, beloved singer Rosemary Clooney and her brother, Nicholas - future anchorman, TV host, activist, and incidentally, father of George Clooney -- were living with their grandmother in Maysville, Kentucky.

Only eight years old and living with his family in Dyess, Arkansas, John R. Cash was still years away from his "man in black" days. His brother Jack, who would die in a tragic mill accident several years later, was a youngster of ten.
Follow Megan Smolenyak on Twitter: www.twitter.com/megansmolenyak