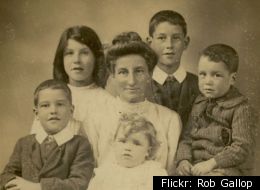 You might have resisted the pull until now, but admit it. You're starting to develop a hankering to look into your roots, aren't you? Maybe it was that episode of "Who Do You Think You Are?" that made you ponder about your own Italian great-grandfather, maybe it was your son's family tree homework assignment, or maybe it was that co-worker bragging about being related to Jesse James, but now you've got a bit of an itch to take peek into your past.
Perhaps I can ease you along your learning curve so you can make that incredible discovery a tad faster. As an avid genealogist since the sixth grade, I've learned a few tricks when it comes to finding ancestors who stubbornly refuse to come out of hiding, and in this slideshow, I'd like to share advice featuring examples from some of the investigatory adventures featured in my new book, "Hey, America, Your Roots Are Showing" [Citadel, $15.95].
Living in a time when an incorrect middle initial can cause you to miss a flight, many of us are locked into the "right" way to spell our names, but accurate and consistent spelling is a fairly recent development. Hinda Amchanitzky, whose tombstone mysteriously materialized on a sidewalk in Manhattan, was hidden in cemetery records as "H. Anachowsky" and in census records as "Annie Magimity." Particularly when seeking ancestors with multi-syllabic names, prepare to be flexible. Insist on finding Grandpa entering the country with the same spelling you use today and you'll almost definitely miss him.

Yes, we all know the rest of this dictum, but it truly holds when researching your roots. If I had assumed, for instance, that all of Michelle Obama's pre-Civil War ancestors had been enslaved, I would have missed the remarkable paper trail left by the Jumper branch of her family which was free long before Emancipation. In fact, approximately ten percent of African Americans were free before the 1860s, making these ancestors easier to trace. The 1856 document here shows the First Lady's Jumper family registering their freedom at the local courthouse, a process that had to be repeated every three years in order to protect this status. Puts renewing your driver's license into perspective, doesn't it?

I admit it. I'm a DNA junkie, so have a built-in bias, but you'd be surprised how many history mysteries can be tackled genetically. Imagine being June Baff Black of Scotland (seen here), watching a celebrity swab his cheek on an episode of "Who Do You Think You Are?," consequently asking for a DNA kit for Christmas, and discovering a few weeks later that you're related to the Haley family - as in Alex Haley, of "Roots" fame. June met her cousin, Chris Haley (Alex's nephew), a short time later, and like so many relatives meeting for the first time, they compared hands looking for similarities.

These images of struts and beams may seem meaningless on the surface, but they're a critical clue in the identification of a photo of Annie Moore, Ellis Island's first immigrant, at the time of her arrival. When experts disputed the photo by asserting that it wasn't taken at Ellis Island, but instead showed immigrants at the nearby Barge Office, scouring numerous archives for interior images of both locations and scrutinizing details such as these supports made it apparent that the Barge Office claim was in error.

Why actually go anywhere when you can surf in your pajamas? It's all online, right? Not so much. While it's true that Internet-based resources have exploded in recent years and greatly aid the search, they still constitute the proverbial tip of the iceberg. According to a 2007 New York Times study, at the current pace, it would require approximately 1,800 years to digitize the text-based holdings of the National Archives alone. Since I don't have 18 centuries to wait, I'm a proponent of getting out there and finding clues wherever they might exist. In this instance, it was tombstones in a small cemetery in Ohio that told me that Barack Obama's Irish ancestors were from the town of Moneygall. Without them, I might still be trying to identify his town of origin.

Most of us live somewhere other than where our ancestors did, which can make it challenging to grasp important nuances. Fail to recognize that the old homestead was on a county line, for example, and you might be stumped as to why the local courthouse contains no records for your family. But with map in hand, you might quickly realize that the neighboring county's courthouse was closer than the one where your family actually resided - and back when travel was by foot or horse, that made a difference. The map seen here helped me solve the riddle of how and when a Civil War era bible changed hands from a Confederate soldier to a Union one.

Let me break this to you gently: Your name wasn't changed at Ellis Island. Grandpa fibbed. More than likely, he changed it shortly after arriving in order to assimilate more swiftly. It wasn't some lazy Ellis Island clerk who arbitrarily lopped a handful of letters off the end. Many of them were foreign-born themselves, and collectively, they could communicate in roughly 70 languages. A classic example is the immigrant father of Paul Pink, founder of Los Angeles institution, Pink's Hot Dogs. Though some in the family remain convinced that their name was changed to Pink at Ellis Island, the arrival record above shows that wasn't the case. Along these same lines, if you think your great-grandmother was Native American because photos show that she had "olive skin and high cheek bones," think twice.

Several years ago, I discovered that Al Sharpton's great-grandfather, Coleman, had been owned by relatives of Strom Thurmond. Though I connected these dots with just a few documents, I also learned that Coleman had been inherited as a young boy by a pair of brothers-in-law. I could have left it at that, but decided to research the two men. That's how I found out that one of them died suddenly a short while later. Curious what happened to Coleman, I was dumbstruck to find this estate record showing "half of a negro boy Coleman" being purchased - six words that did more to educate me about the realities of slavery than a dozen text books could have. You can't buy half a box of detergent, but not too long ago, you could buy half a human being. Don't content yourself with "enough." The biggest revelation might be just around the corner.
Follow Megan Smolenyak on Twitter: www.twitter.com/megansmolenyak