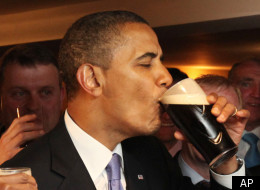 Ten months ago, President Obama visited Moneygall, the town his Irish ancestors once called home, to raise a pint in the local pub. This year, President Obama is returning the hospitality of publican Ollie Hayes by inviting him to a slightly tardy St. Patrick's Day to be celebrated at the White House on March 20.
The president will once again welcome Taoiseach Enda Kenny who hosted the Obamas' short but memorable visit to the Emerald Isle last May. Joining the festivities will be Henry Healy, Barack Obama's Irish eighth cousin, fondly known as Henry VIII throughout Ireland.
In anticipation of this family reunion, the slideshow that follows takes a look back at the May 23, 2011 visit to Ireland.
A Look Back at President Obama's Irish Homecoming
This Ohio tombstone for Joseph Kearney, father of Fulmoth Kearney, pointed the way to Moneygall. Without it, the President's Irish ancestral hometown might still be a mystery.

One resident of Moneygall painted his house with Irish and American flags for the occasion.

Henry Healy, President Obama's 8th cousin, presented a pair of highly coveted "golden tickets" to Megan Smolenyak, the Irish-American genealogist who discovered the connection to Moneygall.

Obama t-shirt with "yes, we can" in Gaelic.

Past and present: everything from camera crews to horse and buggy carriages could be found outside of Moneygall hot spot, Ollie Hayes's Pub, the day before his arrival.

Local newspaper "Offaly Independent" renamed itself "Obama Independent" in honor of the President's visit.

Many were disappointed to learn they had to leave their vuvuzellas at home during President Obama's visit to Moneygall.

While the title is not technically true (the President is 1/32nd Irish), the Corrigan Brothers never miss a chance to perform their popular song, "There's No One As Irish as Barack Obama."

A selection of the Obama memorabilia available commemorating his trip to Moneygall, home of his 3rd great-grandfather, Fulmoth Kearney.

Maria, sister of Henry Healy, poses with an image of one of the immigrant Kearneys who left Moneygall for America. Note the family resemblance.

Barack and Michelle Obama greeted genealogist, Megan Smolenyak, after his speech in Dublin. In 2009, Megan's research on the First Lady's family tree had been featured on the front page of the New York Times.
Follow Megan Smolenyak on Twitter: www.twitter.com/megansmolenyak