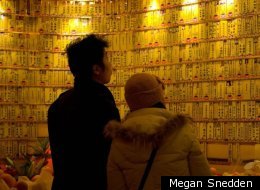 According to the Chinese lunisolar calendar, this year's animal zodiac sign, the dragon, represents power, strength and wisdom.
Chinese New Year festivities continue are going on around the world this week and will conclude February 6 with the Lantern Festival. In Manhattan's China Town, dragons are parading through the streets and hundreds of people are visiting Buddhist temples to pray for good fortune. Across the world, others do the same.
New York City Celebrates Chinese New Year
The day's journey began at the Canal Street stop off the Q train. Underground, a musical duo plays Chinese classical music: the man on the left strums the Erhu, a two-stringed fiddle, and the man on the right plays the Yangqin, a hammered dulcimer

At the Mahayana Buddhist Temple on Canal Street and Bowery, patrons pray as smoke from incense swirls into the air. Nearby, a red envelope stands as a symbol of good luck in the Lunar New Year.

During prayer for a prosperous New Year, incense are lit, this time using the incendiary flames of candles that float over a pool of pennies, also a symbol of wealth and prosperity.

Before a golden statue of Buddha, prayers reverberate off red walls and believers kneel with incense in hand. The table before them bears piles of oranges, a fruit commonly given as a gift during Chinese New Year because it's name when spoken sounds like the word, "wealth."

Deeper inside the Mahayana Buddhist Temple, the prayers continue before a golden Buddha that towers above humble spectators.

Through another quadrant of the temple, a mother in tears kneels and pulls her child to her. They stand together before the yellow-walled memorial where people go to remember and pay respects to loved ones who have passed. Behind them, the Chinese symbol for strength and power gives hope: the dragon, this year's zodiac animal sign.

Temple visitors look upon and remember the faces and names of those passed. Each thin yellow card represents a person with their name inscribed in Chinese characters below it.

Exiting the temple, a reflection: the Buddha that once stood before us now stands behind us, but we're led with good fortune downstairs to feast on vegetarian food and then outside to celebrate in the streets.

Surprise! A dragon pops up hoisted by a man enshrouded in the costume's colorful hues. All through the streets of China Town, everyone chases after dragons to get as close a perspective as possible.

Cooks at New Wonton Garden Restaurant on Mott Street prep bok choy and Chinese dumplings, meanwhile, dragons continue to dance down the street.

Clowning around during the Chinese New Year, reveling vendors sell balloons while also participating in the day's festivities.

Confetti poppers explode filling the air with rainbow crate paper shreds and shouts of joy. Everyone aplaudes as the dragon passes accompanied by a troupe of clanging cymbal players and children who throw mini explosives at the pavement.

In pairs, dragons go door to door down the street, entering establishments to bring them good fortune in the new year. It's believed that the dragon, accompanied by the loud sounds of cymbals and drums, wards off evil spirits by scaring them away.

A child boasts a traditional Chinese Red Mandarin hat.

Through the streets, vendors sell decorative red lanterns and other knickknacks like miniature plush dragons and confetti. It feels, at times, as if China were not so far away.

Two confetti-covered kids get away with coating strangers in silly string, and they find tremendous joy in doing so. They're not the only ones, adults ran around with cans as well.

What appears to be a tiny dragon suddenly surfaces as a child hiding underneath a mask twice his size.
Follow Megan Snedden on Twitter: www.twitter.com/megansnedden