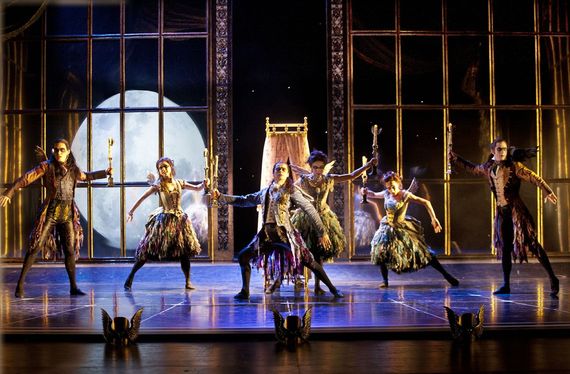 Matthew Bourne's Sleeping Beauty, now running at New York City Center, showcases the director's twist on yet another beloved story ballet. Overall, his recipe lightens the emphasis on ballet, but ultimately pleases by adding more of a story.
Similar to Bourne's Nutcracker! and gender-bending Swan Lake, the narrative for this Sleeping Beauty is inspired less by traditional plotlines than Tchaikovsky's magnificent score. The basic story elements are the same: a beautiful princess is cursed to sleep for 100 years and awaken to true love's kiss. But the details are vividly reimagined.
The action starts in 1890, the year the ballet first premiered in St. Petersburg. Desperately wanting a child, King Benedict and Queen Eleanor have turned to the evil fairy Carabosse for help and are now celebrating the birth of their daughter Aurora.
Baby Aurora, humorously portrayed by a puppet, quickly makes it clear that she is no ordinary ballet princess (which is to say demure, obedient and generally boring). Instead, she crawls freely around the palace, climbing curtains and being a royal pain to her attendants.
Typical of Bourne ballets, these theatrics drag a bit longer than necessary, but fortunately Lez Brotherston's opulent fin-de-siècle costumes and sets provide plenty to look at. When Aurora is finally put to bed, the rich brocade curtain rises to reveal a giant full moon in the window, and the stage is dramatically set for all the supernatural action to unfold.
It starts with the entrance of the fairies (via conveyor belt, which gives them a frictionless, floating quality). Led by Count Lilac (the witty and wonderful Christopher Marney), the angel-winged creatures are both male and female, and their gifts to the princess are not the usual mix of romantic feminine virtues. Instead of beauty, grace and modesty, they bestow passion, plenty, spirit, temperament and presciently, rebirth.
Then comes Carabosse (played by a man, the towering Adam Maskell), and in another effective plot twist, the dark fairy is given a motive for cursing the princess: she is angered by the king's ingratitude for her help. But fresh as these nuances are, it's the way Bourne combines them with old-school ballet pantomime and winks to Petipa's original choreography that makes this scene one of the best.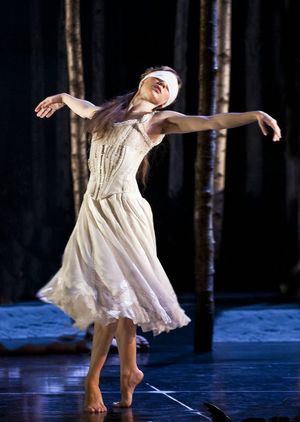 In contrast, the second half of the first act -- Aurora's coming of age -- is still rich in narrative nuance, but the choreography, though pleasing, is rarely exciting.
The year is now 1911 and dark, gothic hues have given way to bright whites and manicured lawns. Aurora (the vivacious Hannah Vassallo) has become a beautiful young woman, but she is still a barefooted, wild child at heart. Not one to be confined by stiff Edwardian ways (or, for that matter, the rigidity of classical ballet), her strong character, Bourne writes in a program note, is inspired by Isadora Duncan.
Unlike in the traditional ballet, Aurora's love interest is in the picture well before her hundred-year hibernation, and in this version, he is not a prince, but a hunter named Leo (Chris Trenfield). Further shaking things up, we learn that Carabosse has since died in exile, but her son Caradoc, also played by Maskell, is determined to avenge his mother by carrying out her curse.
Everything comes to a head one golden afternoon when Caradoc crashes the princess' coming-out party (handsome, yet creepy, his character is somewhere between Edward Cullen and Meatloaf).
As Aurora playfully throws away the red roses Leo offers her -- she is not yet ready to accept his romantic advances -- Caradoc slips in a black rose, whose fragrance sends her into a fit of lust. She plants a passionate kiss on Leo's mouth and pulls him down to the ground, but just then she pricks her finger on the rose and the century-long slumber begins.
Flashing forward 100 years, it is now the present day and Leo, whom Count Lilac has preserved by turning him into a vampire, is ready to rescue his sleeping princess (all this time, he has been living as a homeless person in a tent outside the palace gates, which are now overgrown with vines).
The fact that Leo already knows Aurora and where to find her renders the lengthy vision scene unnecessary from a plot standpoint. But so beautiful is the music -- and so imaginative is Bourne's enchanting dreamscape of blindfolded sleepwalkers -- that we can forgive and even applaud this artistic indulgence.
Over the decades, it seems Caradoc has grown lonely guarding Aurora and is eager for her to awaken. But only true love can lift the curse, so he lets Leo find and kiss her before abducting the princess to make her his own bride.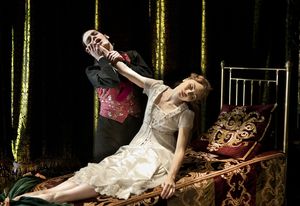 This twist of plot has the effect of extending the conflict between good and evil all the way to the end, and it also enables a grand, goth wedding scene (once again featuring stunning visuals, overall, but little memorable choreography).
In the end, good prevails over evil, but in an unsatisfying way: it is Count Lilac who defeats Caradoc, not Leo. As a result, the romantic hero is left looking devoted, but kind of dopy, and not fully the man you'd expect him to be by the time he finally gets to consummate his love with the feisty princess.
Considering how many great improvements Bourne made to the strange story of "Sleeping Beauty," and how wonderfully the cast brings his characters to life, it's a shame that he chose to end the ballet as he did. Especially since the choreography, though all very pleasing, was not remarkable enough to justify any weaknesses in the plot.
Still, Bourne delights with his incredible imagination, and deserves applause for putting the story back in story ballets. Although he humbly credits the music with providing the narrative inspiration, it is his ability to unlock the story-telling power of dance that brings these ballets back to life.
"Matthew Bourne's Sleeping Beauty" runs through November 3 at New York City Center, 130 W 56th St. For tickets, call 212.581.1212 or visit nycitycenter.org.