Paul Thornton serves as the president of SoulNeeds, a conscious social network or, as some users have already dubbed it, "Facebook with meaning." The newly launched website brings together the best in personal development content along with tools and community to enable people to make positive change. What I wanted to know is: How did he end up with such a cool gig, inspiring others to live the Life Out Loud?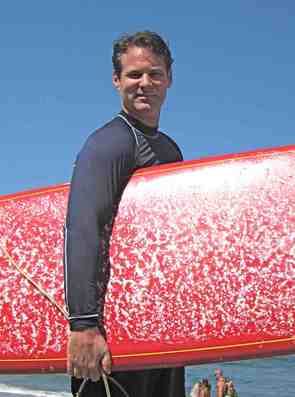 It all started with a near miss at a career in professional baseball. Paul -- who looks like the quintessential all-American with his blond hair, blue eyes, and rosy cheeks -- earned a full ride to play Division 1 baseball in college at the University of San Diego. He expected to go pro after graduating. But several serious injuries put an end to his ballpark dreams.
Fortunately, Paul had great success in the music industry. He started out booking major bands for concerts aimed at high school and college kids on spring break and graduation trips to Mexico. He went on from there to investing in a concert venue in Boise, Idaho. By 2007, he had an amphitheater where Clapton, Petty, and other top stars had played, owned a chain of concert halls, and was putting on 700 shows a year in 19 different states. He'd also gotten married and had three kids. So when he got an offer to sell, he decided to take a break.
That's how Paul made his way in the music business. But it still doesn't explain how he wound up where he is today -- leading a spiritual community.
After selling his concert business, Paul lost his way for a while. He had signed a non-compete so he couldn't do anything music-related. He spent a lot of time soul searching. "It was a tough period," he admitted. "I had to go from being the top dog to not doing any press interviews, not appearing in the news, and basically feeling irrelevant for a while. I discovered that a lot of that stuff was just ego. But I also genuinely missed the excitement of being involved in happening events and starting my own company."
"What shifted?" I asked.
Paul said, "Instead of trying to control things, I just had to relax into the moment. I started taking advantage of my free time, coaching my kids' baseball teams. And that's when things started opening up."
In his last year as a music promoter, Paul had thrown a huge event in Sun Valley for the Dalai Lama, with Willie Nelson playing. All the money raised went to the Tibet Fund, and to pay for kids throughout Idaho to attend for free. At one point, Paul was hanging out watching Crosby, Stills and Nash with the Dalai Lama's lead Tenzin, or interpreter/assistant.
"The Tenzin got really emotional," Paul said. "I could feel his energy shift. So I asked, 'Are you okay?'
"He said, 'Yes. It's just that the colors and the energy from this crowd are amazing. I've never been to a big Western music concert before, and it's the closest thing I've ever felt to the hearing the Dalai Lama speak. The way the music moves people.'"
"At that moment, I thought, 'If only I could capture this feeling for more than just a night, and for more than just entertainment purposes.'"
Paul then came up with the idea for throwing big weekend spiritual events with speakers like Wayne Dyer and Deepak Chopra, along with conscious performers like Jason Mraz and Sarah McLachlan. Paul explained, "I figured the spiritual message would be so much more powerful when accompanied by music. I also envisioned setting up a vendor village with meaningful products, and hosting the whole event in a natural setting where people could enjoy the outdoors."
When Paul told a friend about his idea, she introduced him to motivational speaker Shore Slocum, who was working at the time on creating SoulNeeds. Shore and Paul hit it off, and began working together at once. "Our goal is quite simple," Paul explained. "We want to help people create their best life." Paul will be bringing his concept for a spiritual music festival to life for the first time next Spring.
I asked Paul, "What does it mean to you to live the Life Out Loud?"
He replied, "It's something I absolutely believe in. I used to do these festivals called 48Straight, and gave them the tag line: 'Live like you mean it.' So the Life Out Loud is where I've always seen myself. You have to follow who you are and work with the gifts you've been given, and live true to that."
Paul admits to having faced his share of challenges along the way. "The music business was great up to a point. But I just felt like I wasn't making enough of a difference in people's lives. So when this SoulNeeds opportunity came up, it felt so right to me.
"It's scary, though. I'm uprooting my family to move them to headquarters in Austin. We're building a brand new business. I've invested my own money and haven't made any returns yet."
The energy in Paul's voice amped up. "But when it comes to succeeding in life, you have to just go for it. You can't do it 10% or even 80% -- you have to go for it 100%. There is no plan B. You cross over to the other side of the river and burn the boats because there's no going back."
When I asked what advice he might have for others eager to live the Life Out Loud, Paul said, "You truly have the power to create your own life. Instead of focusing on your problems, realize that even hardships are a gift to help you be a better person. Discover what the purpose of your life is. Life is a journey and you've got to go after it."
To receive a full transcript of Paul's hour-long interview, email: TheLifeOutLoud at gmail.

This Blogger's Books and Other Items from...
FOLLOW HUFFPOST