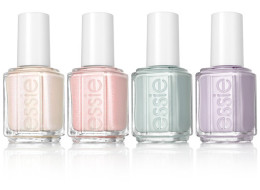 When the cuticles have been clipped and the tips have been perfectly filed, all that's left to finish off that manicure is to pick the perfect nail color. But how's a girl to choose a single polish from the tens of brands, some with hundreds of colors, when each has new collections coming out each season?
Some say you're supposed to consider your skin tone, or base the choice on your wardrobe. Others like to suggest which color families are appropriate for which types of events or seasons. Still others have the audacity to suggest that women of a certain age should steer clear of bright colors and stick to matte or muted tones.
Since no suggestion seems to be too bold, I thought it was time to share my secret for choosing the perfect nail polish color every time: ignore everything but the name.
Color is important, sure. But with so many minutely different hues out there, there's not much to separate the pink from the other pink from the slightly lighter pink next to it, until you flip the bottles over and check out the names. And, depending on the brand, you could be in for quite a treat when you do.
The names range from sassy to empowering, and from beautiful to downright funny, if you can handle the occasional bad pun. Aside from being a detail that can set similar hues apart, the name of a polish can be a great way to send a subtle message, boost your confidence or put your head in the right place. Tell me that walking around with a coat of "Turning Heads Red" on your digits wouldn't kick your confidence up a notch.
I'm not afraid to admit that I'm a serious believer in the subtle boost that a well-named polish can bring. I've rocked Essie's "Eternal Optimist" or Wet N Wild's "Lady Luck" for every big interview in the last two years, and it was a combination of Essie's "Bachelorette Bash" and Orly's "It's Not Me, It's You" that got me back to my bad self after my last major breakup. It might be a placebo effect, but it gets the job done.
Checking all those bottles to find the perfect name for your situation takes time. So to save you a little searching, I've picked out six of my favorite creatively-named Essie brand hues for a few specific scenarios where a great nail polish name could make a difference in your day.
When any old "red" or "blue" won't do, it's time to flip the bottle and start picking by the name. Here are my top six choices for four situations where the right name just might help you muscle through. (Note: I'm sticking with Essie colors, for ease of selection, but most brands on the market have names worth noting).

Whether it's a big presentation or an important interview, sometimes you just need that extra confidence boost to get you through. Check out these recommendations for when you need a little reminder that you've got this in the bag! "Action" is the bright orange pictured above, guaranteed to energize you. Go with "Movers and Shakers" if you're looking for a bright pink confidence boost, or "Super Bossa Nova" if you want some sparkle in your pink. "Eternal Optimist" is great if you prefer a subtler rose color, and "Master Plan" is just as subdued, but on the grey/beige end of the color scale. If you've got another base color in mind, you can always add the "A Cut Above" top coat for a glittery finish.

No matter if you did the breaking up or you found yourself suddenly single, a fresh coat of polish with an empowering name could put that sparkle back in your eye and add a spring in your step. These shades will help make you a strong single lady. (We're talking Beyonce status). Show how bold you are, with the fuscia "Bachelorette Bash" or the hot pink "Off the Shoulder." If you're a fan of the coral hues, go with "E-nuf if E-nuf" and try "Carry On" if you're looking for a darker wine color. "Wife Goes On" is an unmissable red, and "Red-y Set Ex" is just as eye-catching, with a little more orange.

There's nothing like a girls' night out to make you feel confident and beautiful, and nothing says Girls' Night Out quite like a fresh manicure. These color/name combos will serve as a reminder of how sexy and incredible you and your girlfriends are! You'll be turning heads, all right, in the eye-catching "Turning Heads Red" and if you like a little sparkle in your red polish, try "Wild Thing" on for size. For a darker, sultrier red, go with "Fishnet Stockings" or "Bold and Beautiful." If you're not ready for the reds or you're looking for something a little more subtle, try "Steel-ing The Scene" or "Smokin Hot," both in the cold grey color family colors, but no less hot than their red counterparts!

A weekend beach getaway? A weeklong cruise? A 15 minute break between shifts? No matter what your vacation looks like this year, here are a few well-named colors to get you in that Summer state of mind. Summer colors can come from every color family, from the light beige "Sand of a Beach" to the soft coral "Boat House." Go for broke with the bright pink "Need a Vacation," or settle in with the deep plum "Island Hopping." While green isn't often a first choice nail color, the subdued sea foam "Absolutely Shore" could go from play to work with relative ease. If you're looking for something new, try "Bikini So Teeny," the sparkly blue from the latest Essie collection.

These were just a few of my favorite creatively-named colors from Essie, but there are plenty more well-named hues in their collections. Sound off in the comments section with your favorite nail polish names, from Essie or whichever brand is your favorite.
Follow Melanie Deziel on Twitter: www.twitter.com/mdeziel