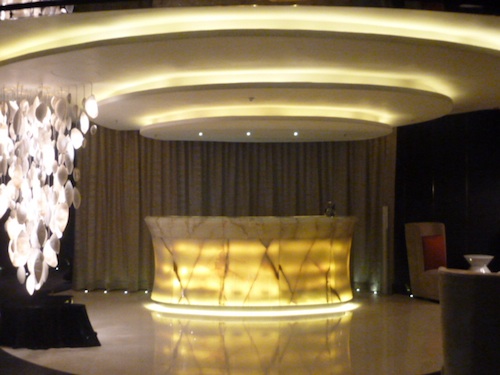 The entrance to The Ritz-Carlton Spa by ESPA on the 116th floor of the hotel.

There's a dark side to my job that people often forget about: The deadlines (which are still standing no matter what time zone you're in), the lack of sleep, the jetlag, the way your body feels after it has flown more than 20 hours from one side of the world to the other. The painful feeling you get along the backside of your legs when within seconds of deplaning a last-minute redeye flight to Hong Kong you have to immediately put on a pair of high heels and go into a business meeting. By the end of day two, you can't feel your feet and your shoulders are permanently hunched over until someone helps you stand upright. Still, despite the late nights, puffy eyes, dark circles and tight muscles, I wouldn't trade my job for anything. Especially not today.
With only two days left until opening of the Ritz-Carlton Hong Kong, the hotel employees and their trainers continue to work tirelessly to pull together the final touches in their departments. We're currently in the "trial" phases - the middle of countdown where every department goes through trial situations and dry runs as if they were working directly with the hotel guest. To date, I've played the role of "guest" at 5 of the 6 restaurants, made use of the laundry service and played the role of first-time traveler to Hong Kong needing recommendations on things to do around the city. Today, however, was the best trial day yet. Today was spa trial day.
I arrived at ESPA, located on the 116th floor of the hotel, and checked in with the reception desk. After filling out a guest consultation form and enjoying a cup of jasmine tea, I was shown to the ladies lounge where I placed my belongings in the pre-assigned locker. The lounge-locker-room itself is small, but does offer a sauna and steam room, showers and vanity tables. Because of the size of the spa - only nine treatment rooms and two couples' suites - you'll likely never be cramped in the room but that's irrelevant, because just on the other side is the relaxation area where you'll want to spend the majority of your non-spa-treatment time.
The relaxation area is set up with four individual lounge chairs all divided by curtains. Each chair has a view of Hong Kong harbor, a reading lamp and refreshments. Just as I was pulling out my cell phone to check email (a no-no in the spa area that I attempted to get away with), my therapist, Sandy, walked through the doors.
Once in the treatment room, Sandy explained the treatment I was to receive (which was great because since this was a trial day, my treatment was chosen for me based on what the therapist had left to practice). Lucky me, I was getting one of the spa's signature treatments: the 90-minute radiance facial with a jade stone eye treatment. The purpose was to "revitalize and brighten" my skin - something I certainly needed given my lack of sleep and general jet-lagged state of being.
I could go on about the facial itself and talk about the soothing scents used to massage and exfoliate my skin, the jade stones' cooling effects and the short amount of time it took for me to drift off to sleep during the scalp massage, but the real gem in treatment room 7 had little to do with the products and everything to do with Sandy.
A good spa therapist knows her client, even if she's never worked with him or her before. She can tell by the touch of your skin or how your muscles react to certain massage strokes if techniques need to be changed. Sandy was that therapist, and despite her brutal honesty about how I needed to take better care of the "small wrinkles" at the corner of my eyes, I found her approach to facials, well... therapeutic. She was right, I did need to take better care of my skin -- including my eyes -- especially given my time at 35,000-feet and my penchant for less than four hours of a sleep, on average, a night.
While my mask set on my face, Sandy began my favorite part of the facial - the neck and shoulder massage. Unbeknownst to Sandy, my neck and shoulders were not relaxed and would likely require a team of bodybuilders to work out the knots. Within seconds, Sandy turned into that team and declared she'll spend a few extra minutes working out my tension. She also suggested I follow up this facial with a 90-minute massage (awesome up-sell, Sandy). In an effort to try and relax my mind, which in theory would help relax my muscles, Sandy got personal.
"I saw from your consultation card that you're from Boston," she said. "I hear great things about Boston, especially the lobster!"
Yes, Sandy, you're right -- Boston has great lobster! But what impressed me wasn't her knowledge of where to find the best crustaceans, but instead that Sandy - a Hong Kong native - made an effort to get to know me. Sandy was unaware when I walked into her treatment room today that I was feeling a little homesick. My friends and family are following my reports from Hong Kong, and while this certainly isn't the longest I've been away from home on an assignment, some days you just long for familiarity. While I've always felt at home in Hong Kong, especially after this week with this hotel, talking about Boston was one great way to cheer me up.
This is what trial days are all about during countdown. Employees spend time going through the process of their job functions, but the hospitality industry is not just about how to properly set a table or check someone into a room. It's about connecting with your consumer and, in the example of me and Sandy, making a new friend.
Was the spa treatment great? Of course it was. And to those of you who I've heard from on Twitter, Facebook, and in the comments on past articles who have plans to stay at this hotel, I highly recommend a stop in the spa. But let's be honest... The reality is that I'll soon forget about the treatment, what products were used or the way I felt as the cool jade stones rolled over my tired eyes. I won't ever forget, however, how one spa technician made an effort to make me feel at home.
SUBSCRIBE TO & FOLLOW LIFESTYLE
HuffPost Lifestyle is a daily newsletter that will make you happier and healthier — one email at a time. Learn more