How Dirty Laundry United 7 Moms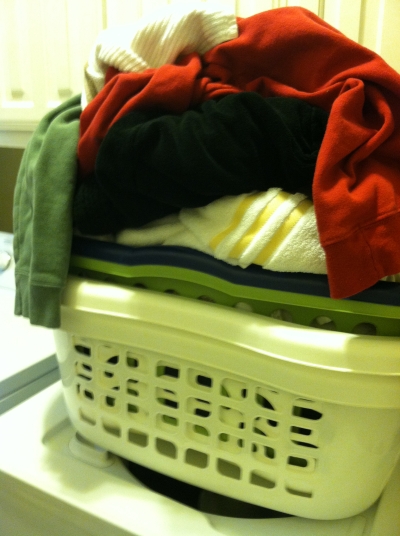 When my sons were little, there was a group of moms I talked to at school functions and basketball games, mostly about our kids. Now, the kids aren't the reason we socialize -- we do it because we want to.
There are seven of us -- from different parts of the country, with different backgrounds, different interests. Our get-togethers began right after our kids headed off for their freshman year of college and we decided to meet for dinner. As the wine started flowing, we shared stories about the transition to our new stage of life, and it didn't take long before we realized that a recurring, if not unexpected theme had emerged from conversations with our sons -- laundry. Yes, that's right, the few phone calls we'd received from them during those early weeks away were neither emotional nor deep, but were mostly filled with questions and concerns about doing laundry:
"Can I wash the blue sheets with the white towels?"
"This washing machine opens from the front. Is that normal?"
"The sign says you have to use cold water, can I use it for my whites?"
"How much goes into a large load?"
"Mom, seriously, this is going to cost a lot of money."
It's not as if the guys had never done laundry before. It's just that they had never done it without a backup within earshot. And clearly, as a result, they never actually paid attention to what we were telling them, until they were staring at several large loads of dirty laundry with a line of other kids behind them.
By the time dinner was over, the moms had vowed to meet once a month or so, either at a restaurant or each other's homes. Then we named ourselves The Motherload, in honor of the load of laundry questions directed at us.
Over the last few years, it's become clear we have more in common than kids and laundry and school districts. Each time we get together, we unravel a little more about ourselves -- about who we were before our kids were born, and most importantly, where we're headed now that they're off to school.
Last night, The Motherload spent the evening in a newly designed space. It was the former living room of one of our more artistic members, who had transformed it into a post-empty-nest "wine-tasting" room (because the old space, she said, only gathered dust). The decorative wall art, formed from cement, bricks, and stone, framed by delicate ironwork; the table that became the centerpiece; the elegant sideboard -- they were all crafted by her and her husband, who in spite of the fact that they both work, are enjoying some downtime now that the kids live away from home.
We'd all brought something to eat, and since everyone is health-conscious but not opposed to the occasional sweet, we mixed hummus and artichoke dip with mini-Kit Kat bars on the same plate (or maybe that was just me). While we ate (and yes, there was wine), we talked about our health, our changing careers, the classes some of us are taking, how some of us no longer make our beds every day, our kids -- how we grew up versus how they did, and about the challenges of being a young parent today, versus when we were young parents. We also talked about the benefits of the Internet, and mom blogs, resources we wished we'd had when the lists of questions about parenting were long, and libraries in the middle of the night were closed.
Eventually the evening came to an end, as all good evenings must. We said our goodbyes and planned to meet again -- many of us have challenges ahead that might delay, but won't deter our get-togethers, because we know that nothing replaces a real, live, in-person community of moms.
When my kids were little, I rarely did this -- spent time alone with other moms. I was always too busy, or tired, or rolled my eyes at whatever I thought was the stereotypical "mom" event. I'm different from them, I thought. I don't need that kind of bonding or support. But I was wrong. Flat-out wrong.
To every mom out there: don't just embrace the online community, but get out and connect in person as well! Meet when you can, even if only a few times a year, without the kids. And yes, I know, just because someone is a mom doesn't mean you have lots in common. But over time, you may discover that there's more to that other mom than you ever knew -- that she is not perfect, that she does not expect you to be perfect, and that you might be surprised to learn that she eats mini-Kit Kat bars with artichoke dip, just like you.
Join me next week for another installment of The Pre-Empt Chronicles, as I transition from full house to empty nest. And visit me at: www.sisterhoodofmothers.com.
Earlier on Huff/Post50:
10 Fun Ways For Empty Nesters To Spend Their Time
Mellor cautions against actually purchasing a condo nearby after move-in day...but heading back to class yourself isn't a bad idea. Mellor's own mother completed her degree as a fifty-something, but you could start a little smaller than that -- say, listening to TED talks from home.

You're free and the sky's the limit! Above all, Mellor advises, do not fester in "sadness, loneliness and abandonment."

Especially if you've never gone before.

"And that man, sitting across from you at the breakfast table...he looks...familiar," Mellor writes. "You know him, you just don't know how." Use your empty nest time to remember what your relationship with your spouse or partner was like before the kids came along.

Mellor even provides a handy recipe for your next party. (That's cocktail party, which means no clowns and balloon animals. Remember those?)

"Our bodies, apparently, will not exercise themselves while we sleep," Mellor observes. Since you must exercise at a certain point, "you might as well find some fun ways to do it." Like dancing!

A favorite strategy of Anna Dello Russo, editor of Vogue Japan, for getting in touch with "the spirit of your outfit," empty nesters can benefit from this tip as well. The empty-nest years are a time to start paying attention to your appearance again, says Mellor, especially if you've gotten into bad habits (mom jeans, anyone?).

"Learn to be a sloth, and without guilt," Mellon writes. "Wallow in languid inactivity." You've earned it.

After all those years of coaching your kids through music lessons, you've probably picked up a few things, observes Mellor -- why not indulge yourself with a few lessons?

Redecorate that extra room! Make it a yoga studio, or a new TV room. Explore what your space can be like when you're decorating with your needs -- and not Dick or Jane's -- in mind.
Follow Melissa T. Shultz on Twitter: www.twitter.com/MelissaTShultz