Last week, I saw an elderly woman strolling along, holding hands with a 50-something woman, when I heard the younger of the two refer to her companion as Mom. It made me well with tears. Fluctuating hormones? That part of my life has passed, so it had nothing to do with that. It did, however, have everything to do with being a daughter, something I have 53 years' experience at, though I've only recently figured out how to do my particular job better.
Raising two sons helped, and making the shift from their nurturer to their mentor -- a role I never allowed my mother to take on with me -- did as well. It's a role that's filled my heart with a newfound sense of pride and gratitude, and helped show me what my relationship with her was missing. But it wasn't until I coupled the mentoring experience with research that it changed my approach to being a daughter.
There were reasons we weren't always close, my mother and I, some simple, some more complicated, all significant. As I began reading (for a book project) about the stages of growing up -- about attachment to and detachment from your parents, and their importance to your autonomy -- I found validity for feeling that I had missed some of these critical growth stages to varying degrees. The more I read, the more science helped me fill in the gaps about my childhood and adolescence, put into perspective the role of parents at critical times in a kid's life, and explain why, as an adult, I didn't react kindly to mentoring by my own mother. The feelings I'd harbored for many years have been replaced instead by a willingness to let it all go.
Had the present me met the previous me 20 years ago, and explained what I've since learned about how to be a good daughter, I'm not entirely sure I would have understood it enough to implement lasting change in my relationship with my mother. It turns out that sometimes timing really is everything, at least when it comes to an "aha" moment. You have to be open to receiving knowledge to hear it -- really hear it -- and for some, this takes longer than it does for others.
I am, it seems, a late bloomer.
Now, when I think about the possibility of my mother not being here for me, to answer my questions, to lend support, to stroke my brow the way she once did -- expressing love in more ways than words ever could -- I get emotional, and that's a good thing.
Raising children is a gift. It's also hard work, and harder for some than others. Though love may not be enough to see you through, it sure goes a long way, and my mother had lots -- she just expressed it in ways that as a kid, I could not yet understand. I know now, as a daughter and a parent, that most moms do the best they can with the knowledge they have, the help they seek, and the love they are capable of giving. Accepting these truths makes it easier to see your mother in the real light of day -- not the harshest light, nor the rosiest, but the real light, the one under which you stand as well. Short of your mother being abusive, consider cutting her some slack. Release the hurt and resentment. She has stories to tell and wisdom to impart if you listen carefully, not from a place of anger or judgment, but from a place of love.
Hold her hand, those of you lucky enough to still have your mother around. Hold her hand the way you once did -- before you became a teenager and grew self-conscious and cool. And when you call her name, say it with gratitude for the good she intended. Nothing else matters.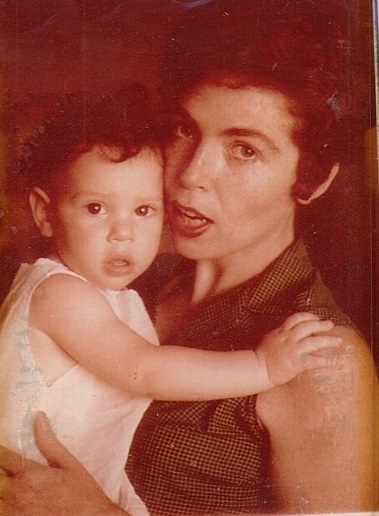 Earlier on Huff/Post50:
Mom And Daughter Look Alikes
The author pictured with her mom in 2009.

"Looking like my mom is really fun! Recently people have been approaching us a lot to say that we look so much alike. I also have her voice, which gets a little confusing when I'm home."

"We get the whole 'You guys look so much alike' comment a lot. She's a pretty fly lady so that refrain is certainly a compliment. Not to mention, if I look half as youthful in my 60s as she does, I'll be eternally grateful to her for her wonderful genes!"

Kristian is wearing a Medill t-shirt, her mother, Patricia, is in green.

"When people look at my face, I can always tell if they knew my mother. If it's the first time we've met, they'll hold my gaze longer, tracing my jaw line with their eyes. I catch family members studying me from across the room when they think I'm not looking and then say, sheepishly, 'it's just that you look so much like your mom.' "My mother passed away on October 29, 2009. At first, it was an uneasy thing, to have people look for a departed woman's face in yours. But the older I get -- and the older my mother's siblings get -- I find myself studying their faces for her, too. It's a comfort to look in the mirror and see the same cheekbones that stood out, refusing to soften even when she lost her hair to chemo; to see her blue eyes shining out from mine and from my uncle's face when I hug him goodbye after a visit. "Now, my sister is looking more and more like her. We take different things from her, but we each carry parts of her proudly through the world, walking reminders of the woman who raised us." Jessica is pictured in the middle.

"I feel incredibly lucky to look like my mother, and not only because she's beautiful. Keeping family traditions alive is something that my mother, a child of Holocaust survivors, has always taught me is very important. Looking like my mother makes the bond I feel with her and our family's history even stronger. I only hope I have a daughter of my own one day to continue that legacy."

Here's a photo of mother and daughter, both at age 26.

"I love the fact that my sister and I look like her, because we're a very specific mix of heritages that I feel lucky to have."

"My mom and I are very close -- and have been since she weathered my pre-teen angst phase a decade ago -- and it's awesome to see our emotional bond reflected physically. Also, she got killer cheekbones at some point between that photo being taken in the early 1970s and today -- my chubby cheeks and I are holding out hope!"

"I don't just look like my mom... I sound like her too. My mom is my hero, so it feels good to be so much like her"

"When I see all that my mother has accomplished personally and professionally -- who she is, how she loves, what she does -- there is no better compliment to me than 'You look like you're mother,' because I want to have all of her best qualities."

Sydnie also looks like her grandmother, Kathleen Whaley.
Follow Melissa T. Shultz on Twitter: www.twitter.com/MelissaTShultz