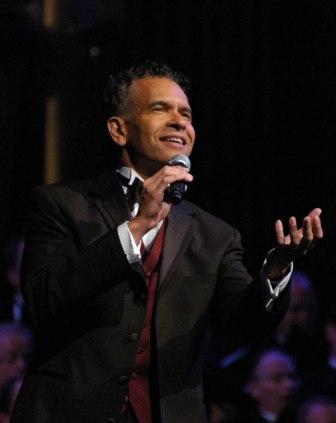 There are not many better ways to spend Thanksgiving Eve than dinner with Broadway luminary and Tony Award winner Brian Stokes Mitchell. God was working overtime when She produced this man. The singer/actor is exactly what one would expect of a classic leading man -- tall, handsome and high spirited, although not vain. As we supped across the street from the Belasco Theatre (where he is starring in Women on the Verge of a Nervous Breakdown), he enthusiastically discussed his upcoming holiday concerts with the New York Pops (as I needled him about his life) on December 10th and 11th, via Carnegie Hall.
Melody - Which do you find more challenging, theatre or cabaret?
Brian - Cabaret presents different challenges, as it is all on me. I love having the freedom to say anything you want -- do anything you want. It is a lot of responsibility and if it works you get all the kudos, and if not -- all the blame. In theater, with this show, (Women) much cooperation is required, due to the structure of the music and size of the cast, but it comes easy due to the people I am working with.
M - Picking one's own tempos and keys can be very liberating in a show of one's own -- conversely, are you permitted to make any of your own choices in a musical -- or is it all on the musical director?
B - You do have input and it is usually in the logical place, but in Women it has to be very specific, as it is wordy and has to fall in place.
M - Your solos, let's say in a show like South Pacific: "Some Enchanted Evening" or "This Nearly Was Mine..."
B - On Broadway you are working with some incredible people and they have great reasons for doing things the way they do. It's not a fight over who wins; it's who has the best reason.
M - Alright then, you don't face much conflict.
B - South Pacific -- with "This Nearly Was Mine," I said to (Paul) Gemignani that I wanted to do the second verse with much space -- very slowly...
M - Yes, I loved how expansive it was.
I wanted to cross over to the more personal aspects of Mitchell's life -- perhaps to find a defining point in his life. I assumed that his parents were made of stern stuff -- his Father, a Tuskegee Airman -- and his Mother, a cop and school administrator. My imagination took flight contemplating the discipline he must have endured to become who he is today.
M - So what was it like being raised by two professional "enforcers?" Did their positions turn you into a striver?
B - At this point his voice pealed with hearty Baritone laughter. My mother was the first African-American policewoman in Seattle -- recruited actually, and she did it for only 2 years as she did not want to carry a gun. She worked mostly on domestic disturbances. The NAACP wanted her to do it. She did not actually have the temperament to be a cop -- she was very sweet. She had a Masters in social work.
M - Oh, she was highly educated, I got it. So your father - was he stricter or more regimented?
B - No -- he was a Tuskegee Airmen, but he got out of that by the time he was 24. Although we lived on military base, he was a civilian. We were not a military family -- they were both very nice, we (the 4 kids) were taught to have manners. I call them sort of a 50's family probably similar you yours -- No?
At this point I had to laugh, as our families could not have been more dissimilar.
M - Not really...
B - Oh, sorry--
M - Oh no, don't be -- my parents just had more hardships and I really was expected to carry the torch. It has become clear to me over the years that to become an artist is like preparing a recipe -- there are so many ingredients -- voice, style, drive...
B - And luck -- you need the luck.
M- You say that your career is in wiser hands than yours -- does that mean you are religious, or possess what is referred to as a spiritual nature?
B - Yes and no. I was raised in a religious household. I would say it is more of a spiritual statement. Something is guiding my career; I don't know what it is. When I look back at my career, I call myself the most lucky actor in the world. It is all I have ever done. I do master classes and I tell people not to use me as an example, I do not know anyone like me -- not to brag -- it is just very unusual.
We discussed to the scope of his roles.
M - Your Sweeney Todd was insane!
B - Is there any other kind?
M - (Laughing) There is a large amount of range in your portrayals vocally. Are you more comfortable opening up the floodgates of your voice as your career progresses? You used more thrust vocally in South Pacific than in Man of La Mancha, which was phrased with delicacy.
B - It is just really about the role and what each character requires. I did do some big singing in La Mancha's ballads, but overall he was a physically frail man.
M - Did you feel you needed to make a choice between acting and singing?
B - My move is go where you are wanted -- early on I did a lot of TV (Roots The Next Generation, Trapper John MD), but eventually you can wear out your welcome there, and they think they have seen everything you can do. So I returned to the theater, where I grew up.
M - I have to say, I am in despair about what is going on with Broadway revivals. Especially in the plays by Sondheim -- the severely diminished orchestras -- the actors having to play their own instruments!
B - Well, it is a means to an end financially. And having people play instrumentals was part of the conceptual design of the productions you mention. But yes, personally, in Sondheim, especially Sweeney Todd, I want to hear a full orchestra, as I did in DC. The arrangements by Jonathan Tunic are incredible genius, as most of the shows Sondheim did are with him. The great thing is, I am getting to perform his arrangements with the Pops and the 80-piece orchestra. And people can bring their children to the great Carnegie Hall and experience a great show. Great songs to hear live -- kids that don't get a chance, those young kids today!
M - With their iPods and their texting!!!! Ahahha
B - They really only get this type of music if their parents bring them to it. All they get is synthesized music and they are used to it. Hearing it, our generation feels the diminishment, but our parents took us to opera and musicals. The appreciation had to be passed down. There is a different depth of appreciation that people our age developed. Once you have been exposed to what we have been...
M - It is hard to go back.
B - Yes it is.
M - So basically today's kids never really had it, so they don't miss it.
B - Yes.
M - Okay, now the tough stuff...
B - Uh-oh, is this gonna be a "Barbara Walters" moment?
M - I hope not! Now when I saw you in La Mancha I was not even aware of your "race." Both your parents are mixed race?
B - We are all mixed race.
M - Fair enough, but do you consider yourself an African-American?
B - I will take whoever wants me (laughs).
M - I'm a Jew -- do you feel Jewish too? Can we have you?
B - Absolutely. It's that the thing I have, this look, all throughout out my career there have been questions. Is he white, Jewish, is he African American, Middle Eastern, Hispanic, etc, etc. It might have been frustrating, but now that I look back I can see it served me very well.
M - You are the World La La, You are the People...
B - Adopt me I am yours.
M - Seriously though, when you first started out did the casting agents know what auditions to send you out on??
B - It was not an issue, except for commercials. They did not know what to do with me to target specific groups.
M - Musical Theatre has more "untraditional" casting than in the past.
B - Somewhat, but it still exists.
M - So do you think you are experiencing this color-blindness due to you talent -- fame etc.? Do you think it is your stature that has opened everything up to you?
B - I couldn't say -- I am not the one casting or making these decisions.
M - So you don't really dwell on any of this stuff. Many actors dwell on what type they are being forced into. Stereotyping happens to most...
B - It's out of my control. I dwell on the things I can control, my craft, my voice, my artistic decisions. I don't read the newspapers; what can I do? Someone gets stabbed with a sword; what can I do?
Now it was time to get down to business of his upcoming engagement. He was truly excited and expansive he spoke about the upcoming Pops concert.
M - Ok, sooooo, what's the program?
B -There are actually two different concerts and I am narrating and singing in The Grinch Who Stole Christmas -- the first time it has been done. We are gonna have a sing along.
M- Really?
B- Of course we will have a sing along, what would a holiday concert be without one! We also have a Kwanza number.
M - Hanukah sing along too?
B - Yes! So I am working on my Hebrew now.
Brian goes on to example some pronunciation that would make a cantor proud. He described the wealth of music and text he had been going over with Judith Cluman, (Essential Voices USA) choir director, musicologist, translator and composer. He also described the meeting of the mind he has with Pop's conductor, Steven Reineke.
M - You are so pumped for this!
B -That's right, I don't want to sound like a New York Bar-Mitzvah Boy.
M - Clearly. So, what do you do to relax?
B -This!
With the interview naturally taking its course, and our salutations complete, Brian Stokes Mitchell smoothly exited the dining room, graciously thanking me. I puttered around gathering my materials and further contemplated this man who seemed on top of the world, and deservedly so.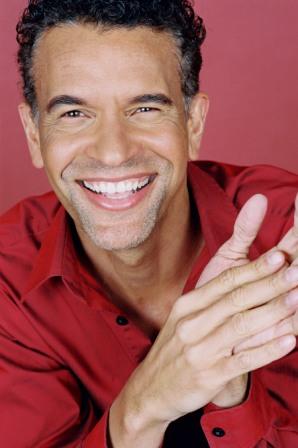 SUBSCRIBE TO & FOLLOW CULTURE SHIFT
Level up. Read THIS and be the most interesting person at your dinner party. Learn more