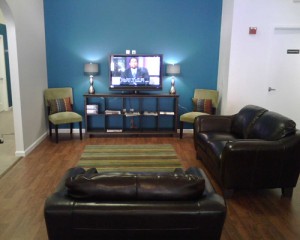 As a founder of Store Adore, the personalized web-based guide to the best boutique shopping around the country and online, I spend a lot of time thinking about what makes a quality shopping experience. Like an editorial Zagat guide for shopping, Store Adore features professionally written profiles of 2600+ boutiques and specialty stores online and in cities around the country, including New York; Washington, DC; Boston; Los Angeles; Chicago; Philadelphia, and San Francisco. Perhaps not surprisingly, our site focuses on shopping for women in fashion, beauty, accessories, and home -- there just doesn't seem to be a high demand for a shopping guide for men.
Yet that doesn't mean that men don't play a big part in the shopping experience. My husband has accompanied me on so many shopping trips that he now knows many of my favorite designers by name. He's developed the smart practice of bringing a book on our outings and settling down in the "man chair" to read before I've even taken the first batch of try-ons to the dressing room. (The sales girls always get a big kick out of this.) He says he'll shop with me willingly, but when he has reached his limit, I have to promise to drop everything and leave. Admittedly, a trip to the local boutique is not as appealing to him as...well...about a thousand other things...but we do it as a way to spend time together (I'll watch football for him!) and hey, for me it's market research.
A new poll released today and featured in the September 2008 issue of Shopsmart, from the publisher of Consumer Reports, compares male and female shopping styles and what happens when couples shop together. It generalizes many of my own experiences -- and undoubtedly those of many other passionate shoppers out there. On the upside, 74% of men and women shop together so they can spend more time together, and most enjoy doing so. (75% say they've held hands while shopping!) On the downside, women complain that shopping with men makes them feel rushed or pressured (51%) and their spouse gets bored or impatient (51%); and men complain that it takes too long (49%) and that women can't make a decision (44%).
To me, none of these problems seems insurmountable. For the benefit of more couple-time -- not to mention having someone to carry your bags (a benefit identified by 43% of women) -- there are some several smart strategies for successfully shopping together: The folks at Shop Smart recommend promising a nice meal out if he cooperates, letting him go off and do his thing and other smart tips, which you can see here. The bring-a-book strategy always works for us, as does heading to the types of stores where he'll feel comfortable—and maybe even have fun. (It can happen!)
At Store Adore, we've identified several boy-friendly boutiques around the country—the kinds of spots that can keep even my husband occupied for hours. With keep-him-busy options that go far beyond a chair and a mag, at these places, you can have your fashion and bring him, too. (Click on the names for each for addresses and other details)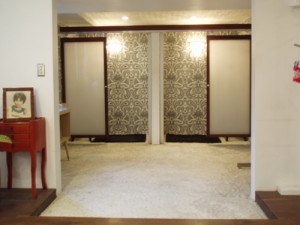 Like most boutiques with male shopping companions in mind, Abbot Kinney's inviting eCookie features the full set-up: magazines, icy beers and a comfy couch right in front of the fitting rooms. Sure, that'll keep him busy and provoke the occasional outfit review, but there's a twist: clever lighting lets the guys see the faintest (and most flattering, we're assured) silhouettes of the gals changing within. We bet he'll even thank you for the invite.
Chicago - Guise | Chic

For girls, Lincoln Park's Guise | Chic carries cutting-edge labels like Acne, Edun and Helmut Lang. For their companions, there's an equally cool assortment. Your man's not the shopping type? Send him to get a haircut at the boutique's sleek, manly salon. Afterwards, he'll relax in the plush lounge area, which is outfitted with a large flat screen that's always showing the game. For him? A newly shorn look. For you? Ample, unhindered shopping time...

Washington, D.C Area - Paradigm
The seating area at Paradigm in Annapolis is hooked up to look like the well-appointed living room in a sleek bachelor pad. While he lounges in his own separate space, sipping beverages and flipping the channels on a sizeable LCD, you can scoop up fashions from Velvet, Walter, Ben Sherman and more. Just try dragging him out of there once you're ready to continue the expedition.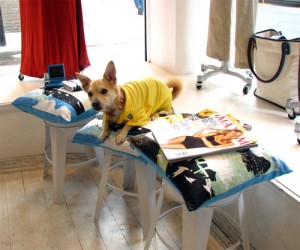 A sign in the window that reads "Boyfriend Friendly!" will put your fellow immediately at ease at glam Leehe Fai in Rittenhouse Square. Here, he can relax on comfy seats, browse lad mags and experience the shop's secret weapons: a Gameboy Advance and a playful pup named Nacho. Owner Lehee Fai tells us that the combo keeps even the most shopping-averse men entertained for hours!

New York - Lolli by Reincarnation
Lolli's got one of the most unique and engrossing guy sections around. Beside antique leather seats, there are hundreds of comics in this innovative Lower East Side shop featuring new and glorious revampings of vintage pieces. (The Avengers, Iron Man, X Men and more are stacked alongside dozens of their action figurine counterparts.) A few feet away, a giant birdcage is home to feisty lovebirds, parrots and doves. If this library meets museum meets aviary isn't enough to amuse him, there's a good old TV in the corner.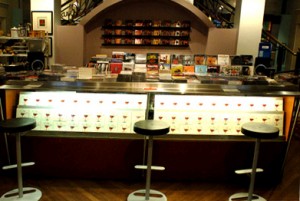 If he's a music-phile, bring him along on your next shopping jaunt to Back Bay mansion-cum-shopping mecca Louis Boston, where you'll encounter everything drool-worthy from Christian Lacroix couture to Balenciaga handbags. He can settle in at a music bar outfitted with fully loaded iPods. No Britney to be found here: Louis Boston stocks a slick, cutting-edge music selection that only rivals its fashion line-up.
SUBSCRIBE TO & FOLLOW LIFESTYLE
We're basically your best friend… with better taste. Learn more