In the mercurial world of fashion, few designers enjoy the career longevity of Betsey Johnson, whose cartwheels down the runway and enthusiasm for the miniskirt keep her in the hearts of women of all ages.
From her early silver space age dresses to her playful prairie collection for fall 2010, she has a knack for making clothes with youthful exuberance that can still be credibly worn by adults.
The legendary designer recently spoke with Lauren Sherman, a regular contributor to The Inside Source, eBay's digital style magazine, about her fall collection and the items on her current wish list. What follows is an excerpt of that interview. For the full article, click here.
The Inside Source: Your fall collection made me think of Gunne Sax from the 1970s. Do you own a lot of it?
Betsey Johnson: You guessed it! Gunne Sax looks good again to me and I have four or five classic pieces. Did you get the Gunne Sax from the guns?
TIS: Heehee, no! It was all the florals! What were some of your other inspirations for the collection?
BJ: An old western '70's movie that was very punk, kick ass, as well as very Victorian. It's called "Las Petroleras," starring Brigitte Bardot and Claudia Cardinale. The look of the clothes, the look of the girls, turned out to be the show!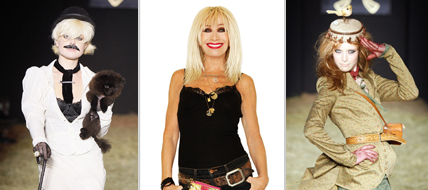 TIS: You're a pretty avid vintage shopper, right? How has the market changed from when you first started collecting to now, when it's all just a click away?
BJ: Good stuff is really hard to find and when you find it, it's expensive! We're running out of it and dealers rarely sell, only rent.
TIS: It's warming up outside. What's your favorite look for summer 2010?
BJ: Bikinis on the beach. Comfortable, sloppy, careless, cool...with house slippers.
TIS: Tell us what's on your current wish list?
1. "I want fabulous, out of the box, great, eyelashes."
4. "I need the right modern art for my new modern apartment."
Here are a few of the items (minus the lover) Johnson is currently searching for: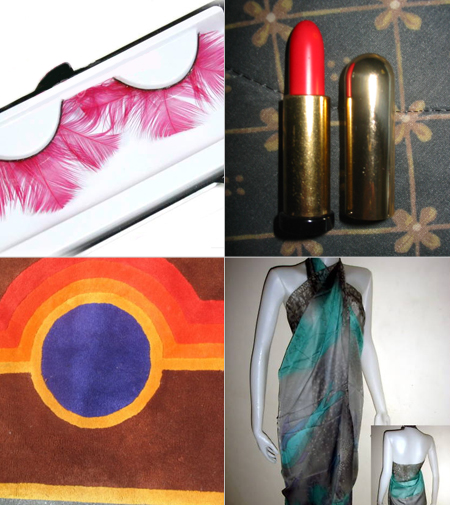 Click here to read the rest of the article.
[Betsey Johnson images provided by Betsey Johnson. Additional images from eBay.]

FOLLOW HUFFPOST