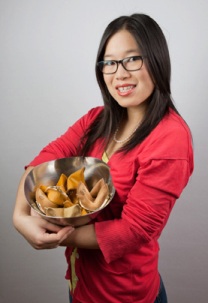 Diana Eng is the rare fashion designer who is as comfortable working with conductive wire and electrical circuits as she is with velvet and silk chiffon. Her many creations include a dress with flowers that bloom, garments that change shape, and a purse that blogs. She was a contestant on Project Runway in its second season, won the Yahoo Open Hack Day (where creative geeks come together to build cool stuff) with two others, was an artist in residence at the Eyebeam Art and Technology Center in New York, authored a book on tech fashion, and has helped Victoria's Secret with R&D.
Her latest ambition is to make high-tech fashion affordable to the masses, and to sell her wares online. Her newest and most accessible collection is a group of laser-cut tops inspired by microscopic images of plant and flower cells, Art Nouveau prints and, as eBay's The Inside Source contributor Cate Corcoran recently discovered, Tina Fey's book 'Bossypants'.
Check out Corcoran's interview with the designer below and visit The Inside Source for even more interviews with our favorite stylemakers in the fashion and design industries.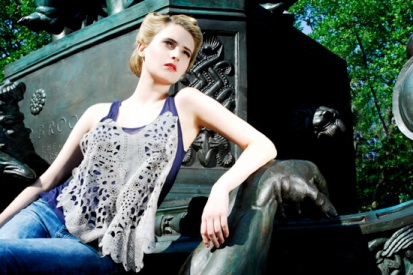 Diana Eng Laser Top (Photo credit: Ricardo Louis)
The Inside Source: Why the mix of tech and fashion?
Diana Eng: I always liked the fashion designers who are really pushing boundaries -- Issey Miyake, Martin Margiela... I'm very inspired by what they're working on, so I decided I wanted work on similar things. I always had an interest in science and technology, and it seemed like a good combination to make fashion that explored those things.
The Inside Source: What inspired your latest collection, the laser-cut tops?
Diana Eng: I was reading Tina Fey's Bossypants book, and she was saying she hates dressing up. I don't like to dress up, either. I wish I could wear t-shirts all the time. That was the inspiration: What type of t-shirt could I wear all the time?
The Inside Source: Tell us a little bit about your process.
Diana Eng: It's kind of fun because with these laser lace tees, we had to develop special technology. With the jersey knit material, you can't stick it in the laser cutter. It stretches and changes shape. It gets burned. Once, some of the fabric caught on fire when we were cutting it. It probably took at least two months of experimenting to get it right. I had the general idea for each design. Most designs I tried didn't work. Either they fell apart or were distorted. There were a lot of unknowns we had to experiment our way through. One of the poor girls who was helping me had to sit in the laundromat constantly to see if the [tops] were going to be able to be washed OK.
The Inside Source: What tools and equipment do you use?
Diana Eng: I'm in a shared studio space. There's a 3D printer, a laser cutter, a pad printer for screen printing onto three-dimensional objects, also a large-format digital printer. We have a vinyl cutter and a heat press for the screen printing machine, an industrial sewing machine and a serger.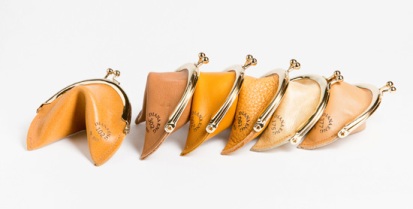 Fortune Cookie Purse, a signature Diana Eng item (Photo credit: Douglas Eng)
The Inside Source: You mentioned your engagement ring came from eBay.
Diana Eng: Yes, my engagement ring is actually Victorian. It's neat to look at vintage things on eBay. The ring is opal and rubies.
The Inside Source: Do you shop eBay for supplies or inspiration? Or anything else?
Diana Eng: I recently got a Polaroid ProPack camera. That's been pretty fun. It's a professional camera. You buy peel-apart film. I like to look at old teacups, but I don't ever purchase them because we have a pretty small apartment. I'll say "Ooh, that's a cool one" and save it to my tablet so I can look at it later. Also, Russian cigarette cases. They are enamel. They're really beautiful, but super expensive.
This article was written in its original form by Cate Corcoran. Top photo courtesy of Diana Eng.
SUBSCRIBE AND FOLLOW
Get top stories and blog posts emailed to me each day. Newsletters may offer personalized content or advertisements.
Learn more