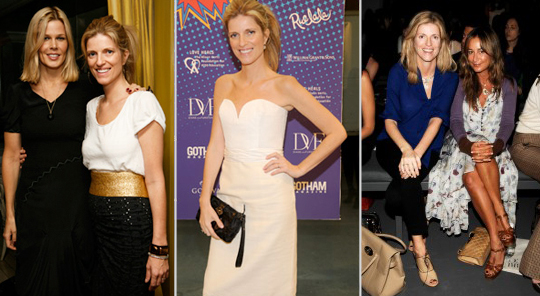 Lucy Sykes (right) and fashion stylist Mary Alice Stephenson; Sykes in a dress by her friend, Rachel Roy, at a benefit; Sykes and friend, Net-a-Porter Fashion Director Tracey Taylor, sitting front row at a fashion show
If there's one name that's synonymous with the glamour of New York Fashion Week, it's Lucy Sykes. Gorgeous and charismatic, Sykes works the week from every angle -- she styles runway shows and sits front row at others, hosts parties and attends dozens more, and consults with clients who rely on the experienced creative director's savvy eye and keen sense of style.
This week alone, Sykes kicked things off by co-hosting a party with acclaimed accessories designer Alexis Bittar for Fashion's Night Out; styled the Pink Tartan and Helen Yarmak shows; consulted with clients including visual bookmarking website This Next, where the mom of two boys is Family Editor, and dress rental site Rent the Runway, where she is Contributing Fashion Director, all the while jetting from one show to another and hobnobbing with her equally accomplished friends.
But all of this is old hat for Sykes, who arrived Stateside from England in 1995. With twin sister novelist Plum, she quickly took the fashion world and New York social scene by storm. In the ensuing years, Sykes has graced countless fabulous fashion events with her effortless, undone yet sophisticated presence, and her work has appeared in the pages of Allure, Town & Country, Harper's Bazaar and American Marie Claire, where she served as Fashion Director. If that trajectory wasn't stellar enough, Sykes also designed a line of children's clothing bearing her name, and she continues to be a sought-after world-class fashion consultant and creative director.
In the midst of Fashion Week craze, Jen Smith, a regular contributor to The Inside Source, had the chance to catch up with Sykes and chat about all things -- what else! -- fashion. Visit The Inside Source to read full story and see what Sykes is currently coveting on eBay. And be sure to follow us Twitter and Facebook for more interviews with fashion and design industry insiders.
The Inside Source: Hi Lucy! Please describe your first ever "Front Row" experience. Let us in!
Lucy Sykes: Wow, I cannot remember! I am sure that was not my (assigned) seat! I probably did the trick a lot of newbies do: wait, lights down and pounce. I did adore being front row at the McQueen shows -- that was an audience participation moment. The Dior shows in the Louvre in Paris were out of this world -- very Marie Antoinette.
The Inside Source: Who do you want to sit between at a show?
Lucy Sykes: Mickey Boardman (Creative Director of Paper magazine) and Kristian Laliberte (now a contributor to Refinery 29).

The Inside Source: Are you a note-taker or sketcher?
Lucy Sykes: I take notes, sketch, snap, and sometimes I just watch.
The Inside Source: Every city that hosts a Fashion Week has it's own personality. What's your current runway inspiration for dress-to-impress in New York?
The Inside Source: Paris?
Lucy Sykes: Lanvin.

The Inside Source: London?
The Inside Source: Milan?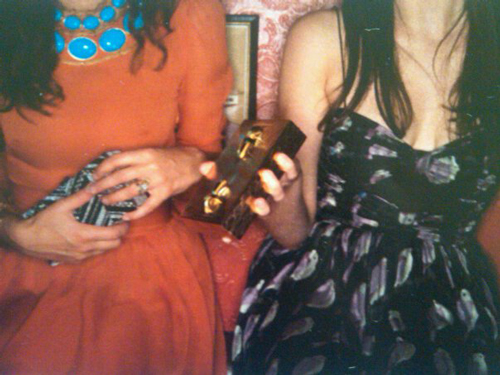 A shoot for handbag collection Judith Leiber, commissioned by Sykes and photographed by Patrick McMullan.
The Inside Source: What are the presentations/shows you've been most excited for this season?
Lucy Sykes: Prabal, Bibhu, Jason Wu, Rag and Bone, Marchesa, Neil Kirkwood, to name a few.
The Inside Source: The fashion industry is notorious for drama. What's the most memorable fiasco you've witnessed onstage or backstage?
Lucy Sykes: A few years back, I was sitting front row at an Oscar de la Renta show. The anti-fur peeps somehow got on stage and threw red paint all over Anna Wintour. She did not flinch. That was drama.
The Inside Source: Where are your favorite place to recuperate (or celebrate!) after a grueling day at the tents?

Lucy Sykes: Corsino on my street in the West Village -- it's a neighborhood Italian joint. Aria on Perry Street is great for cocktails; I always love the Waverly Inn... But best of all is my super king-size bed with my three boys (yes, that includes Euan [Rellie], my husband) watching a family movie.
The Inside Source: Do you have a favorite fashion blog?

Lucy Sykes: Fashion's Most Wanted -- this is where I find fab inspiration. I'm also in love with The Coveteur. And This Next, of course.

The Inside Source: What did you like to wear as a teenager?
Lucy Sykes: I loved American Cosmo and the Chanel-looking Barbie/Claudia Schiffer [styles] on the cover. I started to copy the styling on myself. I wore pouf ball dresses, stripe t-shirt dresses, bother boots, fishnets. Somehow I got hold of a red Chanel jacket and leather hot pants.

The Inside Source: What is your dream "it" bag?
Lucy Sykes: A Birkin in bright pink.
The Inside Source: This fall, what is the one thing any girl can add to her closet to provide some glam?
Lucy Sykes: Fur, fake or real.
This article was written by Jen Smith. Photos courtesy of Lucy Sykes.
SUBSCRIBE TO & FOLLOW LIFESTYLE
HuffPost Lifestyle is a daily newsletter that will make you happier and healthier — one email at a time. Learn more