When you spend your childhood zig-zagging the U.S. on road trips with your free-spirited parents, a little flower-child wanderlust is bound to rub off. For fashion designer Nanette Lepore, a peripatetic childhood led to a lifelong love of travel and a bohemian streak, both evident throughout her two decades of designing clothes. Heather Summerville, a regular contributor to The Inside Source, eBay's digital style magazine, recently caught up with the globetrotting New Yorker, who was fresh from a scouting trip through the flea markets of Rome and Paris. What follows is an excerpt of that interview. For the full article, click here.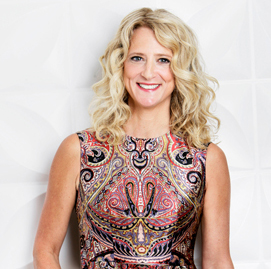 The Inside Source: Were you in Europe for work or play?
Nanette Lepore: It's just fun to be in Paris. It's kind of work and kind of pleasure. I went to the YSL Retrospective at the Petit Palais, caught a great show at the Musee d'Orsay called Crime and Punishment and went to the flea markets in Rome and Paris.
TIS: Traveling seems to be a big influence for you. What locales inspired your spring collection?
NL: It was about feeling happy and uplifted. I go back to Italy every year. It's so easy for me to get caught up in the feeling of a city like Venice, where everything is just beautiful color and gorgeous buildings that are so peaceful. You can roam around and get lost in the labyrinth.

TIS: You have quite a few new projects happening at once, including the launch of your knits line, Oonagh, last fall, which became a hit almost overnight.
NL: I've always wanted to tackle the casual part of dressing. Knits to me are always just easy. I've fantasized about packing a suitcase of only knits: You just throw them in, roll them in a ball, pull them out and they still look fabulous.
TIS: You're also reintroducing your shoe line.
NL: The big excitement is actually the handbags, which we just launched for the first time for fall 2010. Joy Gryson is partnering with me on the bags and shoes.
TIS: We like to think everyone has an eBay story. What's yours?
NL: Absolutely. One time, a couple of years ago, I was in Vegas and fell in love with this red velvet Gaultier top. I didn't buy it, because it was still too expensive. But then my friend found it for me on eBay for a few hundred dollars...and I got it!

Lepore still turns to eBay for Gaultier and Comme des Garcons, and also figural mourning lockets and vintage perfume bottles and books. For the full story, click here.

** Images provided by Nanette Lepore. **

FOLLOW HUFFPOST