As one half of the creative team behind celebrated surfer-preppy collective Trovata, Sam Shipley and Jeff Halmos stunned the fashion world in 2006 by leaving the label just as it seemed to crest. Critics were skeptical the duo could duplicate their early success, but Shipley & Halmos, the men's and women's line they co-founded in 2007 has earned accolades ranging from the Young Designer Award from the National Arts Club to a nomination last year for the GQ/CFDA Best New Designer Award. Chris Frey, a regular contributor to The Inside Source, eBay's online style magazine, recently chatted with the quirky pair about what they're showing for fall (chunky alpaca sweaters), their new drawing blog (featuring sketches of Carla Bruni and Swedish Fish) and what they're trolling for on eBay (among other things, a human hair mustache). What follows is an excerpt of that interview. For the full article, click here.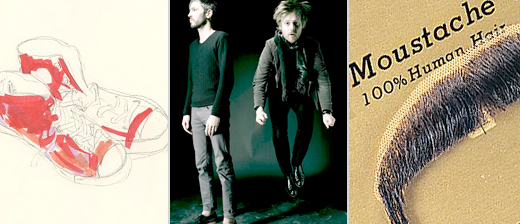 "We met our freshman year at CU Boulder," Sam Shipley says, of buddy and business partner, Jeff Halmos, with whom he has either lived or worked for more than a decade. The photogenic friends now share an easy shorthand, along with a wide-ranging curiosity. Their work studio in downtown New York, near Soho and Chinatown, is filled with a collection of found objects, art and furniture that reveal influences spanning far beyond fashion.
"It's not to say that we are not appreciative of some of the extremely talented people in fashion," Halmos says, discussing their tendency to look outside the industry for ideas. "But our personal interests and inspiration stem from everywhere... musicians, artists, friends. It's rarely about 'this dress' but more about 'that music video was so clever.'"
Currently, Shipley is fascinated with Diego Maradona, the flamboyant, emotional coach and former player for Argentina whose World Cup team was ousted from this year's tournament by Germany. "I can't get enough of that guy running around on the sidelines, hugging, laughing, jumping, and acting like a wild man. I love it!" Shipley says.
He and Halmos recently started an art blog called Numerous Drawings to capture and catalog this and other whimsical musings -- from an impressionistic rendering of a Nirvana album cover to a dashed-off portrait of Kate Moss. "We think of them as a kind of stream of conscious experiment," Shipley says. Not unlike the label's website, which features fashion models pogo-jumping, napping and just generally poking fun at the runway "model walk." Says Halmos: "We try not to take ourselves too seriously."

On eBay, Shipley and Halmos gravitated to a Herman Miller chair, a Robert Longo print and a faux mustache crafted from human hair. To read the full article, click here.

** Portrait and drawing provided by Shipley & Halmos. **

SUBSCRIBE TO & FOLLOW LIFESTYLE
HuffPost Lifestyle is a daily newsletter that will make you happier and healthier — one email at a time. Learn more