This article was written by Suzanne Singer and originally appeared on The Inside Source, eBay's digital style magazine. To read the full interview, click here and be sure to visit us on Facebook and Twitter.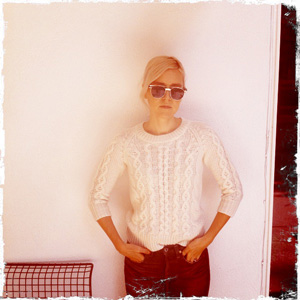 Kristen Lee, Co-Owner of TenOverSix
Kristen Lee has more than proven her passion for accessories and her knack for style. The namesake shoe line she launched in 2003 was a hit with the fashion set for being at once forward-thinking and totally wearable. She shuttered the collection in 2007, only to transfer her talents a year later to TenOverSix, a style mecca she opened with partner Brady Cunningham.
The shop, set up like a mini department store, houses a careful selection from every celebrated cutting edge designer, from A.P.C. to Alexander Wang, Karen Walker and Wren, plus options for men, gifts and children. Lee serves as the store's Creative Director, Head Buyer and overall brand caretaker. Together with Cunningham, whose title is Art & Design Director, she designs the store's private label fashion and footwear lines and curates the shop.
TenOverSix is known for its interesting collaborations: Edgy interior design shop The Future Perfect has "popped up" inside the store with a selection of products, and local independent boutiques Booksoup and Mexican Summer have book and vinyl albums in the store, respectively.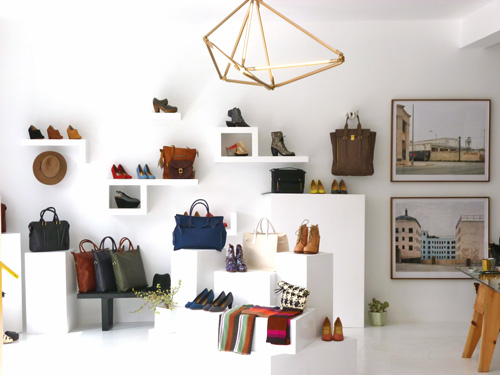 The TenOverSix store
The latest, Vena Cava X TenOverSix, is a partnership between TenOverSix footwear and the contemporary fashion line. "It's a line of really amazing shoes that were used for their runway show and now are being sold at retail through TenOverSix, Opening Ceremony, Saks and Harvey Nichols, among other fine retailers in the US, Hong Kong, and Japan," said Lee. "The season was very '90s grunge meets Renaissance Fair!"
Here's what else Lee had to say about living TenOverSix.

The Inside Source: Your fashion roots are in footwear. How did that come about?
Kristen Lee: Shoes have always been a real point of interest for me -- so sculptural and style-defining. It was a journey in learning the craft and the history, visiting with many factories in Italy and Brazil, and then filling a gap I saw in the industry for shoes women could really incorporate into their everyday creative wardrobes (not sky-high stilettos, which at the time seemed too mature and serious for what I wanted create).

The Inside Source: How did TenOverSix come about?

Kristen Lee: We wanted to create a platform to display all of our favorite accessories designers, but again, with a slant -- not your mothers' shoe store. We offer a well-edited selection from our favorite designers in the areas of shoes, handbags, jewelry, small accessories, leather goods, hats... We quickly expanded into art, music on vinyl, home design, ready-to-wear, books, select beauty items and now children's. It's a very multi-dimensional store, and all the categories really relate.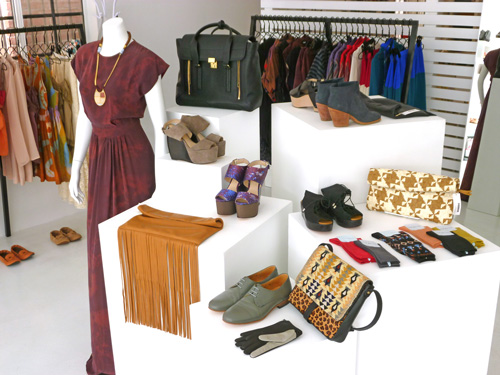 The TenOverSix store

The Inside Source: What is the goal and message behind the store?

Kristen Lee: Well, it's a lifestyle store. TenOverSix embodies what we truly love and find special from design point of view. We stock what we fill our closets and our homes with. We wanted to create a fun place to shop, with a bit of a sense of humor, but a clear love for fashion and design.

The Inside Source: I know that you still design under the TenOverSix label, do you feel any difference designing for the store as opposed to your own line?
Kristen Lee: Absolutely. Owning a store has been an amazing education. There's nothing like seeing your designs tried on, loved or... not loved! The intimacy of our access to our customers has really shaped the direction of what we design.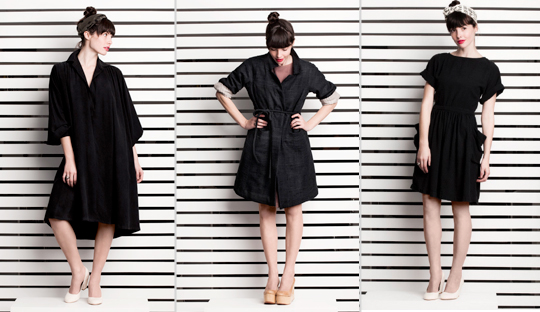 Fall 11 TenOverSix Private Label

The Inside Source: What is the inspiration behind your fall collection?
Kristen Lee: We were particularly inspired by Gees Bend [an Alabama-based quilting collective] and history behind the amazing women who made those quilts.

The Inside Source: How did the collaboration with Vena Cava come about?

Kristen Lee: We know the designers of Vena Cava. They approached us to make some runway shoes for them, and the collaboration grew from there. It's been a wonderful collaboration, and we adore their line, so it's been easy and inspiring.
The Inside Source: Do you have any other collaborations in the works for next season?
Kristen Lee: Yes. We are doing a special shoe for another one of our favorite labels, Bodkin. We have Lizzie Fortunato making us exclusive pendants for holiday. We have a funny little line of bags we are making with Cast of Vices for holiday and a Platinum- Blonde- colored nail polish with RGB. Since I'm a platinum blonde, this will be my new go-to nail color.

The Inside Source: Are you an eBay fan?

Kristen Lee: I have found some truly amazing pieces on eBay I never could have found locally. eBay makes buying vintage too easy.

The Inside Source: Do you use the site when you are designing your new collection each season?

Kristen Lee: Guilty. Great pics for quick inspiration. Thank God it's free.

The Inside Source: What do you like to search for?

Kristen Lee: Period pieces for my home or my favorite vintage designers. I've recently found some great Paco Rabanne bags.
Photos courtesy of Ten Over Six.