This article was written by Cate T. Corcoran and originally appeared on The Inside Source, eBay's digital style magazine. To read the full interview, click here and be sure to visit us on Facebook and Twitter.
Journalism student Leandra Medine and a close friend, WWD editor Rachel Strugatz, were combing through the racks at Topshop and joking that the fashions were so good they were man repelling. Thus The Man Repeller was born, a buzzy (and imminently popular) personal style blog that mixes satire with heartfelt devotion to fashion.
The idea is that the most exciting fashion repels men--or, at least, confuses them--because it's not sexy or pretty in the ways guys imagine it should be.
In addition to the idea of man repelling, Medine has been responsible for bringing the world the terms "lady boner," "arm party," and "birth control fashion" and its sub-genre, "birth control glasses."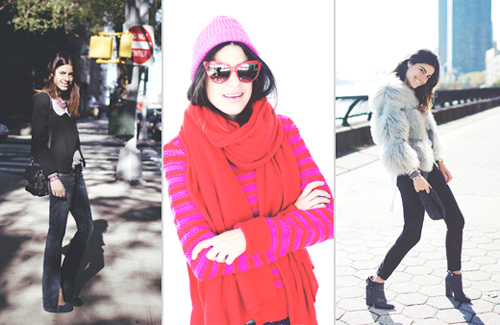 Leandra Medine, The Man Repeller (images by Naomi Shon)
Her poses riff off magazine clichés with half-executed sideways leaps into the air, clunky squats, goofy grins, and half-there facial expressions.
Since the blog debuted in April 2010, Medine has shot to the top of the fashion blog pops. She's a regular at fashion parties, curates for brands, goes to the fashion shows in New York and Paris, and has been written up in the New York Times and countless other publications and blogs.
She has completed five design collaborations, including a jeweled collar for Mr. Dannijo, a trench coat for Gryphon, a tailored jacket for Alex & Eli, a holiday dress for Lineby, and spiky suede shoe booties for Six London.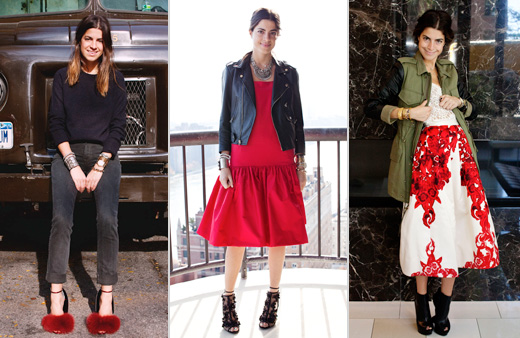 (images by Aram Bedrossian)
A recent college graduate, she is working on a book--a series of short biographical essays about the girl behind the Repeller. It's a little bit like Adrienne Kennedy's People Who Led to Plays, only more like "garments that led to my blog," said Medine.
Style-wise, Medine is perhaps best known for wearing bow ties, jeweled collars, leopard, layers and tons of bracelets. Her look is an amalgam of a cartoon character, big Upper East Side labels, tomboy, and Japanese intellectual fashion. A typical outfit might include nerd glasses, a printed t-shirt with rhinestones, a sweater by Alexander Wang, J Brand jeans, and Chanel shoe booties. Hence her quips: "Like I always say, just add birth control glasses," and "I put the arm in arm party."
The Inside Source: Do you have any upcoming projects?
Leandra Medine: I may, I may not. Read my blog to find out.
The Inside Source: What is the perfect outfit for a New Year's party?
Leandra Medine: A poufy red Carven-esque mini dress. Suede booties with studs down the heel. Oh! How convenient, I designed the suede booties in question alongside Six London. Buy them on farfetch.
The Inside Source: Where do you find inspiration?
Leandra Medine: French street style, Wes Andersen films, animated Disney films...
The Inside Source: What are your future plans? Are you going to be doing standup at Barneys? Going to law school?
Leandra Medine: I'm doing standup at Barney's Law School! Psych. Working on a book. Or two.
The Inside Source: Are you dating anyone!?
The Inside Source: Do you ever shop on eBay?
Leandra Medine: I've never purchased anything on eBay, but I do often rummage through the Chanel and Hermes pages trying to find one-of-a-kind pieces. I figure eBay is the best for that.
SUBSCRIBE AND FOLLOW
Get top stories and blog posts emailed to me each day. Newsletters may offer personalized content or advertisements.
Learn more