There's an episode of that new show, "The Middle," where the husband and wife plan a wedding anniversary trip to a carpet remnant store in French Lick, Indiana (a real place - I looked it up) because that's how romantic and sweet their marriage has become. Little by little in the episode events conspire to keep them from even this sad anniversary road trip until finally the wife resorts to locking herself in her work bathroom for 15 minutes, putting maxi pads on her eyes by way of a facial, giving herself a pedicure, and running through mists of flowery air freshener.
My husband and I aren't quite there yet, but lately it sure feels like we're getting darn close to the day when a road trip to a carpet remnant store will count as the romantic pinnacle of our year.
It all started a few months ago when my parents offered to take our son, the Juban Princeling, off our hands for a week. They live in Miami and we live in Brooklyn, so the logistics of this arrangement were yet to be determined. When my mother booked herself a trip up here, I tacked the Princeling and myself on to her return flight, with plans to leave him in Miami for 10 days. Husband would take a week off work and he and I would take a three-night vacation to a small town outside of Poughkeepsie, then enjoy the rest of the week child-free.
We even planned a party the night of my child-free return from Miami. We sent out invites and set up a Facebook event page for it. People RSVPed. I planned Spanish-themed hors d'oeurves like Manchengo cheese and Serrano ham on toasted bread. A friend of ours brought over a giant bottle of Belgian ale to leave in our fridge for the party. All my husband's lawyer friends were coming as an unofficial going-away party for my husband's work boyfriend. We were going to have the Winter Olympics Opening Ceremonies on in the background. I was going to wear pretty shoes.

Told you they're pretty
The next day we had train tickets to Poughkeepsie and a reservation for a rental car. We also had a reservation at a quaint little B&B with a proprietor who makes his own beer and wine. We sprung for the extra $25 per night for a room with our own working fireplace and a Jacuzzi tub. The B&B was a 10-minute drive from the Hudson Valley winery that makes the mariage we featured at our wedding.
Since this vacation would fall on the weekend of my birthday we also had dinner reservations at a highly romantic restaurant. I planned to spend my birthday soaking in a warm Jacuzzi tub next to a roaring fire and sipping wedding wine next to my beloved.
The Weather Girls were right when they sang that Mother Nature is a single woman, because she was clearly jealous of my romantic plans and dumped a major snowstorm on us the week before.
Because of the snowstorm, we knew that my and my mother's and my son's flight from New York to Miami would likely be canceled. So the day before the storm hit we decided to try to outrun the snow and get as far south as we could as quickly as possible. My mom rented a car, I threw all of the Princeling's warm-weather clothes and his bathing suits and half his load of toys and books and a zillion snacks and 18 packs of diapers into 20 different suitcases and bags, downloaded a white noise app to my iPhone for spending the night at a hotel somewhere, and printed out detailed maps of every small town in North Carolina that fell along our route, as well as lists of every hotel in each of those small towns. The husband installed our new toddler car seat, which was so complicated he had to go to engineering school and get an MS in Rocket Science to do so. Then we strapped the Princeling in, pointed the car south, and hit the road.
Before we got out of Brooklyn the Princeling got carsick. Really, really, really carsick. Horrifically, odorifically, messily carsick. Know what a carsick toddler smells like? It smells like a combination of peach yogurt, peanut butter crackers, and stomach acid.
We pulled over and I cleaned up the Princeling and changed his clothes while my mom did her best to mop up the brand-new car seat and rental car. We got back in and made it to the Verrazano-Narrows Bridge when the Princeling threw up again. So we turned around in Staten Island and came home, defeated.
As soon as we got home the Princeling was, of course, in the brightest of moods.
The storm began that night, and my mother searched frantically for a flight that would get her out of New York as soon as possible, without having to transfer in a city where the storm was expected to be worse even than here. The earliest flight she could rebook herself on was for Saturday, AKA Day one of our Romantic Birthday/Valentine's Weekend Away and Child-Free. There was no room on her flight for the Princeling and I.
My husband heroically booked himself on a flight to Miami for Monday morning, AKA Day three of our Romantic Birthday/Valetine's Weekend Away and Child-Free, but that didn't work out, either.
Which is fine, since Husband got very sick Monday night with a fever and sore throat and chills and dizziness.
As one of my friends said to me finally, "Mer, you can't buy yourself a break now, can you?"
So, to sum up, what was planned as a romantic, child-free birthday/Valentine's Day/week-long vacation for us turned into a scramble to find babysitters and dumping the Princeling in daycare full time all week long so I could clean our bathtub and then make chicken soup for my sick husband. On the morning of my birthday, instead of sleeping in and then enjoying a leisurely homemade breakfast that someone else had to clean up, the Princeling sweetly dumped my entire mug of coffee onto our couch, which several whacks with a wet towel and some Tide and several spritzes with Febreeze later still smells like old, stale coffee. That night we paid a responsible young woman last-minute holiday rates (that's what I get for being born on Valentine's Day) so we could pay $26 for a movie packed with other people's cranky and screaming children.
Maybe next year we should just go buy some carpet remnants in French Lick.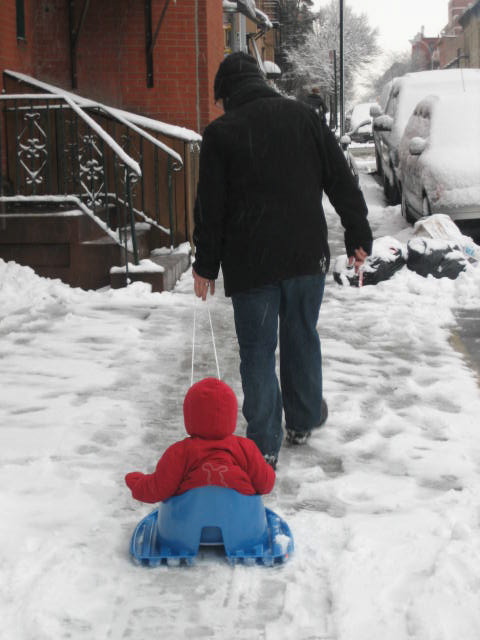 This is so much better than sipping wine in a
Jacuzzi tub next to a fireplace. Not.
SUBSCRIBE TO & FOLLOW LIFESTYLE
HuffPost Lifestyle is a daily newsletter that will make you happier and healthier — one email at a time. Learn more