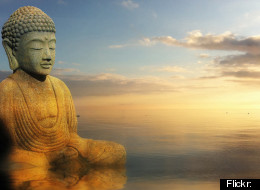 A few weeks ago, I went to a concert of traditional Indian chanting music by the wonderful performer Krishna Das. "Let's start with a few oms," Das casually began, referring to the sound said to underlie all energy, which people often use to start a meditation. Suddenly, this crowd of several hundred slouchers bolted upright. "I didn't say, 'Sit up straight,'" Das laughed. "You can say om while relaxing."
To me, this moment perfectly captured the rituals and rigamarole we have unnecessarily placed around the practice of meditation, which I believe makes some people apprehensive to do it. Would-be meditators who approach me invariably focus more on the ceremony than the mental centering: Do you have to wear special clothing? Are there specific words to chant? Does it demand a set amount of time? Require a special cushion on the floor? I always answer, "no." Although some traditions do impose certain requirements on their practitioners, most of us are better off avoiding the preparation and props of a Broadway production.
I consider myself something of a meditation proselytizer, in that I want everyone to experience its delicious benefits (even as I confess that my record for daily attendance isn't perfect). At its core, meditation is nothing more than the opportunity to enter the space between the thinker and the thought, which lets us to know that we are more than our mental meanderings. There's an incredible magic to going beyond our limited minds and experiencing what spiritual teacher Eckhart Tolle brilliantly calls the power of now. The process is not only calming -- it's transformational.
I believe that any inward focus -- done wherever, whenever and however you like -- that gives you a glimpse of this is a great meditation. In that spirit, here are five tips for taking the mystery out of meditation -- helpful, I hope, for anyone who hasn't tried it before, or who wants to do it more.
5 Ways to Make Meditation Less Mysterious
We tend to think of meditation in terms of a formal, sitting, eyes-closed practice. But everyone has fallen in a meditative state during certain moments: while jogging when breath and footfalls enter a rhythm and all time disappears, when we're gardening and intensely concentrate as an inchworm moves along the soil, when mesmerized by a gorgeous sunset or staring into a newborn baby's creamy eyes. When you recognize that you've already meditated, it's not a leap to begin or expand a more deliberate attempt. Flickr photo by The Marmot

Yes, New Age shops sell special cushions and stools. But I love to meditate on my rocking chair, in the bathtub, while taking a walk, or (when I'm traveling) sitting on the bed in my hotel room. Similarly, Priscilla Warner, author of the memoir, Learning to Breathe, says she sits anywhere she feels inspired: on a park bench, perched on a rock, in her car pulled to the side of a road. This flexibility ensures she gets in her 20-minute session sometime each day. By contrast, if you think you can only meditate on your perfect puff on the perfect floor, you'll miss many opportunities. My own husband, an attorney, fell victim to this thinking just the other evening. He likes to meditate in the morning, on a floor cushion with a back support. "I have to be in court early tomorrow, so I guess I'll have to skip my meditation," he told me, pointing to his chairback. When I suggested he sit in the car before going into court, he confessed this hadn't occurred to him. That front-seat meditation gave him the perfect start to a hectic day. Flickr photo by Jonas B

I'm not actually a fan of the word "meditation," which reminds me too much of "medication." That's why I had the protagonist in my novel create a new, sweeter-sounding word, "sujal," for her practice. Reader Jen McGown, a yoga teacher and studio owner in Philadelphia, told me this transformed her own practice. "When I thought of it as meditation, it felt like an obligation I needed to be doing, and I often resisted. The term 'sujaling' made it friendlier and more approachable," she says. While her "meditation" was previously sporadic, she now happily "sujals" from 10 to 20 minutes each day. If you don't like my word, make up your own, or just call it "focusing" or "turning inward." Flickr photo by InnocentEyez

Saying a certain word or phrase in a foreign language may help some people during meditation, but you may not be one of them. The purpose of a mantra, as it's called in the Hindu language of Sanskrit, is to give your mind something to focus on as you move beyond it. If a mantra (classics are "so hum" or "om shanti"), or even an English phrase like "all is love," works for you, by all means use it. But you'll get as much benefit putting your attention on something other than a sound, including your breath, your opening heart, the sensation of the vibrating cells inside your hands or feet, or anywhere that works for you. Flickr photo by Lauren_Hannah

You set yourself up for disappointment if you expect that each time you meditate you're going to blissfully unite with all of the universe. I've had sessions that indeed were so sublime time and space fell away, and you may, too. But I've also sat, dutifully watching my breath (my preferred focal point), and not much happened short of feeling a little calmer. I consider both to be successes. If you have even one second of observing that space beyond your thoughts while you meditate, you're doing fabulously. Flickr photo by mediafury
Meryl Davids Landau is the author of the spiritual women's novel Downward Dog, Upward Fog, which was recommended by the Yoga Journal, YogaDork and Elephant Journal blogs. ForeWord Reviews calls the novel "an inspirational gem that will appeal to introspective, evolving women." Read excerpts at www.DownwardDogUpwardFog.com. Meryl also writes for O: the Oprah Magazine, Whole Living, Reader's Digest and other national magazines,
Connect with Meryl on Facebook.
For more by Meryl Davids Landau, click here.
For more on meditation, click here.
Follow Meryl Davids Landau on Twitter: www.twitter.com/MerylDL