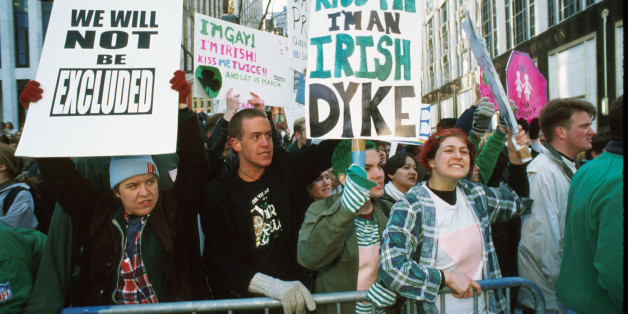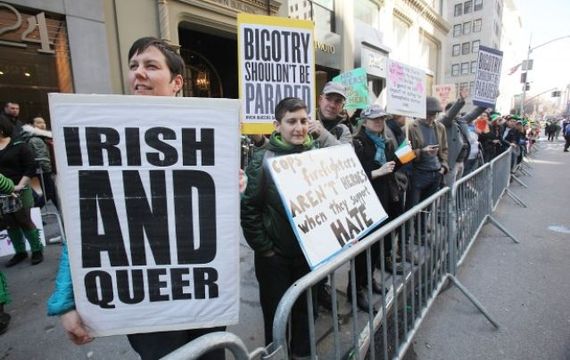 Tuesday's St. Patrick's Day parade is still being protested by gay activists, many city politicians and even Mayor Bill de Blasio, despite the inclusion of Out@NBCUniversal. The NBC group, activists say, is not representative of the Irish LGBT community -- and the whole point of the years of protests was to get the ban on Irish gays and lesbians lifted. But at least the NBC peacock has the Rainbow Flag embedded.
THE CONTROVERSY in SEVEN QUESTIONS

Wasn't the ban on gays marching in the St. Patrick's Day ended?
Officially. Yes. The organizer the world's oldest largest parade honoring Catholic St. Patrick, said in September 2014 that they would no longer ban gay groups from participating -- or carrying a banner of their choosing. The New York Irish Lesbian and Gay Organization (ILGO) first petitioned the group to end the ban in 1990.
Wasn't a gay group chosen to march?
Yes. Out@NBCUniversal, a lesbian, gay, transgender and bisexual employee resource group, was chosen to march -- the only gay-tied group selected.
And didn't companies that boycotted it rejoin the parade?
Indeed. The makers of Heineken and Guinness both said they were back. "We are glad to see the parade organizers have taken initial steps to be more inclusive and we expect this to be just the beginning of their efforts to create greater equality in the parade and a more diverse celebration in the years to come," Heineken spokeswoman Tara Rush said.
So why are Mayor Bill de Blasio and other politicians boycotting the 254th St. Patrick's Day Parade?
The careful statement from Heineken acknowledges the continued controversy -- that bit about "We expect this to be just the beginning of their efforts to create greater equality in the parade." Many gay groups and politicians, like the mayor, who self-identify as "progressives" think organizers are trying to pull fast one. "I have made very clear that there has to be more progress for me to consider marching in the parade," de Blasio said in announcing that his boycott is still on.
Why is the NBC group not good enough?
The very choice of Out@NBCUniversal, protestors say, is evidence that this is more a PR stunt than a true shift. They note the group is one that advocates for NBC's gay employees -- and not an actual gay Irish group. In fact, the group self-identifies as a straight/gay alliance organization. They also note that the parade has long been broadcast by local New York NBC. There have been reports that NBC was pressuring organizers to make some sort of gesture, particularly as Pope Francis has softened the Vatican's tone opposing homosexuality.
What is the parade's response?
Organizers say that more gay groups can apply to march in the future -- and have suggested the parade -- a Catholic one at that -- is being unfairly targeted. "This grand cultural gem has become a target for politicization that it neither seeks nor wants because some groups could join the march but not march with their own banner," parade spokesman Bill O'Reilly has said. "To address that and move forward, parade organizers welcome the LGBT group, ' OUT@NBCUniversal ' to march in the 2015 NYC St. Patrick's Day Parade under its own banner."
So now what?
A group that calls itself Irish Queers say there is still a "veneer of hate" around the parade. "The fight continues," the group has said. "We welcome this small victory, but our call remains the same -- the parade must be open to Irish LGBT groups, not in 'subsequent years' but now." They also released a video, embedded above.
SUBSCRIBE AND FOLLOW
Get top stories and blog posts emailed to me each day. Newsletters may offer personalized content or advertisements.
Learn more