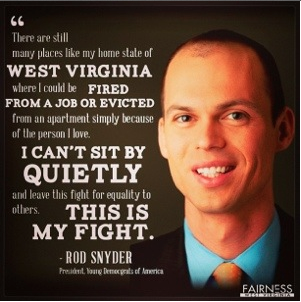 Rod Snyder just completed his second term as National President of the Young Democrats of America. Just prior to his retirement, he decided that he had some unfinished business to take care of, so he penned a letter in which he came out to the YDA and the world as a Christian gay man. (The letter was not only emailed to the YDA but posted as a blog post on The Huffington Post.) He bravely took this step stating that if his story changes even "a small portion of events" (to borrow a phrase from Robert F. Kennedy), then it was worth breaking his silence.
I am particularly proud of Rod because he is my brother. The outpouring of support that he has received over the last week has been incredible. He has been showered with love and appreciation for his willingness to be so public about something that is ordinarily so private. Rod was willing to share his journey toward self-acceptance because of his dedication to justice and equality. He did so to encourage others who are struggling with their own sexuality, initiate more communication within our communities, and help further the fight for gay rights.
His letter has reached thousands of people. One reader, "Craig F.," made the following comment:
There are many ways someone as talented as my friend Rod could have spent the last years, nearly any which would have been less stressful and more lucrative than being president of the YDA. He saved the organization through able leadership, and the courageous email that became his final act as president may have even saved lives.
On Aug. 13 Rod was interviewed on MSNBC's The Cycle to discuss his process of coming out as a Christian gay man. It overwhelms my heart with happiness and pride to watch how articulate and confident my brother has become. Please take a moment to watch his interview below. Sharing it among each other creates more opportunities to generate positive conversations and help open hearts and minds.
There has been a trend since the initial release of Rod's letter: Social media users began using the hashtags #StandWithRod and #WithRod when discussing this issue, in a statement of solidarity with my amazing brother. I encourage you to use one of those hashtags when sharing this video. Let's stand with Rod and help spread this message of hope to others.
Photo courtesy of Fairness West Virginia
You can view Rod Snyder's Huffington Post bio here.
View this blog post and other original content on Multifarious Mama.
SUBSCRIBE TO & FOLLOW QUEER VOICES
We're spilling the tea on all the queer news that matters to you. Learn more