I've always enjoyed photography, from the black and white avant-garde works by Man Ray that first took my breath away, to the casual point and shoot photography seminars I took while living in Paris; the medium has endeared itself to me for both its practical sensibility and emotional contact.
Cameras have been in use since the late 1820s; with the camera obscura producing the earliest photographic image, and the daguerreotype following soon after. I came across my first daguerreotype in 2008 thanks to Robert Scott--a private collector who has over his lifetime, amassed one of the largest museum quality collections of Black American Civil War Era pieces--and was immediately caught in the silvery image reflected on mercury. Wet plate processes, including the collodion process became popular roughly 20 years after camera obscura and in the 1850s, all but replaced all other methods as the most modern form of photography,
My first introduction to collodion photography was upon meeting Robert Christian Malmberg, whose celebrated imagery stems from a passion for fine photography and filmmaking. Originally hailing from Kentucky and an expert in the wet plate collodion era process and various other alternative mediums, Malmberg is at once an artist and visionary, seamlessly weaving a story line into each of his pieces. In a word, collodion style photographs can be described up as "aged": they have an antiquated look to them, usually a somber ambiance brought on by the camera's tendency to develop darker images, and the sepia tones and irregularities caused by the hyper sensitive development process heighten the this effect. They also--perhaps more so than any other photographic medium-- convey a story.
In June of this year, Malmberg asked me to sit for a portrait, as he was looking to test a new batch of chemicals that differed from his original recipes. I was extremely excited; soon after becoming acquainted with Malmberg and his work I'd become smitten with his unmistakable aesthetic. I couldn't believe my luck and felt honored to be documented in such a way. He instructed me to bring several different "looks," and to bring make-up. I brought along a friend who would also be photographed by Malmberg that day.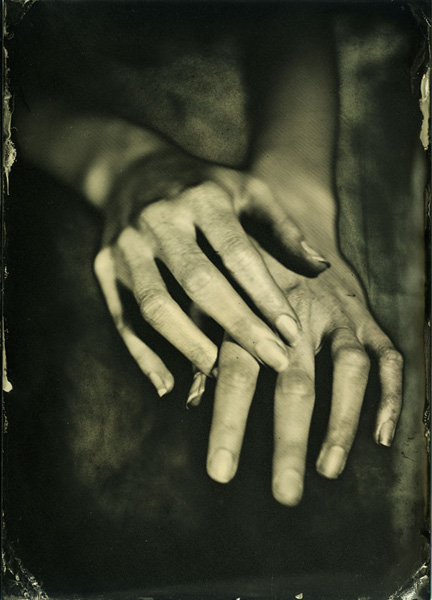 "Suspended Hands," Photo courtesy of Robert Christian Malmberg, Collodion Studios, Inc.
We showed up at Malmbergs' Collodion Studios and were immediately put at ease by his distinct sense of humor, punctuated by a country twang he's never quite lost even after all the time spent in the bright lights of big cities. The collodion process itself is time consuming; each photograph taken required a lengthy preparation of chemicals, the set up of camera and lighting, the set up of self, and finally a six second exposure and hold (this varies depending on the natural lighting at the shoot location) while maintaining a pose. Six seconds may not sound like a long time--I certainly didn't think so--until you try to do it without giving in to a facial twitch or the blink of an eye. There is something magical and unique about the pause required to produce each image. In the moment when Malmberg finally exposes the lens to light, I felt eternally still; my breath caught, the sound of my beating heart loud in my ears. The immediacy of getting it right within the time allotted was thrilling, and I lost myself in the juxtaposition of romanticism and the old world effect the process had on my likeness. . .it almost felt as if I were traveling back in time.
Malmberg's distinctive blend of old world technology and contemporary subject matter creates a perfect palette for both commercial clients looking to integrate high art within advertising, and for collectors collodion portraits are in demand. The technique is also the perfect way to memorialize marriage, birth, death, and life, but the collodion portrait is also something much more than that. More so than any other portrait taken of me, the collodion image captures the yearning--the wanting--in its subjects eyes and amplifies it. To quote the poetess Veronica Franco, "it is the wanting that keeps us alive."
After a leisurely shoot spanning an afternoon, my friend and I each had three photos of ourselves looking as if we had lived in another era. For me, it was an odd sensation that somewhat contextualized the hectic pace of my daily life. Because in the film, I am the picture of serenity--somehow, the camera and Malmberg picked up on both the juxtaposition of tranquility and ambivalence in my posture and eyes. Unnerving and yet somehow comforting to see a side of myself I didn't know existed. Aside from the more interesting physicality of a collodion photograph, it is in my opinion, a more accurate mirror than the modern digital process. Perhaps it is in the longer exposure, or perhaps it comes from the age of the medium itself, but the process brings out a side of those captured in its lens usually reserved for private moments of reflection in the mirror.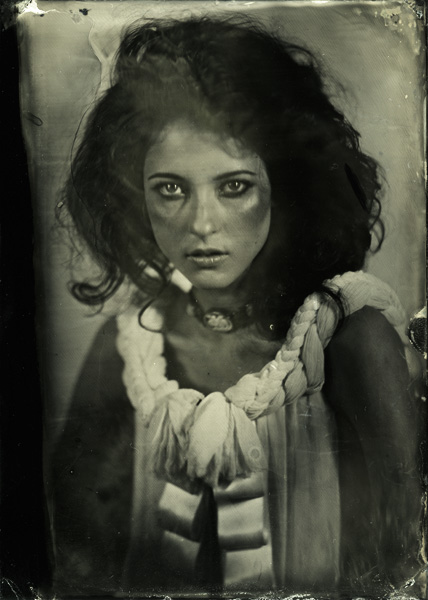 "Heather," Photo courtesy of Robert Christian Malmberg, Collodion Studios, Inc.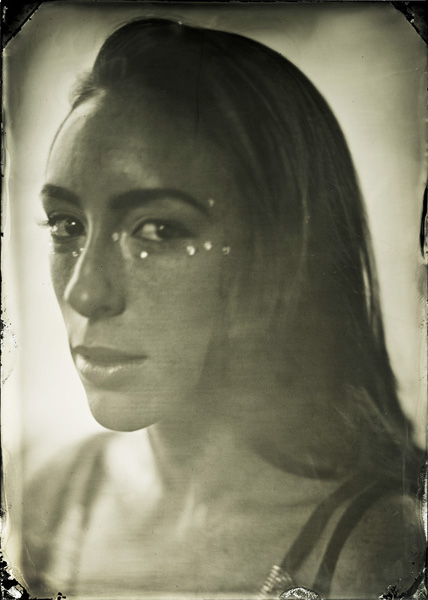 My collodion portrait, titled, "Mia." Photo courtesy of Robert Christian Malmberg, Collodion Studios, Inc.
SUBSCRIBE TO & FOLLOW CULTURE SHIFT
Every Friday, HuffPost's Culture Shift newsletter helps you figure out which books you should read, art you should check out, movies you should watch and music should listen to. Learn more