BOISE, ID--There are 230 miles and a whole-lotta-nothin' separating Boise, Idaho from Elko, Nevada. Along those wind-swept desert roads, Barack Obama's campaign found its Western logic, an unconventional strategy responsible for this weekend's massive Boise rally. Before dawn on Saturday, 10 percent of the city's voting-age public was out of bed and standing in sub-freezing lines converging on Boise State's Taco Bell Arena. As the most conservative state in the West, Idaho is routinely ignored, politically written off as the Mississippi of the mountains. Despite joining the Super-Tuesday fray, conventional wisdom had the state's relevance somewhere near American Samoa's. And yet, to Boise Barack did bounce.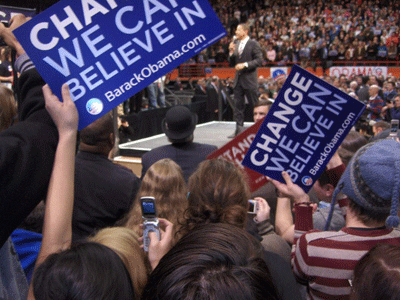 Photo by Julie Fanselow
"Idaho is Obama country," said Jen Psaki, the campaign's traveling press secretary. As the campaign continues to attract record numbers at every stop, Psaki said they are now, more than anything, in a race against the clock.

Saturday's sunrise lines snaked for miles through the Boise State campus, around the Bronco's blue turf field, through pitch-dark parking lots and three fresh inches of snow. There were people without jackets standing in these lines. There were Republicans there too, all a part of the largest, loudest political rally in Idaho state history.

David Axelrod, Obama's chief strategist, sounded a note of gracious humility in Boise "Isn't it wonderful," he said, noting that original expectations were significantly lower than the approximately 15,000 who turned out. "This is happening all over the country," Axelrod said.

On the arena floor, Idaho Democratic Party communications director Chuck Oxley was asked if the city would have enough space for everyone who wants to caucus on Tuesday.

"We are concerned about that right about now," Oxley said at 8:35 a.m., as the nosebleed sections filled above his head. Gazing to the rafters, he could not hide his amazement. "I knew it would be big. I didn't know it would be this big."

Considering the early hour, the crowd noise was astounding. Following an introduction from Cecil Andrus, the typically reclusive former governor, Obama emerged on stage to playoff game decibels.
"
It was surreal," said TJ Thomson, the head of the grassroots Idaho for Obama, of the payoff he was seeing from the small, well-considered wager Obama made by opening an office here in November.

In Idaho's primordial political stew, that presence was the spark of intelligent design. With Super-Tuesday making them suddenly relevant, the super-minority Idaho Democrats put aside their time-honored tradition of infighting and lined up with near unanimous endorsements. In "Bushlandia," such harmony is no small thing; years of losing have bred nasty habits of Dem-discord. But with the promise of a candidate who can reach across the aisle, Idaho's left of center has been holding.

Two major factors support Obama's Idaho awakening:

1 - Democratic Survival: With Hillary on top of a ticket, "red state rebels" are right to worry that their already humble representation could slip. Idaho is a disconnected rural state. For hundreds of miles, between tiny towns, car radios can choose between conservative talk or conservative sermons. In Boise, the Republicans roll in the slop of their largest majority since 1928, and despite the Politburo's current humble home, they often govern as if unopposed. In this climate, it wouldn't take much to trigger a statewide Republican uprising. Keen to this perverse logic, some local GOP lawmakers have reportedly been sending money grams to Hillaryland.

2 - The New Politics: Obama's no-mountain-too-high, no-state-too-red strategy is community outreach on a national scale. Which brings us back to Elko, the hard-pan northern Nevada ranching community that voted for Obama by a two-to-one margin, thereby ensuring his under-reported delegate win. Elkoans are not your typical latte-liberals. These are conservative rural voters who want to keep their guns and would rather pay for their own damn health insurance, thank you very much. To this sensible stock, Barack is getting through.

Idaho's grassroots fuel was plentiful enough to fire up offices in some of the most unlikely places in America, like Idaho Falls, a Mormon town that makes Salt Lake City look like a pleasure den. "We had to open these offices to address the support and, frankly, to take advantage of it," said Chani Wiggins, Obama's Boise communication director. In the panhandle, five hundred miles north, there is an Obama office less than ten miles from where white supremacists not long ago held court. In towns with such troubled pasts, volunteers are buzzing with the high that comes from knowing that they are on the right side of history.

Not to be entirely outdone in Idaho, Hillary Clinton sent her regional surrogate, Washington Senator Maria Cantwell, to hold her own Boise rally on Friday. About 50 people showed, but not a single elected Idaho Democrat among them. A Clinton-topped ticket is remains widely regarded as the "kiss-of-death" to the state party.

Barack Obama's campaign may be speculating on Idaho, but on Saturday morning, he and his staff seemed genuinely taken aback by the energy of this state's disaffected progressive base. As Obama spoke for nearly an hour, Axelrod looked on and seemed pleased. "We are rekindling idealism and a common purpose in America and these rallies," he said, "are a manifestation of that energy. Now we just need to get people out to vote."

Fortunately for him, Idaho Democrats are a lot like off-Broadway actors in, say, Boise; they may never hit the big time, but they're gonna try like hell getting there. This Tuesday night, Idaho gets its name in lights.

This Blogger's Books and Other Items from...