I am so over this recession; and I don't particularly care for that "RE CESS IS ON" t -shirt I've seen people wearing, trying to make the sluggish economy fashionably cute, though I guess in a way I can relate. The magazine entertaining and travel expense accounts I grew accustomed to are so three years ago. I just launched my own online company and this BRAVO show I'm on really hasn't exactly turned into a cash cow. Times are tough.
They are even tougher in my closet. With Fall very much in the air, and being a 'style' guy, I need to make some necessary upgrades. It is the unusual feeling of having champagne tastes on a beer budget, but you know I feel if I give back some, I'll be able to get some. So I did the right thing and gave a big fabulous bag of old garments to the Salvation Army, which took me down to five pairs of jeans. Partly because my six pack abs are gone -- and I'm now a solid 31 waist -- and partly because I have worn the hell out of my designer jean collection ... and the last part because somewhere deep down inside I know there is something not right about wearing 500 dollar jeans. So it's out with excess and in with reality.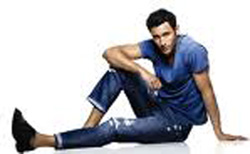 Now what? It was time to look for jeans and my budget was $100 a pair. Okay, I would stretch it to $120. I foolishly went to Barney's, a big huge mistake that left me depressed and angry with advertisers for pulling ads from magazines, which ultimately affected my job as a writer. 'Sorry Michael, ad revenues have slipped, we can't afford you," rang in my head as I walked down Madison Avenue, manifesting better things in my life.
I saw Donny Deutsch slip into Barney's and thought I should bum rush him for advice on my new online pop culture guide or at the very least ask him to be an investor, but, instead, something else caught my eye: an advertisement on the side of a phone booth with a hot guy wearing jeans with some digestible numbers -- $59.50. But then I saw that brand, "GAP."
This must be one of their tricks I thought. You know where the stylist pins everything in the back so it has that sleek look like Prada. I've been tricked by the Gap and their sister Banana Republic before, thinking that their clothes would fit me like my designers duds. But I was desperate. I had to give it a try or else I was going to show up to the office in my Calvin's.
So I made my way to the GAP (which in NY is as easy as finding a Starbucks) and found the least busy sales person who might listen to my designer jeans doldrums. She didn't care, at all. But she did bring me the six different versions that are part of GAP's makeover efforts to sell jeans to people like me.
She also explained, with a bizarre almost infatuated enthusiasm, how GAP is celebrating 40 years of jean-making, calling the line "1969 Premium Jeans" and how she just loves GAP's EVP of Design, Patrick Robinson, who created the "Born To Fit" campaign, ushering in a new chapter in GAP's history.
I don't give a sh*t. I close my dressing room door and go to work. Thank god I am wearing my Adidas sneakers so I can put the look into perspective. I first went for the Boot Cut. They always look good on me and like a bright light of an angel I turned around and smiled. Oh my god, these jeans really do look good on me. I can totally work with these.
Then I slipped on the Easy Fit. I looked like a straight guy who might be heading to Applebee's for dinner at a mall in Ohio. Not so much. It got worse with the Standard Jean. I looked like President Obama. The waist was so high it was nearly hitting my man nipples. Okay, one out of three, halfway there. Then it was on to the Loose Fit. These reminded me of a sailor's pants and should be banned.
By now I'm questioning the Boot Cut I thought I liked. Next up was the Authentic Jean. This one was neither here, nor there. It was semi-fit, semi-loose and for me a semi-mess. Finally, Straight Fit. I loved the wash, dark denim, reminiscent of my first pair of Helmut Lang jeans. Okay, truth be told, they fit well; but I felt like a poor hipster. I guess that's what I am, at least today, so why deny? But my ego still jean-blocked me.
Then the sales girl reappeared. How are these working out for you she wants to know with a careless joy. I try on the Boot Cut again and picture myself and how these fit into my lifestyle and how I am "Born to Live," which is being sexy, yet comfortable. So I decide to share. I step out of the dressing room and she looks at me.
"For a White Boy you got booty," she says. Sold to the highest bidder. $59.50. Not one but three pair in all the available washes, which is still less than the price of one leg of my Nudie jeans.
My advice to GAP: Now is the time to bring back their very first ad campaign. The one that got everyone wearing their clothes to begin with, "Fall Into the Gap!"