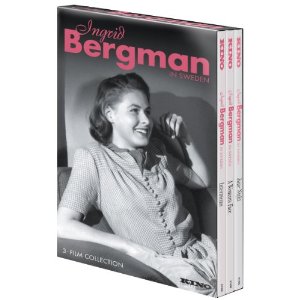 INGRID BERGMAN IN SWEDEN ($39.95; Kino) -- Who is the most beautiful woman in the world? Right now? Once upon a time, it was Ingrid Bergman who certainly at the time of Casablanca was the most bewitching, vulnerable, enigmatic and beautiful woman in the world. You'd gladly throw away a chance to win World War II if it meant spending the rest of your life with her. (Bogey is a better man than me.) The new collection Ingrid Bergman in Sweden captures this talent before she came to Hollywood. A Woman's Face plays a bit like a Douglas Sirk film. June Night is intriguing for casting Bergman in the role of a woman embroiled in an infamous scandal, a role she would unfortunately play in real life. But Intermezzo is the keeper here; I prefer this version of the tale of a classical pianist to her Hollywood remake if only because we get Gosta Ekman instead of the pallid Leslie Howard. All three films are presented with care by Kino in fine prints.
SOPHIA LOREN AWARD COLLECTION ($49.95; Lorber Films) -- Before Bergman perhaps the most beautiful woman in the world was another Swede, Greta Garbo. After her came many others. Sophia Loren is certainly a beauty. But I'd call her the sexiest woman in the world at her peak, which is a very different title. In general, models seem more sexy than beautiful, perhaps because actresses get to show a whole range of emotions. We see Bergman weep and be strong, plead and beguile, flirt and storm, whereas most supermodels only get to pout. Loren is a great figure of Italian cinema, but she's more of a pouter than an actress. A new collection shows her at her absolute peak in Yesterday, Today and Tomorrow, which also includes a fine documentary about director Vittorio De Sica. Her other work quickly became more like potboilers, including the melodrama Sunflower, though the sex farce Marriage, Italian Style cemented Loren and Italy itself forever in the mind of Americans as a va-va-voom sort of country.
And who claims the title today as the most beautiful woman in the world? Angelina Jolie? January Jones (who already has the perfect name for a Bond girl)? Tell me, who is your pick?
Playing a little catch up since I was away for a month, here are some of the top releases from the past few weeks:
BLUE VALENTINE ($39.99 BluRay or $29.99 regular DVD; Anchor Bay/Weinstein Co.) -- One of the best movies of 2010, this serious film is the hard-edged flipside to the delightful (500) Days Of Summer. That movie used a fractured timeline to give the romantic drama a kick-start and underline the bittersweet nature of a romance that doesn't work out. Its tone is wistful and sad. Blue Valentine isn't bittersweet: it's just bitter. Moment to moment, Ryan Gosling and Michelle Williams are simply breathtakingly good, with neither one ever trying to justify or soften anything they do. One song that recurs throughout the movie? "You Always Hurt the One You Love." OK, so NOT a date movie. Just a great one.
THE UNKNOWN WAR: WWII AND THE EPIC BATTLES OF THE RUSSIAN FRONT ($39.97; Shout) -- During World War II, some 10 million soldiers in the Soviet Union died during battle alone (another 10-14 million civilians died as a result of war). That's virtually double the number of Germans who died in battle and dwarfs the roughly 400,000 Americans and a similar number of Brits who also perished in battle. In short, the USSR literally bled to defeat Hitler and that country deserves the lion's share of credit when it comes to personal sacrifice. This landmark documentary hosted by Burt Lancaster was made in 1978 (during the height of the Cold War) to correct how little the West knew about Russia's sacrifice, but was pulled from the air after the Soviet Union invaded Afghanistan. Now it can be seen again so we can appreciate that despite a cruel government that would soon put Eastern Europe under its boot, the greatest generation included our allies, the Russian soldiers.
KA-BOOM ($24.95; IFC/Sundance Selects/MPI) -- Sometimes you have to be honest and just admit you had a blast, whatever a movie's flaws. In this case, the movie is Gregg Araki's totally ridiculous apocalyptic, end of the world, cult crazy, lesbian witch, fluid orientation college sex comedy. Yeah, I enjoyed it. The movie marries the absurdist, out there scenarios of his early work with the formal mastery of his masterpiece Mysterious Skin and the stoner flick Smiley Face. It stars Thomas Dekker of TV's Heroes and Terminator: The Sarah Connor Chronicles as Smith, a gay-ish college student who considers his orientation "undeclared." (Labels are so 90s.) It all soon spirals into a sexual cornucopia of a surfer roommate who digs chicks but wants to self-fellate, a female best friend trying to dump a vengeful sexy witch, a disappearing girl, another girl who booty calls him every five minutes... oh, and a massive cult that may spell the end of the world, thus dooming Smith from having a date with an actually sane guy who met him at a party. Someone called it The CW on acid, and it's hard to get that description out of my head. If it sounds up your alley, it is.
THE TWILIGHT ZONE SEASON 4 ($99.98 BLURAY; IMAGE) -- Image continues to do a sterling job of remastering The Twilight Zone and presenting it in an ideal manner on BluRay -- beautiful prints and sound, loads of extras like audio commentaries, video interviews, radio plays, ptomos, bloopers, SNL spoofs, etc. are just the highlights of what they offer. This is the gold standard for classic TV on DVD. Season 4 is the unfortunate year they switched from the half hour format to an hour long slot, making this the weakest year for the Rod Serling series. A half hour stand-alone episode is akin to a short story. An hour-long stand-alone episode is akin to a novella, the least-loved length for a tale. How often should a story be told at the length of a novella? Not often. Either a conceit (especially of the twisty Twilight Zone kind) is perfect at 25 minutes or it can be expanded to feature length. A 50 minute episode almost always feels padded or on rare occasions rushed; it's almost never the "right" length. Still, if you're a completist, Image presents this troubled season with care.
IF GOD IS WILLING AND DA CREEK DON'T RISE ($24.98; HBO) -- With almost depressing predictability, Spike Lee's look at New Orleans five years after Katrina failed to garner even a tenth of the attention of his excellent original movie When the Levees Broke. This time the city gets the unexpected joy of the 2010 Super Bowl win only to be sucker-punched by the oil spill disaster forever linked to British Petroleum. Lee's work here as in the original is sprawling and messy and invigorating -- he doesn't want to miss anything.
GAUMONT TREASURES VOL 2 1908-1916 ($79.95; Kino) -- I remain mind-boggled by the cinematic treasures now casually offered up to movie fans at their leisure. These historic shorts from France are the sort of rarity you might see once or twice in a lifetime if you lived in a major city and caught a super-rare screening of these works at say MoMa in New York. Now it's out there for any and all to sample. If Quentin Tarantino was the result of B movies being available on VHS tapes at Blockbuster, we can only imagine how film directors of the future will be impacted by the wealth of cinema now there for the viewing. This three-DVD set includes three pioneers. Emile Cohl experimented with animation and was a clear precursor to the playfulness of Winsor McCay on film. Jean Durand was an early example of a French director besotted with American genres, often delivering his own spin on the Western. And Jacques Feyder aspired to the sophisticated heights of Lubitsch.
THE WILD THORNBERRYS SEASON 1 ($29.93; Shout) -- I think I'd go crazy if I had kids and they wanted to see their favorite TV shows on DVD. Again and again, episodes get doled out on DVD 4 or 6 at a time, forcing parents to buy two or three expensive sets just to get an entire season. This goofy entertaining show about Eliza and her family traveling the globe on adventures debuted in 1998. Now we finally get the entire first season in one slim, reasonably priced package. Every show should get this treatment and it shouldn't take a decade to happen. If you don't know the show, it's perfect for kids with a yen for nature, the outdoors or just silly fun.
BANANAS ($29.99; Oscilloscope) -- This acclaimed documentary shows a Los Angeles personal injury attorney (the sort of guy with cheesy ads on TV) who finds himself embroiled in a landmark case that finds Nicaraguan workers facing off against the multinational Dole Food Company. Oscilloscope has become one of those film labels you just trust; eventually you realize they have good taste and want to follow them wherever they take you, in this case, an overlooked documentary film.
DIRTY MARY, CRAZY LARRY/RACE WITH THE DEVIL ($14.99; Shout) -- This is a double feature with two B movies starring Peter Fonda. But it's Dirty Mary, Crazy Larry I care about. Three pals (Fonda, Susan George and Adam Roarke) rob a supermarket and take off, only to be hunted down by a justice-crazed lawman (Vic Morrow) that makes Javert seem like a reasonable fellow. But it's the "dirty" in Dirty Mary that you remember. I enjoy cussing. I do it often. Heck, I'm doing it right now. But when this movie aired on HBO a gazillion times, even I was astonished by the constant, never-ending, overwhelming flow of expletives that the movie contained. It seems like barely a sentence is delivered without some sort of curse word included. The sheer relentlessness of it comes to be a thing of beauty and hilarity. My God, will it ever end? Only when the movie does. Al Pacino's Scarface? Sunday school compared to this movie. It will always hold a place in my heart as the most foul-mouthed movie in history. I learned a lot.
NOTE: Michael Giltz is provided with free copies of DVDs to consider for review. He typically does not guarantee coverage and invariably receives far more screeners and DVDs than he can cover each week. Also, Michael Giltz freelances as a writer of DVD copy (the text that appears on the back of DVDs) for some titles released by IFC and other subsidiaries of MPI. It helps pay the rent, but does not obligate him in any way to speak positively about their titles.
SUBSCRIBE TO & FOLLOW ENTERTAINMENT
HuffPost Entertainment is your one-stop shop for celebrity news, hilarious late-night bits, industry and awards coverage and more — sent right to your inbox six days a week. Learn more