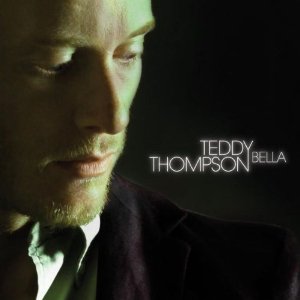 Poor Teddy Thompson. The New York Times calls him "one of the most gifted singer-songwriters of his generation" and laments the puzzling lack of commercial success for this artist with music video-ready good looks, name recognition (thanks Mom and Dad), and of course songs that are smart but clearly hook-y enough for any radio station clever enough to play them.
But I for one appreciate Thompson's refusal to grab the brass ring dangling in front of him. One might easily be annoyed by his dashing good looks, lovely voice, string of critically acclaimed albums -- of which Bella is the latest -- and a self-deprecating wit that wins over the ladies. A hit single would turn that quiet envy into downright resentment. I mean, enough is enough.
So thank God the one person in the world who can't see Thompson as a popular success is Thompson himself. He has an Eeyore-like ability to see a sunny day as merely a precursor to a storm. He's quietly building an audience that will follow him throughout his entire career, but Thompson imagines a little black cloud dogs his every step. There isn't one, but isn't it nice to know he thinks there is?
Thompson's mordant wit was on full display at City Winery for an acoustic show that ran a substantial 2 hours and 10 minutes but still left many of his best tunes waiting to be played. His dry humor was a constant, from claiming he walked up to drunken Irish people in Times Square on St. Patrick's Day to say, "No, I WON'T kiss you" to describing what was happening across the street during the concert (the stage faces the audience and behind them huge windows looking out on Varick so anyone performing enjoys a backdrop of taxis and pedestrians). And of course repeated jokes about his lack of album sales. When Thompson commented on his inability to remember some of the lyrics to his new songs, a fan shouted out that he could fake it and they wouldn't notice. "Because you haven't bought the album," shot back Thompson. "Sales reflect that," he added when people dissented. "Don't worry about me; I'm rolling in it. Oil money!" It's only a small exaggeration to say people come to hear Thompson as much for his humorous patter as his music.
And there was plenty of music to enjoy, from the rollicking "Looking For A Girl" to "Delilah" and "Over and Over" and "Home" and "Gotta Have Someone," all from his excellent new album Bella. As on this in-studio performance for WNYC's SoundCheck, Thompson performed solo with just an acoustic guitar.
The show was billed as Teddy Thompson & Friends. Without resisting the urge to put himself down (he has no friends, suggests you be nice to friends and co-workers because someday you might need their help, etc.) Teddy then called up Rufus Wainwright to duet on "King of The Road," the Roger Miller classic they performed on the soundtrack to Brokeback Mountain. (Here's an amusing video of them doing it in the UK accompanied by ukulele.) Despite holding the lyrics in his hand, Rufus bungled some of the lyrics (which he seems to always do on this song), but it only added to the casual, friendly air of the evening.
Their voices blend together so well, you can't help thinking they should do a duets album. But the same thought crosses your mind when Teddy sang a few songs with Jenni Muldaur, one of his favorite singers and she lives just down the road from the City Winery. "Isn't that convenient?" he joked. But then you thought it again when he sang a few duets with Tift Merritt, making her laugh by inserting a few jokes into their cover of the Everly Brothers classic "(Til) I Kissed You." She sang, "You don't realize what you do to me" and he tossed in, "Yes, I do."
The truth is that singing duets is just one more of the many talents Thompson possesses. Perhaps his natural air of modesty makes him ideal for it. Maybe he's always been good at playing well with others; someone go check his school records. Or maybe it's just that talented singers like to work with someone as gifted as him. Whatever the reason, we came to see Thompson but his friends made the evening at the City Winery all the more enjoyable. Now how will he top it at the Rubin Museum on March 25? There's something he can agonize over.
P.S. I didn't try the specially blended Teddy Thompson red they offered that night, but it too will probably only get better with age.
SOME BEST CDS OF THE YEAR/DECADE LISTS:
NOTE: Michael Giltz is provided with free copies of CDs or digital downloads by numerous labels to consider for review and feature coverage. He typically does not guarantee any coverage in exchange for these CDs and indeed receives far more albums than he ever comes close to covering in his various outlets.
FOLLOW HUFFPOST