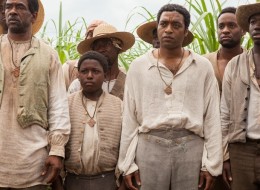 Welcome to For Your Consideration, HuffPost Entertainment's breakdown of all things Oscar. Between now and March 2, 2014, executive arts and entertainment editor Michael Hogan and entertainment editor Christopher Rosen will chat about awards season, and discuss which films will make the most noise at the 86th annual Academy Awards.
Rosen: Hello, Mike! Just last Friday, you and I were standing in the office and wondering where this year's awards contenders were hiding. (After all, by that Friday last year, "Argo" had already debuted.) Then "12 Years A Slave" premiered at the Telluride Film Festival that night, and we received our answer.
Steve McQueen's film was pegged as an early Oscar favorite after its trailer debuted in July, and the first wave of reviews from Colorado did nothing to disabuse that notion. Even Hollywood Elsewhere editor Jeff Wells, who was preemptively underwhelmed by "12 Years A Slave" during a HuffPost Live chat with Ricky Camilleri and I in August ("What is it that's exciting about this film?"), was bowled over:
"12 Years" is easily Steve McQueen's finest film. A perfect blending of art & narrative. Brutal but compassionate. A great American epic.

— Hollywood Elsewhere (@wellshwood) August 31, 2013
All of which makes "12 Years A Slave" a front-runner here on Labor Day: THR awards expert Scott Feinberg already has the film grabbing nominations for Best Picture, Best Director, Best Actor for Chiwetel Ejiofor, Best Supporting Actor for Michael Fassbender and Best Supporting Actress for Lupita Nyong'o. To put that in perspective, the only films last year to have that many nominations in the major categories were "Lincoln" and "Silver Linings Playbook." None of this, however, is too surprising -- "12 Years A Slave" was the top choice among the Gurus O' Gold at Movie City News -- but McQueen's film is set as one of the ones to beat this year, and it hasn't even hit Toronto or New York yet.
Also earning rave reviews at Telluride was Alfonso Cuaron's "Gravity" -- but despite the critical outpouring, it still reminds me of last year's "The Master" from an awards standpoint. "Gravity" looks like an acclaimed masterpiece from one of the world's best directors that could wind up with some below-the-line nods and at least one major acting nomination. (Sandra Bullock is the obvious choice there, though the idea that George Clooney could sneak in the supporting actor category is growing.) Make no mistake, "Gravity" is a movie that I've waited four years to see; if it isn't the greatest movie EVER, I'll be shocked. It's just that when was the last time the greatest movie EVER earned double-digit Oscar nominations, including Best Picture? Besides, if you believe the early Telluride buzz, "Gravity" studio Warner Bros. might have its awards campaign hands full with "Prisoners" ...
Hogan: Hey Chris, it was just this past Friday that I was sucking down beers and asking you to explain what could have possessed Warner Bros. to spend $40 million on "Prisoners," a film that, judging from the trailer, looked about as enjoyable as being kidnapped and chained to a radiator for two hours. But the reviews shut me up faster than Hugh Jackman's angry-daddy face. Variety came right out and called it a "grand-slam," citing its "career-best performances from Hugh Jackman and Jake Gyllenhaal," so go ahead and mark those two on your Oscar ballot. (Just kidding, it would be absurd to start filling out an Oscar ballot this early. Wouldn't it?!!)
Whether "Prisoners" makes "Seven" money ($100 million) or "In the Bedroom" money ($36 million) remains to be seen, but clearly we have a genuine awards contender here, especially given the depth of the cast. Viola Davis, Terence Howard, Melissa Leo -- is there anybody in this thing who hasn't been nominated for an Oscar?
As for "Gravity," which I am very excited to see at the Toronto International Film Festival later this week, I think it's looking more than solid for Best Picture and Best Actress nominations, not to mention those below-the-line nods. But I think you're right to call it a long shot to dominate Oscar night. At some level, we're talking about a popularity contest that tends to reward the movies with the biggest and most popular teams. You can't get more popular than Sandra Bullock and George Clooney, but George isn't even planning to do any glad-handing on behalf of "The Monuments Men," which he directed. With Marty and Leo to the left of them and Bradley and J-Law on the right, Team Gravity could find itself stuck in the middle with "Lee Daniels' The Butler."
Actually, that's one reason I think this "12 Years a Slave" Oscar bubble could eventually pop. I'm excited to see the film, and I think director Steve McQueen's past collaborations with Michael Fassbender are nothing short of genius. But even with guidance from Fox Searchlight's consummately charming Nancy Utley and Steve Gilula, I think McQueen is going to struggle to adapt his persona, forged in the unapologetically snobbish art world, to one where tirelessly flattering random overseas freelancers and retired camera operators is the one sure path to victory. Awards writer Sasha Stone may have blamed herself for this frustrating encounter, but others may not be so forgiving.
Speaking of snobbishness, any thoughts on "Nebraska" and the other Cannes veterans that are finally getting seen by people who don't buy their bread at a boulangerie?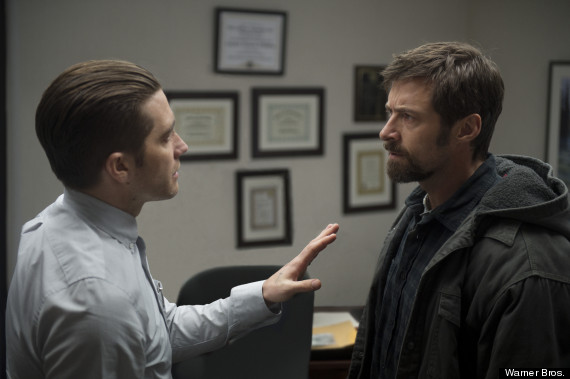 Rosen: Before we get to those Cannes holdovers, one last thing on "Prisoners": I wouldn't hold my breath for those nominations, no matter what Scott Foundas and Pete Hammond had to say about Denis Villeneuve's major studio debut. Not only is "Prisoners" over 150 minutes long, but Sasha Stone and Kris Tapley, while fans, were lukewarm on the film's prospects. Here's why: Even if Jackman gives a "career-best performance" in "Prisoners," it's hard to imagine him breaking through in a Best Actor race that includes Ejiofor, Whitaker, Michael B. Jordan, Leonardo DiCaprio, Christian Bale, Tom Hanks, Robert Redford, Idris Elba, Benedict Cumberbatch, Oscar Isaac and Bruce Dern.
I, of course, buy my bread at the Associated on the corner, but sight unseen I'd say Dern has a real shot because of his veteran status and his refusal to go into the supporting category. Here's his money quote to THR:
"My take is this: The story is about who Woody is and where he's going. It's probably 50-50 screen time with Will Forte, but Woody is a leading role. If I go supporting, I'm a whore. Because I never came to Hollywood to win an award. I came to do good movies. If I go supporting, it's embarrassing to the Academy because it looks like I'm trying to sneak in somehow so I can eat all those chicken and peas dinners. I'd rather go the right way than backdoor my way into a supporting because of my age or whatever."
That, right there, is why I've got Dern on my too-early Oscar ballot. His candor and support from old-school Hollywood types (ie; the people who vote for the Academy Awards) is what could push him into the Best Actor final five.
As for "12 Years A Slave," if McQueen becomes David Fincher 2.0, that would leave open the possibility of a feel-good film coming in and storming the race at the 11th hour. This is the part where I direct you to "Saving Mr. Banks" or "Monuments Men" or even "American Hustle," three films that won't screen at Telluride or Toronto. Wouldn't that be a twist ending to this awards season? (Feel free to slap me in the face for deigning to talk about the end of awards season before it even really started.)
Hogan: There you go again, Chris, tinkling all over the parade with arcane technicalities like "the number of actual slots in each acting category." Sometimes I wonder why I put up with you at all.
For what it's worth, I ran into a journalist friend this weekend who saw "Nebraska" not at a festival but in some screening room in Manhattan, and she was just about ready to fight anyone standing in the way of Bruce Dern and a nomination. So maybe Alexander Payne's follow-up to "The Descendants" (my favorite movie of 2011, you may recall) really will deliver the goods.
Regarding your 11th-hour theory, I couldn't agree more. If Steven Spielberg couldn't bend the Academy to its will with the dour yet important "Lincoln," why do we think McQueen will be able to succeed with "12 Years a Slave"?
In a world where "Argo" beat "Lincoln," I think Russell's "American Hustle," which voters may view as a make-good for "Silver Linings Playbook," certainly could blow this thing wide open. And in a world where "The King's Speech" beat "The Social Network," I could see "Monuments Men" giving it a go, despite Clooney's stated reluctance to campaign. And in a world where "Shakespeare in Love" beat "Saving Private Ryan," I don't think we can rule out Disney's "Saving Mr. Banks" -- with its one-two punch of Emma Thompson and Tom Hanks -- either. For a minute, I worried that the last film's Dec. 20 release date might not give it time to build momentum, but then I noticed that "Shakespeare in Love" didn't even open wide until January of 1999.
Then again, lighter isn't always better. "The Hurt Locker," "Crash," and "Schindler's List" all won the big prize. And it's also possible that "12 Years a Slave" is a better film than "Lincoln." Maybe it will turn out to be the best film of the year. And maybe, just maybe, the Oscar for Best Picture will actually be awarded to the best movie released in 2012.
What do you think, Chris? Am I finally losing it?
Rosen: The best movie winning Best Picture? At this point, I'd believe anything.
Naomi Watts and Robin Wright star as two mothers who fall into sexual relationships with each other's sons. (Yep, it's real.)

When Vin Diesel isn't starring in "Fast and Furious" movies, he's playing Riddick.

A documentary about The Beatles' famed secretary.

Shane Salerno ("Savages") directs this documentary about the reclusive "Catcher in the Rye" author.

Jennifer Hudson stars as Nelson Mandela's wife Winnie in this new film, the first of two Mandela features set for release this year.

Director Luc Besson's mob comedy stars Robert De Niro and Michelle Pfeiffer, because sometimes we're allowed to have nice things.

Too scary.

Billy Bob Thornton's first feature directorial effort since 2001's "Daddy and Them" stars Thornton himself, Kevin Bacon and Robert Duvall.

Chris Brown made a movie with Sawyer from "Lost." (Real.)

Hugh Jackman leads an all-star cast (Jake Gyllenhaal, Terrence Howard, Paul Dano, Melissa Leo) in this revenge drama from director Denis Villeneuve.

Sam Rockwell stars in this thriller, which debuted at the Tribeca Film Festival.

Nicole Holofcener's romantic comedy features James Gandolfini's final role as a leading man. (Gandolfini has a supporting role in the upcoming film "Animal Rescue.") Julia-Louis Dreyfus, Toni Collette and Catherine Keener co-star.

Mark Ruffalo and Gwyneth Paltrow star in this dramedy about sex addiction. From Stuart Blumberg, an Oscar nominee for "The Kids Are All Right."

A controversial documentary about U.S. doctors who still perform third-trimester abortions.

Billy Bob Thornton, Paul Giamatti and Zac Efron star in this drama about the immediate aftermath of the assassination of John F. Kennedy.

Jonathan Groff stars in this new movie, which is based on a story by David Sedaris.

Ron Howard's Formula 1 drama casts Chris Hemsworth and Daniel Bruhl as, respectively, James Hunt and Niki Lauda, two of the sport's greatest competitors. The film, which is also due to bow at the Toronto International Film Festival, opens wide on Sept. 27.

Paula Patton stars in this rom-com about a flight attendant looking for love. Bonus: Seth Cohen Adam Brody as her outlandish confidant.

Tying up all the loose ends from part one.

Joseph Gordon-Levitt's directorial debut is a funny and poignant look at relationships in the age of instantaneous gratification. (Also, porn.) Tony Danza, Julianne Moore and a scene-stealing Scarlett Johansson all co-star.

Enter sandman: Metallica made a concert movie that's not a just a concert movie. Dane DeHaan stars.

Alfonso Cuaron's first film since 2006's "Children of Men" stars Sandra Bullock and George Clooney as astronauts lost in space. One of the year's must-see events.

Justin Timberlake takes on an evil Ben Affleck in this new thriller about online gambling. Brad Furman ("The Lincoln Lawyer") directs.

Tom Hanks stars as the title captain in this thriller from Paul Greengrass, which focuses on the 2009 hijacking of the Maersk Alabama. The film will debut at the New York Film Festival.

The best cast of the year? "Machete Kills" stars Danny Trejo, Sofia Vergara, Michelle Rodriguez, Cuba Gooding Jr., Demian Bichir, Amber Heard, Lady Gaga, Mel Gibson and Charlie Sheen (as the President of the United States), because of course it does.

"Downton Abbey" creator Julian Fellowes adapted this version of Shakespeare's tragic romance.

"Harry Potter" pals Alan Rickman and Rupert Grint reunite for this rock drama.

Daniel Radcliffe grows up. The erstwhile Harry Potter plays Allen Ginsberg in this Sundance Film Festival fave.

Benedict Cumberbatch plays Julian Assange in this new film from Bill Condon ("The Twilight Saga: Breaking Dawn Part 1 & 2," "Dreamgirls").

Diablo Cody's directorial debut look good, honest to blog.

No one is going to laugh at Chloe Moretz after this remake of Brian DePalma's horror classic debuts.

Stallone. Schwarzenegger. Prison break. See you at the theater.

Robert Redford stars as a man struggling to survive after a hole is torn into the hull of his ship. J.C. Chandor ("Margin Call") directs the film, which is expected to give the 76-year-old actor a good chance at an Oscar nomination in 2014.

Chiwetel Ejiofor stars as Solomon Northup, a New York man who was kidnapped and sold into slavery in 1841. Michael Fassbender, Brad Pitt, Benedict Cumberbatch, Paul Dano, Paul Giamatti, Sarah Paulson and Alfre Woodard star in this new drama from "Shame" director Steve McQueen. The film is based on Northup's acclaimed memoir.

Michael Fassbender, Brad Pitt, Cameron Diaz, Javier Bardem and Penelope Cruz go bad in Ridley Scott's "The Counselor," based on an original script by Cormac McCarthy. Yes, please.

OK.

An adaptation of the beloved young adult novel (from non-beloved author Orson Scott Card) stars Hailee Steinfeld, Asa Butterfield, Ben Kingsley and Harrison Ford.

An animated movie about turkeys, "from the Academy Award-winning producer of 'Shrek.'"

Michael Douglas, Robert De Niro, Morgan Freeman and Kevin Kline star in this comedy, which looks like a mix of "The Hangover" and "Grumpy Old Men." Turtle from "Entourage" co-stars, at least for one scene.

Rachel McAdams and Domhnall Gleeson star in this romantic comedy-cum-time travel drama from "Love Actually" director Richard Curtis. The trailer will make you cry. (The film opens nationwide on Nov. 8.)

Naomi Watts stars as Princess Diana in this new biopic.

Think "Children of Men" mixed with "The Host." Kevin Macdonald, of "The Last King of Scotland" fame, directs.

The sequel to "Thor" looks better than its predecessor in lots of ways, not the least of which being that Tom Hiddleston's Loki is fully unhinged. Petition for Loki spinoff starts here.

A sequel to the 1999 film "The Best Man," which serves as further proof that the statute of limitations on part twos is infinite.

Geoffrey Rush and Emily Watson star in this adaptation of Markus Zusak's acclaimed best-selling novel.

Leonardo DiCaprio, Jonah Hill and Matthew McConaughey star in Martin Scorsese's new film, which looks to do for bankers what "Goodfellas" did for mobsters. Expect Oscars and endlessly quotable dialogue.

Vince Vaughn, Chris Pratt and Cobie Smulders star in this comedy about a man who fathered 533 children after making donations to a sperm bank.

She's back.

Alexander Payne's latest film casts Bruce Dern and Will Forte as a father and son on a road trip. Expect to read a lot about this between now and the Academy Awards on March 2.

Forest Whitaker, Angela Bassett, Jennifer Hudson and Mary J. Blige star in this new drama, directed by Kasi Lemmons.

Spike Lee's reinterpretation of Chan-wook Park's classic film stars Josh Brolin, Samuel L. Jackson, Sharlto Copley and Elizabeth Olsen.

Jason Statham stars as a DEA agent who crosses paths with a violent meth dealer named Gator (James Franco, of course) in this new film, which was written by Sylvester Stallone.

Disney's latest animated movie focuses on a snowman and his sister (Josh Gad and Kristen Bell) going on a great adventure.

Oscar alert: Nicole Kidman stars as Grace Kelly in "Grace of Monaco."

Oscar alert, part two: Idris Elba stars as Nelson Mandela in "Mandela: Long Walk to Freedom."

Christian Bale stars with Casey Affleck, Forest Whitaker, Woody Harrelson and Zoe Saldana in "Out of the Furnace," a new drama from "Crazy Heart" director Scott Cooper. Of note: Pearl Jam's "Release" being used in the trailer, which is perfect.

Matthew McConaughey stars in "Dallas Buyers Club," the story of an HIV-infected Texas electrician who battled "the medical establishment and pharmaceutical companies" after his diagnosis.

The Coen brothers latest film is about a 1960s folk singer (Oscar Isaac) trying to make it as a musician. "Davis," which debuted at the 2013 Cannes Film Festival, is expected to be one of the year's major Oscar contenders.

Get ready to spend another three hours in Middle-earth.

Sure.

David O. Russell put Christian Bale, Bradley Cooper, Amy Adams, Jennifer Lawrence, Jeremy Renner, Robert De Niro and Louis C.K. together in one movie, and then scored the trailer with Led Zeppelin. So, yeah: Put this on every Oscar list you make. "American Hustle" opens wide on Dec. 25.

Spike Jonze's new film stars Joaquin Phoenix as a man who falls in love with the voice of his operating system (Scarlett Johansson). It looks like a heartbreaking work of staggering genius (helped by the fact that Arcade Fire did the film's score).

Steve Carell, Channing Tatum and Mark Ruffalo star in this new drama about du Pont chemical heir John du Pont (Carell). Bennett Miller directs.

Tom Hanks stars as Walt Disney in this sausage-making look at how Disney produced an adaptation of P.L. Travers' "Mary Poppins." Emma Thompson, Bradley Whitford, Paul Giamatti, Colin Farrell, Ruth Wilson, B.J. Novak, Jason Schwartzman and Rachel Griffiths co-star. Kelly Marcel co-wrote the script. Oscars, ahoy!

They still love lamp.

George Clooney, Matt Damon, Bill Murray, Cate Blanchett, John Goodman and Jean Dujardin star in your new favorite caper film.

Keanu Reeves' long-delayed samurai action thriller finally debuts.

It's Rocky vs. Raging Bull, as Sylvester Stallone and Robert De Niro star in this boxing movie.

Because playing Captain Kirk isn't enough, Chris Pine stars as Tom Clancy's Jack Ryan in "Jack Ryan," a new film from director Kenneth Branagh. Keira Knightley and Kevin Costner co-star.

Meryl Streep and Julia Roberts star in this adaptation of Tracy Letts' Pulitzer Prize winning drama. John Wells directs. Again, Oscars.

Ben Stiller's latest directorial effort is an Oscar play of the highest order, as evidenced by not only this trailer, but its upcoming bow at the New York Film Festival. Fingers crossed this one is as good as it looks.

Jason Reitman's latest film stars Kate Winslet and Josh Brolin as, respectively, a single mother and the escaped convict who takes her and her child hostage.

Mark Wahlberg, Ben Foster, Taylor Kitsch, Emile Hirsch and Eric Bana star in Peter Berg's new drama, which is based on the infamous Operation Red Wings. Bring tissues. Clarification: This slide has been updated to amend the spelling of Operation Red Wings, which appears as "Operation Redwing" on the cover of the Marcus Luttrell's book, on which the film is based.

Judi Dench looks for her second Oscar in this drama-comedy from acclaimed director Stephen Frears.
Follow Mike Hogan on Twitter: www.twitter.com/mike_hogan