Alright. Despite the recent weather, spring is -- we promise -- fast approaching. Really. It'll be here before you even know it. (At least, that's what we're telling ourselves in a desperate attempt to make it through this series of unfortunate forecasts. Thunder snow? Really?) Anyway, looking forward to vacations and getaways, especially if you're on the east coast like us over at The Underwear Expert, we're also looking forward to a great spring trend as well: Houndstooth.
Some of our favorite brands are bringing the classic print back and revamping it as well. Here are a few of our top picks for the season.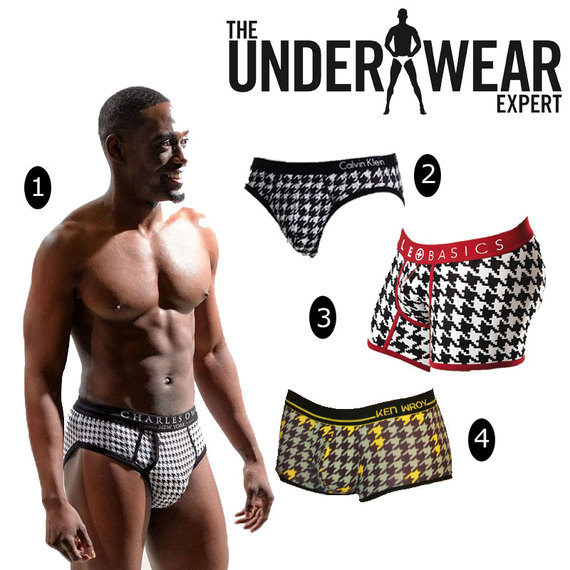 1. Charles Owo, Houndstooth Cotton Brief
This brief from up-and-coming brand Charles Owo is a sure classic. Made from 95 percent cotton and 5 percent elastane, it is sure to provide you with all day comfort and its hip elegance makes it a must have.
2. Calvin Klein, One Micro Hip Brief Scribble Houndstooth
What can we say? You can't go wrong with Calvin Klein. Never one to drop the ball on style, the classic brand knows how to be stylish and elegant no matter what the occasion.
3. Malebasics, Hound Boxer
We love this Hound Boxer from Malebasics for incorporating a bold pop of color into the design. The oversized pattern is also definitely for the more adventurous at heart. Definitely for those who want to be noticed.
4. Ken Wroy, Houndstooth Pop Low-Rise
Ken Wroy's print is great because it adds color to the traditional black and white design. The purples and yellows are a nice change, and it doesn't hurt coming from a brand that makes pair after pair of ultra soft, comfortable underwear.
For more styles, check out The Underwear Expert.