London's Frieze Art Fair, in its 8th year, is one brash trumpet in a symphony (or is it a cacophony?) of international cities that are clearly gaining ground on New York in nurturing top artists and dealers, and attracting major collectors. Held every October in Regent's Park, this year it hosted 173 galleries from 33 countries under its capacious tent and onto the surrounding green with a sculpture park. The energy during Frieze week is palpable and contagious, and the art is of mixed though high enough caliber as to offer convincing proof that the art cosmos is decentralizing at a rapid pace. Women and artists of color still fight to level the playing field, but the contest is also loudly regional. At these fairs one sees more galleries from Asia, Eastern Europe, South America, the Middle East. And if in these aisles art is about commodity, perhaps one day this century, Beijing will become Manhattan. But London may well get there first.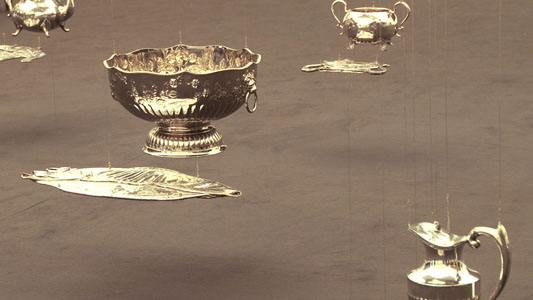 Cornelia Parker, Thirty Pieces of Silver (detail) 2003 (courtesy Frith Street Gallery)
London, a long-time financial powerhouse and now home to Russian zillionaires keen on adorning their mansion walls with status-drenched assets, is a particular case. Starting in the late 1980s with the first Frieze exhibition and the so-called YBAs (Young British Artists) -- Damien Hirst, Sarah Lucas, Tracey Emin, Rachel Whiteread and others -- a blitz of media attention came to the local art scene, suddenly seen as a glamorous arena, along with the patronage of Lady Diana in the mid-'90s. But, as every local gallery-hopper knows, it took the Frieze art fair to jump-start the commercial viability of that scene, and it's been expanding radioactively ever since. So the fair is international yet also buoyantly British. In fact, Tate Modern is given first dibs on buying the works on display, thanks to a modest fund (150,000£) provided by Frieze, via Outset. This year, its deciders decided to go after works by women only (notably, Polish Holocaust survivor Alina Szapocznikow).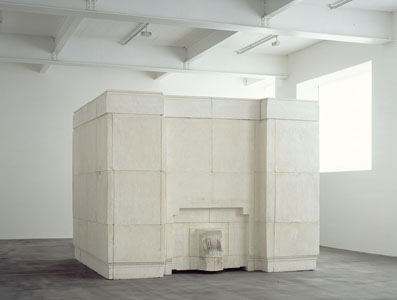 Rachel Whiteread Ghost 1990 (photo by Mike Bruce, courtesy Gagosian Gallery) © 2011 Rachel Whiteread
Frieze is an essential part of the London art-world ecosystem, with most galleries planning their most high-profile shows to coincide with the one week that everyone shows up to have a look. What distinguishes the art fair from most others is its synching of public and private spaces. For the first time Frieze this year offered a stand to a consortium of non-profits: Whitechapel Gallery, Camden Arts Center, the ICA, the Chisenhale Gallery, the Serpentine Gallery and Studio Voltaire. They offered limited-edition museum prints and drawings as a way of fund-raising. "You can own a John Baldessari for as little as £3000," says Iwona Blazwick, director of Whitechapel Gallery on the art-world frontline of the East End. "We had editions for as little as £100 in that stand. I hope that gives people who haven't put their toe in the art-collecting water yet the opportunity to start collecting, and also it gives the market a chance to give something back to the public sector." On the flip side, there was the Affordable Art Fair, comprised of commercial galleries likewise seeking budding buyers.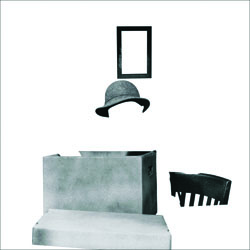 ........................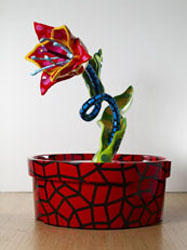 John Baldessari, Box, Hat, Frame and Chair 2011 .............Yayoi Kusama, Tulip With All My Love 3-1 2011
A word about two of the most prominent of London's public spaces, which have contributed significantly to the city's meteoric rise on the art-globetrot circuit. Both style themselves "museums without a collection." In its 111 years Whitechapel Gallery has introduced countless top artists to the UK, including Picasso, Pollock, Rothko and Paul McCarthy. The Serpentine Gallery sits idyllically in the Royal park of Kensington Gardens, where it organizes exhibitions and public programs, commissions architectural & design projects, and educates the art-famished. They've shown over 1500 artists in their 41 years and welcomed over 1 million visitors last year. Frieze has pumped new blood into their veins and they return the favor by hosting related events and lending gravitas.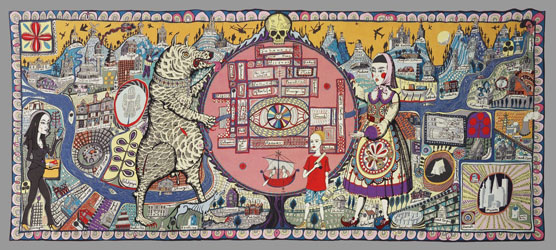 Grayson Perry, May of Truths and Beliefs 2011 (courtesy Victoria Miro Gallery)
Frieze week is also, inevitably, one long party. Arguably the biggest, certainly in terms of acreage, was the opening bash for White Cube Gallery's 3rd space, White Cube Bermondsey. The largest commercial gallery space in Europe, according to the Guardian, it boasts 58,000 sq ft that includes an auditorium and a bookshop, and allows dealer Jay Jopling to give Monsieurs Saatchi and Gagosian a run for their money. 6000 showed up for drinks, not quite all of them on The List. But just what was being celebrated? As the man said, follow the money. This year sales were up from last, we're told, though most bets were on media most likely to survive a wobbling Euro, paintings and works on paper.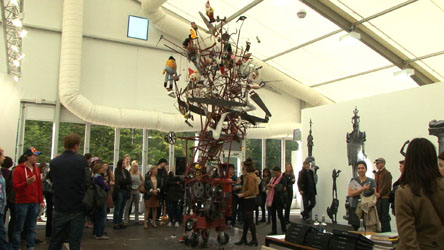 Michael Landy, Credit Card Destroying Machine 2011 (courtesy Thomas Dane Gallery)
We spoke with a handful of London art mavens about this year's fair and the mutating diagnostics of the art business -- Blazwick of Whitechapel, Julia Peyton-Jones at the Serpentine, Tim Marlow at White Cube, and two artists whose works were among our favorites: Grayson Perry (who has an extraordinary exhibition up at, of all venues, the British Museum), and Michael Landy, whose Tinguely-inspired sculpture Credit Card Destroying Machine was a big hit and may have said more about art and commerce than anything else on view.
Michael Kurcfeld is a documentary producer and journalist based in Los Angeles and Paris (http://www.stonehengemedia.com).

SUBSCRIBE AND FOLLOW
Get top stories and blog posts emailed to me each day. Newsletters may offer personalized content or advertisements.
Learn more