20 years ago, Yann Arthus-Bertrand managed an animal reserve in France and decided to take his wife to see the lions at Kenya's Masai Mara Reserve. Taking photographs of the lions, to study their behavior, changed his life. An avid hot-air balloonist, he began shooting from great heights and eventually became the world's most renowned aerial photographer -- publishing a series of books (Earth From Above sold 4 million copies) that offer a rapturous God's-eye-view of life on a comely and still-mysterious planet. Arthus-Bertrand says that it was the lions who taught him how to be a photographer -- by their patience and their wild beauty.
..........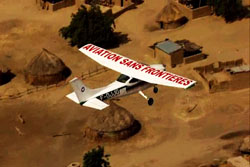 His 20 years of roaming the globe's skies gave him the geographic instincts to find the locations in 54 countries that are captured in his engaging, and enraging, environmentalist ode, HOME. Narrated by Glenn Close, the 2-hour film first recounts the world's origins and then the story of "you and me" as humankind gradually, then careeningly, grows up and takes over. The spectacle of vivid natural surfaces (volcanoes, forests, oceans, tilled fields, glaciers) cascading under us gives way to the scars of mankind's plundering, heedless ways. On one level it's a soaring narrative about how civilizations emerge; on another, it's an indictment of our recklessness, greed, brutality and, finally, cynicism about our own future. It's also a kind of prayer, an exquisitely shot meditation on what's at stake and why we must change our behavior. Arthus-Bertrand knows we've heard this all before, but he hopes that revealing the beauty of what's being destroyed will win back our hearts.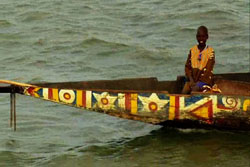 ........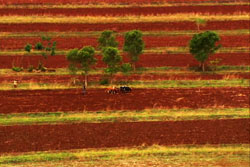 It wasn't easy. In India half of Arthus-Bertrand's footage was confiscated because, they told him, he had exposed too much poverty. In China, Algeria, Dubai and Rwanda, shooting from above was restricted or outright forbidden -- too spy-like. He spent a week in an Argentine jail for shooting a dam steeped in local corruption. But his transition from photographer to director-cinematographer was virtually effortless. He had been inspired by a Paris screening of Al Gore's An Inconvenient Truth, not only by its message but by the realization of how powerfully mesmerizing moving images were in delivering that message. He was also a fan of Godfrey Reggio's 1982 visual smorgasbord, Koyaanisqatsi, and had his camera operators study it. They ended up shooting over 500 hours of footage, and only afterwards did Arthus-Bertrand and his co-writers cobble a script together -- which he says was an illuminating rite of passage.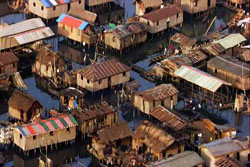 ..........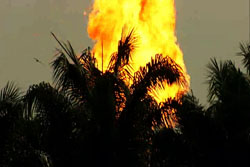 There are moments in the film that feel almost sacred, so worshipful is the perspective and so ardent the lamentation -- and Armand Amar's ethereal score only amplifies that. Fortunately, this purity of purpose is wholly untainted by anyone's bottom line. Fully funded in advance, and with producer Luc Besson's blessing, Home is a not-for-profit venture that was in fact first offered gratis to the public (simultaneously in theaters, on TV, DVD and the Internet) on June 5, 2009 as part of World Environment Day... world-wide. It showed to over 400 million on 5 continents, as perhaps the ultimate Guinness-worthy PSA. This week, it will show in New York, again for free (Feb 4-10 at the Village East Cinema), following a day of green Big-Thinker panels at Columbia University and the UN's declaration of 2011 as The Year of The Forest. Arthus-Bertrand's 30-person Good Planet Foundation is already hard at work producing a companion movie, book and website on the UN's initiative, along with its regular cycle of media geared to French schools; and its program of carbon offsets via NGOs. "We bring ecology to the art of conscience," he says. At 64, the director, TV producer and self-described activist isn't showing any signs of slowing down, in a country that recently rioted over raising the retirement age above 60. He clearly loves his work, and our Home, as can be seen in the video below.
Michael Kurcfeld is a Los Angeles-based documentary filmmaker and journalist (stonehengemedia.com).
SUBSCRIBE TO & FOLLOW CULTURE SHIFT
Level up. Read THIS and be the most interesting person at your dinner party. Learn more