If you've ever been to Paris Photo, the most important international photography art fair in the galaxy, you might want to bypass what I write here and go straight to the videos of gallerists talking up their wares (below), because I'll bore you with the enthusiasm of the newly initiated.
What was apparently already the colossal connoisseur confab of the photo image has this year ascended to a new level by relocating its marvels to the central nave of the Grand Palais -- the green gare-scale birdcage of Industrial Age glass-and-fancy-iron that makes even atheists swoon. While it sometimes made me wonder if a canopy that lets the sun and humidity in without check is the best habitat for fragile prints, the sheer vastness of its volume really exalts the medium in a way that makes everyone just a bit more worshipful of the overwhelming number of images on display.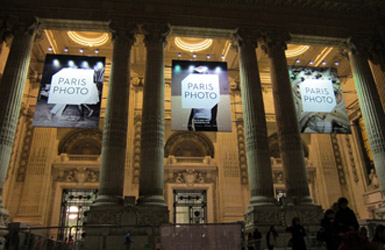 Paris is a city dedicated to beauty...and, so it happens, to photography. Photography's earliest art flowered in Paris -- from Nadar, Atget and Lartigue to Kertesz, Brassai and Cartier-Bresson. What other town gives an entire month, November, over to the art form that film has long ago superceded as our most contemporary voice? Photography is so ubiquitous in our media-saturated iDevice culture that encountering it at Paris Photo as a wellspring of rare and precious objets is almost a shock. Sticker shock, that is. Gallerists speak in pious tones about images that contain sometimes more, and sometimes less, meaning and geneology than we can immediately extract. And as with photography's older sibling, art, part of the game of selling pictures is to welcome critics to the table. Lofty rhetoric is the garb with which the photograph becomes legitimized as a high-end investment, though many images carry the value of just being extraordinary in some way or enduring in the collective mind's eye over decades. Paris Photo 2011 contained a wealth of both.
Thanks to its new director Julien Frydman and curator Chantal Pontbriand, ideas generated by the images swirled non-stop inside the high-ceilinged chamber where panels of esteemed photographers, writers and pedagogues held forth with slides and hypotheses about seeing, representation and thinking-about-seeing.
The days of the fair were divided into broad subject areas: Geography, Society/Media, Body, Technology...under the elastic umbrella of "Mutations." As one panelist pointed out, photography is never not mutating in some fashion, and then went on to describe how his 19-year-old students view the medium's latest mutations -- underscoring the fact that the medium continues to reinvent itself. If a feast of words -- from the exegetical to the incantatory -- about a feast of pictures was on one's menu, they certainly got their fill. And from what I'm told, in far greater measure than in previous years.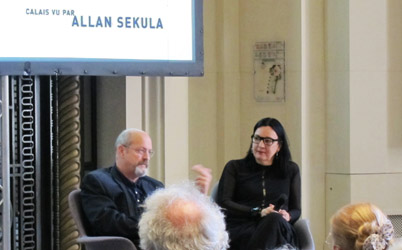 Some of the questions asked at the panels:
What consequences do evolving relationships between continents have on artistic practices? Will the digital revolution absorb photography completely? How have the evolutions in technology modified our vision of the world and of art? Are social networks a logical outgrowth of photography? How does photographic art react to the changes in ecology and identity brought about by globalization?
Those responding were a who's who of the photography and media worlds, including Allan Sekula, Peter Weibel, Sunil Gupta, Artur Walther and Christoph Schaden. What they had to say could fill a book, and indeed Pontbriand has edited a remarkable collection of essays, Mutations: Perspectives on Photography (Steidl), that would be a very good place to start if one wants to get smart about photography's dialogue today.
For myself, it's always a relief to return to the silent ineffable image. The first thing one sensed strolling the aisles was that Paris Photo was a bigger deal than in previous years -- 135 galleries from 30 countries (40 of them new to the fair), with a new area dedicated to specialized publishers and bookstores. To honor its 15th year, the fair inaugurated the Paris Photo Book Award by asking four prominent jurists to select, and display, their 15 most important photobooks of the last 15 years. (At the top was Paul Graham's A Shimmer of Possibility, a 12-volume retrospective from SteidlMACK.) There were also book-signings galore, with the longest line for William Eggleston's sold-out three-volume Chromes, already worth more than that day's $340 selling price.

Large-scale color prints still command the most attention from the voracious collectors who throng here, particularly the young ones, but the most commanding presence was the central-theme celebration of historic and contemporary works from Sub-Saharan Africa -- from Capetown to the Malian capital of Bamako, where a photography festival recently took place.
A big hit was the selection of African portraits from the Walther Collection, from its museum in Neu-Ulm, Germany -- Events of the Self: Portraiture and Social Identity. Images of Africa old and new could be seen in many of the booths around the fair, a revelation for those who had not thought much about that rapidly changing continent's gifts to the medium. The names that I'll be looking into more include Malick Sidibe, Seydou Keïta, Philip Kwame Apagya, Pieter Hugo, J.D. Okhai Ojeikere and Roger Ballen.
As I did at FIAC, I selected 18 galleries and asked their most anglophonic expert to pick an image and talk about it for under two minutes. My selection was sort of random, based on my attraction to the booths' offerings as well as a haphazard attempt to maintain a geographic balance. My impression is that photographs inspire more lucid monologues than painting and sculpture, perhaps being closer in some sense to the "real" world. You tell me.
Michael Kurcfeld is a documentary producer and journalist based in Los Angeles and Paris.


SUBSCRIBE TO & FOLLOW CULTURE SHIFT
Every Friday, HuffPost's Culture Shift newsletter helps you figure out which books you should read, art you should check out, movies you should watch and music should listen to. Learn more