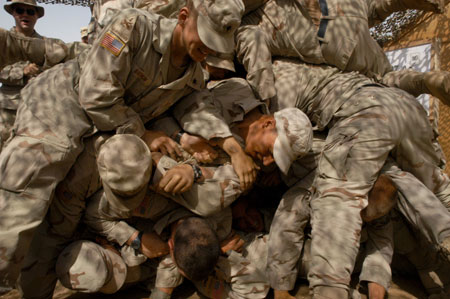 Over the past month, several books have been released featuring the work of photojournalists covering the Iraq debacle.
One of the more notable is Ashley Gilbertson's Whisky Tango Foxtrot: A Photographer's Chronicle of the Iraq War. A relatively inexperienced Gilbertson had been shooting in Iraqi Kurdistan in 2003 when the war broke out. Working first as a freelancer, he eventually caught on with the New York Times, providing extensive coverage in several tours since.
At the beginning of the war, Gilbertson was clearly inspired by the camaraderie of the troops, the bravado fueling the mission and the aura of the war machine. Not someone hardwired to inherently swallow or question the politics, it was only with time, as the situation unraveled, that Gilbertson's attitude toward the war also evolved (or "devolved," I should say).
In general, shifts in attitude don't take place overnight. Still, there are moments one can point to -- especially, given the material nature of photographs -- in which everything suddenly looks different.
What Gilbertson captured in the picture -- like so many of his images from the early days of the war -- was something innocent and playful -- in this case, officers from the First Armoured Division performing a traditional pileup after one of them was promoted to captain. The picture is about ritual. It's about carrying out tradition. It's about men being intentionally physical with each other. It's about letting loose.
But, in Ashley's head that day in early '04, every one of those meanings was completely up-ended. Because, coming so close on the heels of Abu Ghraib, what he was mostly relating to, he's written, was this: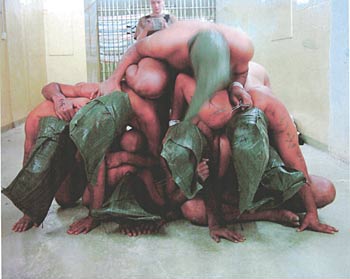 Of the deep damage caused by the Iraq war, another thing we have suffered is a blow to our visual well being. Like what happened to Gilbertson looking upon the soldier pile, we slink forward, too, embedded with askance and shameful associations.
Whereas the chance existed, following the 9/11 attacks, to carve out a humanistic name for the American brand, instead, we have this vivid link between bonding and bondage, with the poisoning of "all for one and one for all."
Enter Whisky Tango Foxtrot: A Photographer's Chronicle of the Iraq War. View NPR slide show.
For more of the visual, visit BAGnewsNotes.com.

(Image 1: © Ashley Gilbertson. Used by permission.)