Now it is scientifically proven: Money doesn't buy happiness. Giving does. This is one conclusion to draw from a number of recent studies and surveys. The World Giving Index shows a greater correlation between a person's degree of happiness and giving than happiness and wealth.
Similarly, the University of British Columbia found that the amount of personal spending had virtually no influence on the spender's happiness -- but giving to charity or volunteering for a good cause made the giver considerably more content and happy. Erika Keaveney, executive director of the international non-profit Lotus Outreach, says, "There's plenty of evidence that charitable acts and happiness sustain each other in one big circle. The more we give, the richer we become. Giving a girl the gift of education not only makes a huge difference for the girl and her family, but it creates a remarkable return for the giver too."
Lotus Outreach has known for 20 years that people who give get happier as a result. Especially in developing countries, where a comparatively small amount goes a long way.
I am not against gifts and the joy of unwrapping presents, but let's face it: There are people who need holiday gifts more than we do. Lotus Outreach has created a holiday "wish list" featuring popular consumer products, how much they cost, and how an equivalent cash donation can literally change the world of Lotus Outreach's beneficiaries by improving access to education, health and economic opportunity in a sustainable, cost-effective manner.
Food for thought: as I embark on my Christmas shopping, do I want to give my granny $15 worth of chocolates or spend the same amount on providing 15-year-old Usha, a lower-caste quarry laborer in India, with an entire year of remedial education so she can pursue her dream of becoming a teacher?
I think my uncle will be happy to learn that instead of buying him a $25 Starbucks gift card, I will use the money to provide a widowed Cambodian mother like Chuin Chum Li with a microloan so she can start a small business such as raising chickens.
My teenage niece is old enough to appreciate that instead of spending $50 on a pair of jeans, I have purchased school uniforms for ten orphaned and vulnerable Cambodian girls like 10 year-old Sinha, so she can attend public school.
Instead of giving my nephew a $100 Nintendo handheld game, I will provide a sex worker like Heng with beauty skills training so she can escape the lethal pitfalls of Cambodia's commercial sex industry. One hundred and seventy dollars could buy my sister an e-reader -- or a woman like Kuen Sok basic education and sewing instruction so she and her five year-old daughter can escape Phnom Penh's brothels.
Let's see, for $300 I could send my business partner a bottle of exclusive champagne, or help 16 year-old Anjum delay marriage and childbirth by providing her with daily transportation to and from school until she graduates high school.
Five hundred dollars buys one Power Wheels truck or gives six rural Cambodian girls heavy terrain bicycles so they can traverse the considerable distance to the nearest school house each day.
For myself, instead of $1,000 dollar diamond studs, I have asked to use that money for a donation to provide a full scholarship -- including tuition, housing, meals and school supplies -- for a young Cambodian woman like Sima for an entire year while she pursues university education. My holiday shopping is done -- and my presents will have created more happiness for my family and others. This seems a bargain to create happiness for several people at once -- the giver, and the recipients.
The National Retail Federation predicts Americans will spend over $465 billion dollars on holiday shopping this season, over twice what they donate to charitable organizations in a given year. Giving the gift of hope to the world's least fortunate will not only change a life, but will provide the gifter and giftee alike with something that -- up until now -- money couldn't buy: happiness.
About Lotus Outreach: Lotus Outreach is a California based 501(c)(3) non-profit organization dedicated to ensuring the education, health and safety of at-risk women and children in the developing world. Lotus Outreach's unique approach to tackling poverty and its tragic consequences involves working with grassroots organizations in its target countries (India and Cambodia). For more information and photos visit the Lotus Outreach Website.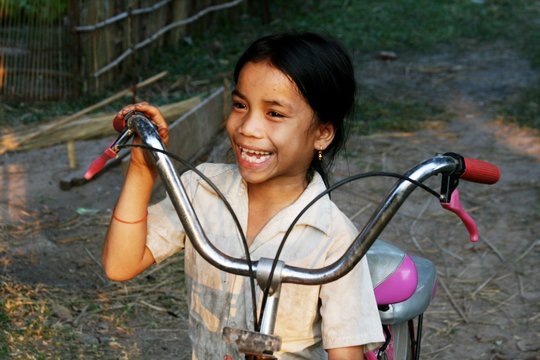 Lan Chin safely gets to school on her "Lotus Pedals." (Copyright: Lotus Outreach)
SUBSCRIBE TO & FOLLOW TRUMP'S FIRST 100 DAYS
How will Donald Trump's first 100 days impact YOU? Subscribe, choose the community that you most identify with or want to learn more about and we'll send you the news that matters most once a week throughout Trump's first 100 days in office. Learn more