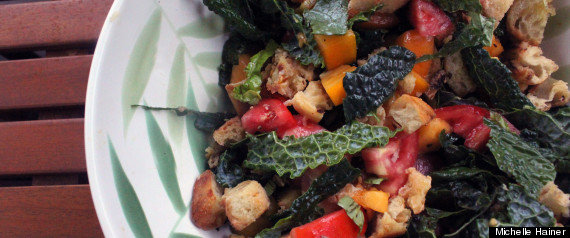 When my husband and I lived in New York City, we often ordered takeout from Supper, a small Italian eatery on the Lower East Side. I don't know how they did it, but anything we ordered arrived just as fresh and piping hot as if we were enjoying our meal in their restaurant. One of our favorite dishes was their Black Kale Panzanella Salad, loaded with organic kale, capers, tomatoes and crusty whole wheat bread. I still think about this salad. When my sister-in-law told me recently that she was going to a bachelorette dinner at Supper, I suggested they order the kale panzanella. She wisely took my recommendation and texted me later that evening to tell me how much their party loved it. It is that good.
As July begins to meld into August, we start eating panzanella pretty regularly in our house. I usually prepare it the traditional way with slightly stale ciabatta bread, local tomatoes, basil, and a swirl of olive oil and good balsamic vinegar. But the other night I had a bunch of lacinato kale in the fridge and some delightful red and yellow tomatoes from the farmers market on my counter. I was a bit low on basil, however, which got me to thinking about whether I could make my own version of a kale panzanella salad.
The answer, much to our delight, was yes. My husband pronounced my salad excellent -- and ate half the bowl while I was putting our son to bed. I couldn't blame him though. I had really outdone myself this time, without much effort (which as a mommy to a one-year-old, is what I strive for in the kitchen these days). Given the abundance of tomatoes and basil available this time of year--and the hotly anticipated appearance of heirloom tomatoes in the coming weeks -- I will be making this version of panzanella salad many times before summer's end. Maybe even tonight ...
Kale Panzanella Salad
Serves 2-4
1 bunch lacinato kale (also known as Tuscan, black or dinosaur kale), washed, dried and cut into strips with the tough stems removed.
2 to 3 large tomatoes, cut into chunks
1 loaf of ciabatta bread, a day or two old. (I used roasted garlic ciabatta, which gave the salad a nice flavor and cut down on the amount of garlic I added to the oil)
2 garlic cloves, chopped (If you use garlic ciabatta, only add one clove)
Olive oil, both for sautéing the bread and for dressing
Good quality balsamic vinegar
1/2 cup basil leaves, coarsely chopped (Feel free to add more basil. As I said above, my inventory was low.)
Salt and pepper to taste
Cube the ciabatta. In a large, heavy bottomed skillet, add a swirl of olive oil and garlic. When the garlic begins to brown, remove as much of it from the pan as possible and transfer to a large bowl. Add the bread cubes to the skillet and turn the heat to medium low. Allow the bread to brown, turning occasionally, for about 10 minutes. (Add more oil as needed to keep the bread from burning.) Remove the bread from heat and add to bowl. Add the tomatoes, basil and kale and toss to combine. Season with more olive oil, salt and pepper, and finish with a drizzle of balsamic vinegar.