Co-authored with Nieri Avanessian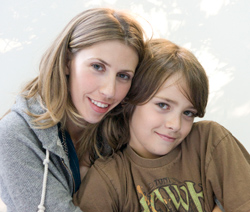 "Mind over matter!" How many times has each of us heard this uplifting and self-motivating phrase? Maybe it came from a coach telling us to work through the pain, or a parent getting us out of a slump to continue working on the class project that was bound to take all night. The mind-body connection is so strong -- I have certainly been able to push myself beyond what I thought were my limits, both physically and emotionally, and especially through my work with Harboring Hearts. At times when the stress is piled high, I take a step back, breathe and just think to myself "you can do it, you can do it" -- and I find that I can. The belief in strength of will is common and recently there has even been some scientific fact to back it up in relation to heart health!
In previous studies, optimism had been linked to "a range of health benefits, including cardiovascular outcome." This may be simply because happier people are less stressed, which reduces blood pressure, or that happy people are more likely to engage in healthy activities such as exercising and eating well. To quantify the benefits of optimism, a clinical study was recently held at the University of Michigan. Researchers found that out of 6,000 adults over age 50 with no history of stroke, positive thinking was associated with a greatly reduced risk, even when controlling for factors like high blood pressure, heart disease, hypertension and body mass index.
Results were drawn as a result of analysis of numerous factors measuring health and optimism. The primary method of the study was a questionnaire, the answers to which were used to gauge how "happy" the subject was. Researchers found that each point increase on the optimism scale reduced the risk of stroke by 9 percent, probably by affecting factors such as blood pressure and stress, which are leading causes of heart disease as well. Studies of this type have been conducted through numerous other institutions including Duke University, University of Cincinnati and the University of Pennsylvania.
Doctors say that optimism is something that can be learned; it is a powerful, natural and inexpensive way to promote your own heart health -- all it takes is an attitude adjustment. Positivity and peace of mind can be increased through various means including yoga, meditation or other methods of breathing and relaxation. To find out more about the role of meditation on heart health, take a look at my previous blog entry.
Harboring Hearts is all about optimism. Our mission is to provide homelike housing and supportive resources to heart patients and their families who have hit hard times. Happiness is no easier to engender than through the giving of hope. Heart patients who do not have to worry about financial troubles are free to focus their energies on recovery and the maintenance of good health. Many patients are cognizant of how great an effect peace of mind and optimism can have on their health.
Samantha Tuttlebee, pictured above with her son Aidan, is a single mother who is on the heart transplant waiting list; she is one of Harboring Hearts' beneficiaries. When asked how her optimism affects her health, she responds enthusiastically, talking about the importance of love and home, and their instrumentality in the healing process. As a person with a congenital condition who has never experienced life free of medical worries, she knows that her optimism, strength and perseverance as well as the support of her family and the ability to do things she loves -- painting and working with rescued animals -- are what keep her going.
It's the small everyday things we may take for granted that keep a person happy and it's happiness that gives hope and -- now we have proof! -- health.
Sources:
http://blog.seattlepi.com/timigustafsonrd/2011/07/26/a-positive-attitude-may-protect-you-from-heart-problems-and-even-stroke/
http://abcnews.go.com/Health/HeartDisease/attitude-adjustment-optimism-staves-off-stroke-older-patients/story?id=14125345
http://well.blogs.nytimes.com/2011/02/28/optimistic-heart-patients-live-longer/