We've all been there: you fall asleep on the beach chair and wake up 3 hours later with those ridiculous halter tan lines. Then you realize you don't own any halter dresses for the next weekend's wedding.
Don't get caught in one more photo with those glaring pale lines again - check out our handy guide to dresses that will hide your tan lines.
For more summer finds, check out our guides to cheap swimwear, summer dresses, and the best strapless bras.
Halter: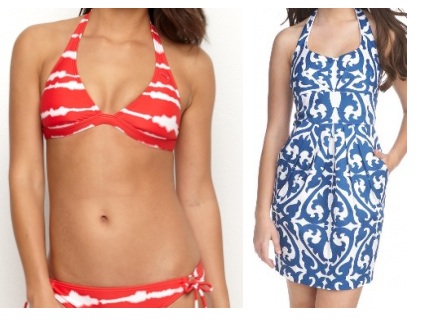 This Roxy bikini ($68) is super cute , and we love the print. But if you spent the day not reapplying sunscreen (shame, shame), you'll need a halter dress that mimics the neckline. This B. Darlin dress ($59) is pretty enough for a party, but also works with flip flops for everyday activities.
Bandeau: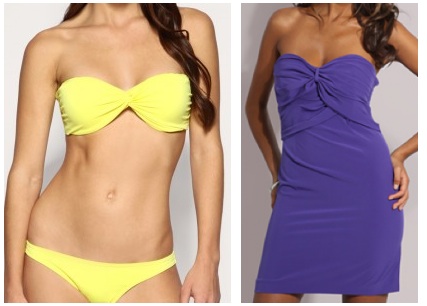 This Twist Padded Bandeau Bikini ($32.13) is bright and fun - but with a sweetheart bandeau tan line, you'd do best to wear a sweetheart bandeau dress the next day. We fell for this pretty ASOS Bow Bandeau Zip Back Dress ($27.05, down from $67.64) - the neckline is almost identical to the bikini top, and we love the color.

Halter Bandeau: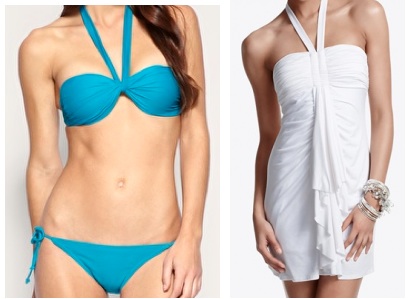 This halter bikini top ($28.75) is bright and bold, but if you can pull it off, have this Ruched-Front Halter Dress ($88) on hand to disguise those teeny center tan lines.
One-Shoulder: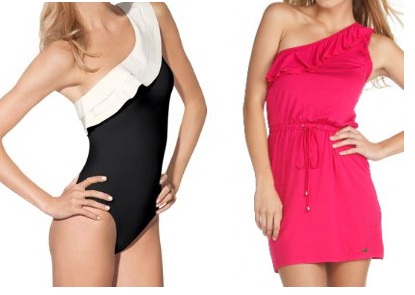 If you wisely went for a flattering SPANX swimsuit like this All The Wave One Shoulder One-Piece Swimsuit ($178), your body probably looked great. But the one-shoulder tan lines? Not so much. Lucky for you asymmetrical dresses are easy to find right now: This one from Buffalo ($69) is appropriate for most summer occasions.
Follow Michelle Madhok on Twitter: www.twitter.com/shefinds