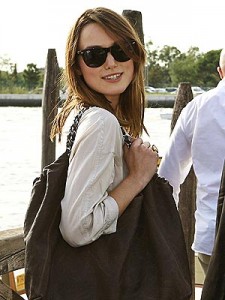 The nonstop nature of New York that gets us used to carrying around enough stuff for the next 12 hours (or two days), and we want to know how our handbag philosophies compare to everyone else's: Whether you live in a city, the 'burbs, or somewhere rural, do you cart around a big bag that could fit a blow-up mattress, or do you limit your stuff and carry something a little more reasonable?
I tromp around Manhattan (for work) and Brooklyn (for the rest of life) with a very oversized Gryson bag slung over my shoulder. My darling sister does more or less the same thing (though she refuses to go to Brooklyn as a rule) but takes it a step farther - she carries the giant bag exclusively on her right shoulder. Her shoulders are now kind of asymmetrical. Mine still seem even, but it may just be a matter of time.
So, how much weight will you carry? Let us know.
Follow Michelle Madhok on Twitter: www.twitter.com/shefinds