I'm going to do the appropriate thing here: leave politics and pregnancy behind, and talk about Sarah Palin's style.

There have been negative things said about Palin's hair. Maybe she should cut it, maybe she shouldn't wear that butterfly clip. But really, couldn't it be so much worse? The color reminds me of Tina Fey's, and when her bangs are thick and sideswept, Palin looks even more Fey-esque (a wholly positive adjective). The teased thing she does in the front sometimes reminds me of the ladies from Mad Men, and hairstylist Mika Fowler, who works at the chic Gavert Altier salon, is predicting a return of the beehive this season.
The Times Online rightly points out that Palin's separately-colored separates are a big step in the right direction from Hillary's two-piece tangerine suit, and while this jacket isn't a complete style coup, it definitely beats a shapeless silhouette. Extra points for coordinating the belt and the camisole. I also really appreciate a visible light-colored collar outside a black suit jacket. And a black suit jacket in general (second would-be reference to Hillary's orange disaster).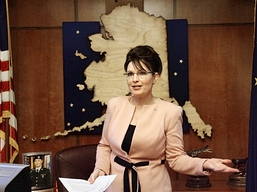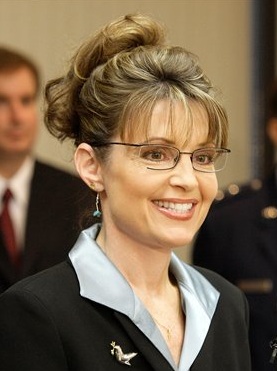 Sure, she may not have style icon status and she's not inspiring Jackie O comparisons like Michelle, but there's some good [style] stuff there, in my opinion.
It looks like a lot of people are of the same opinion, at least as far as the glasses go: there's been a run on the Kawasaki 704, her rimless librarian-chic specs.
For a similar suit-separates style, try a smart jacket with a bit of detailing, like this one from Magaschoni Collection ($532) and classic black trousers ($158).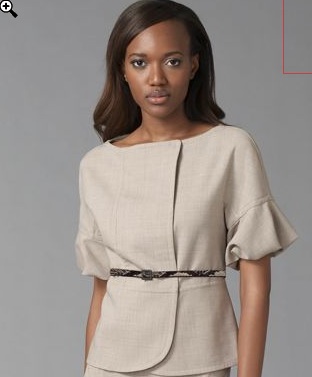 Is Palin breaking stylish ground, or should she have updated her look long ago?