THE BLOG
What To Wear With Over-The-Knee Boots
The temptress leather look is in, big time, and nothing gets that message across better than a dramatic over the knee boot. The problem is, a pair of up-to-there boots can quickly make your innocent little black dress look not quite so innocent. So, here's how we're toning down this style of the moment and making it work with our style.

See where to buy the pieces - four are under $100.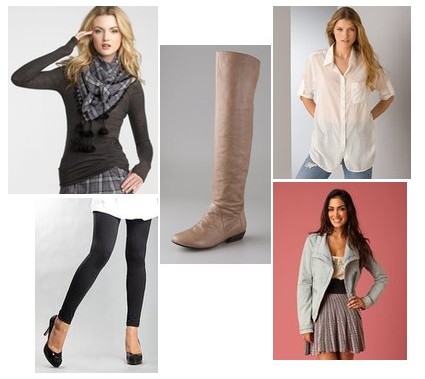 To combat the boot's sexy overtones, choose a slightly more reserved tone and either a modest heel (no sky-high stilettos ladies, you are not Julia Roberts in Pretty Woman) or none at all. Next, try a comfy pair of leggings for easy boot tuckage and an oversized shirt to counter balance the sex appeal of your footwear. To complete the look, we'd try some of the other big fall trends with a unique denim jacket and a lightweight scarf in a fun print.